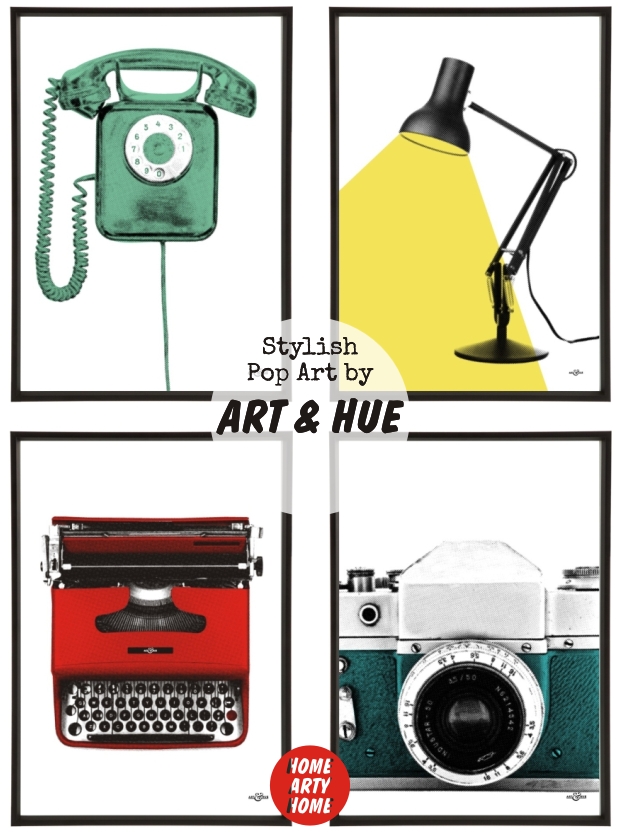 Regular readers may have noticed that Home Arty Home is a huge fan of Art & Hue's graphic pop art, having featured their great work previously, so it's about time I dedicated a post to their stylish prints.
What started life as gifts for friends & family became a creative outlet until Art & Hue officially launched in October 2014. An ideal present to commemorate a birthday, wedding, house-warming, or milestone, Art & Hue creates stylish contemporary pop art from your preferred photograph, including Instagram snaps, for personalised gifts.
Sometimes we have a favourite snap of ourselves that we might well display if it didn't look so vain. Art & Hue pop art prints are a modest & stylish way to include an image of yourself, or a loved one, in the home without looking like a dictator!
Images are given the Art & Hue halftone treatment before blocks of colour are applied. Halftone is an age-old technique that uses dots to make up the printed image, similar to typeset newspapers of the bygone Fleet Street era, which is difficult to demonstrate onscreen but looks great printed.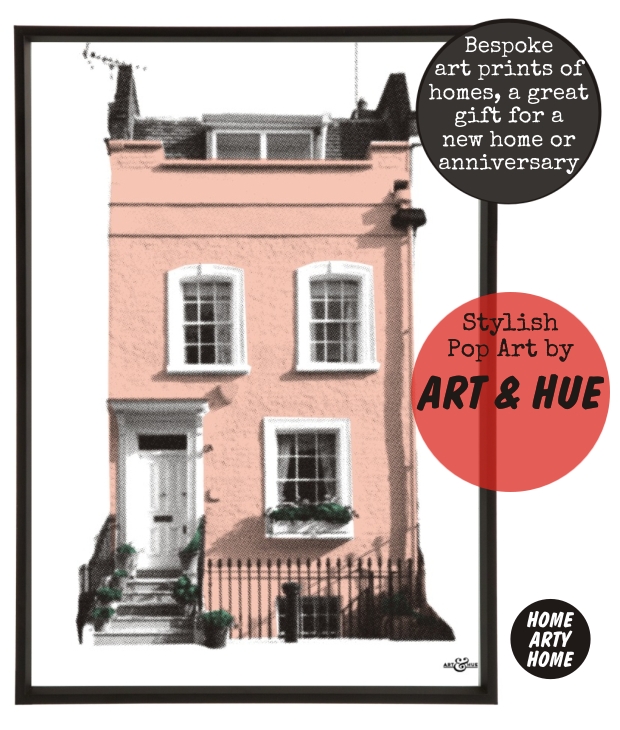 I have a couple of prints by Art & Hue including a bespoke print, created from my bio photo, which I now use on the Home Arty Home ABOUT page. I love the look that Art & Hue's halftone art creates, like a vintage 1960s movie poster, and how images are stripped back to their basic elements, dots, to get to the simplest expression of an art print.
After applying blocks of colour, different images can take on the feeling of a screenprint, vintage poster, or Early- to Mid-Century book-plate, depending on the subject matter. With style as paramount, and a sense of fun where appropriate, many of Art & Hue's graphic pop art can be ordered in a selection of colours and some can be customised with surnames or place names, such as the iconic Las Vegas sign and the series of stylish Motel signs.
What I didn't realise until very recently is that the founder of Art & Hue is the same creative that I commissioned to design the Home Arty Home logo, branding, and website! It's good to know that I was drawn to their stylish art without any preconceptions or favouritism. Incidentally, if you'd like to find out more about the background and creative process of Art & Hue, hop on over to The Copperline blog which has a great interview with the artist and founder (and take a look at the Home Arty Home Bloglove post about The Copperline and Fiona's two other great blogs too!)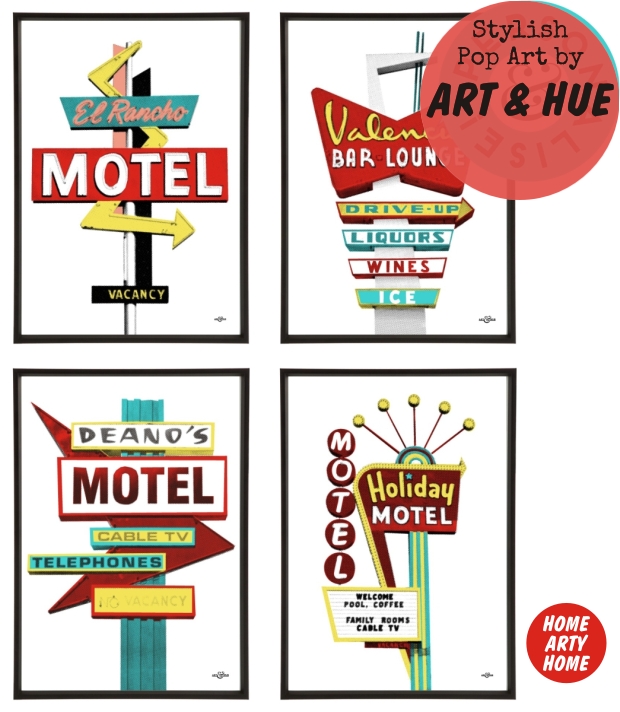 Designed & printed in Sussex, all unframed art prints are printed on 315gsm fine art archival matte paper, made from 100% cotton, using high quality pigment inks for longevity. All unframed Art & Hue art prints come in three sizes that fit widely-available picture frames from stores such as John Lewis, Ikea, Hobbycraft, and Habitat, as well as independent framers and home stores.
As well as bespoke art prints, customised to the recipients specifications, there are in-house studio prints on various themes including Royalty, Ancient Egypt, Retro Americana, Mid-Century Office, Sussex Coastline and Smart Pets, to name a few.
All art prints are available in a choice of hues to select the shade that best suits where you wish to display it. Almost anything can be given the Art & Hue treatment: from a photograph of a person as an ideal gift, or a wedding photo for the perfect memento, to an image of the front of a house as a great housewarming present or a beloved pet or car.
Visit Art & Hue to see more and make use of your special Home Arty Home discount code:
Art & Hue are kindly giving Home Arty Home readers a special discount code for use up until the 24th of December.
Enter HAH15 in the coupon box on the cart page for 15% off all items.