Art & Design, Decor, Featured, Features, Home, Home Arty Home, Homewares, Kitchen, New Art, Paper Goods, Prints, Profile
Inside the Studio with Basil & Ford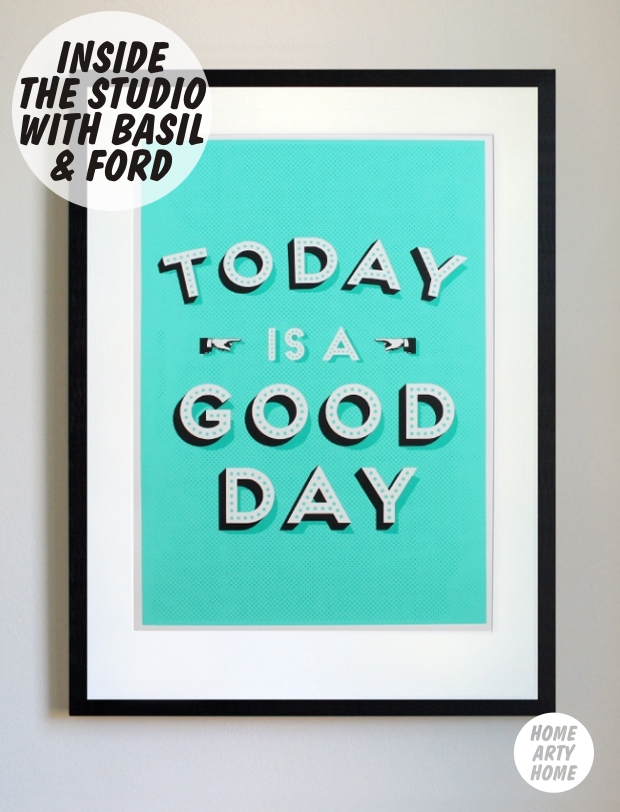 It's always fascinating to see behind the curtain at the creative process for artists & designers, so today Home Arty Home peeks into the studio of Basil & Ford. Founded by a husband & wife team called Matt & Lucy, and taking their company name from their home towns of BASILdon and StamFORD, Home Arty Home loves their screenprinted art and fun homewares.
With Christmas fast approaching, Basil & Ford are kindly giving all Home Arty Home readers 20% discount off everything on their website up until Christmas Eve. With personalised cushions alongside all their art prints to choose from, use HAH14 in the discount code box when you order.
In the meantime, we caught up with Basil & Ford below to find out more about them, their process, and their work: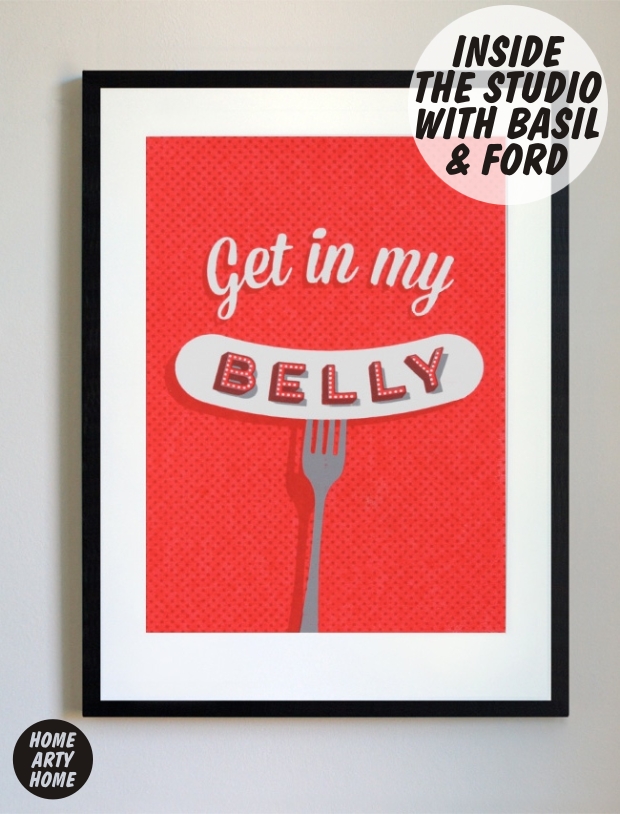 Who's behind Basil & Ford?
"We are a husband & wife team, with a combined passion for all things handcrafted. We met at university whilst studying design way back in 2001 then after our 3 years in Leeds we moved to London and started our careers in the design industry, Matt as a designer and Lucy as an account manager. We lived in a lovely flat in Clapham, got married and, after 8 years working our way up the career ladder, we found out we were expecting our first child. It was at this point we had to work out our next steps!"
How did you get started?
"When we were planning our wedding back in 2011 we couldn't find the perfect stationery so we designed our own and went along to the London Print Studios in Notting Hill and screen printed all our collateral ourselves. And that was it, we had the screen printing bug!
That is when our dream to set up our own open studio and print our own creations was born. We always wanted to set up on our own and when we found out we were expecting we decided to move from London to Stamford and make our dream a reality."
What's the creative process for you?
"We both come up with ideas and then Matt (the main designer) works his magic and brings each one to life. Then the fun starts as we move those designs into the studio to start screen printing.
Matt has a love of graphic design whereas Lucy likes a more country home style so we don't always agree on ideas but that is the beauty of it. Some ideas work, some don't and that is the learning curve we are on. We look to create designs that people will love and that we too would love to hang on our own walls, dry our hands with and stationery we would want to send. So far it has worked well and we have several notebooks still brimming with ideas and new products! It is easy to get carried away!"
How is your work printed?
"Everything we create is hand screen printed by our very own hands. We currently hand print all our own products as well as all the packaging and postage items. We pride ourselves on this and hope to keep it as our core offering as we grow."
Where are your items made?
"All our items are made in Stamford Lincolnshire in our own little studio by our very own hands. We invested our savings and purchased the key equipment needed and built our own space at the back of a barn/garage. It may not be very warm in the depths of winter (and not always water tight!) but it is our own little creative space and we love it. From small acorns mighty oaks grow!"
How do you see the range developing?
"We are always looking to develop our product range and continuously look to create new products. We also still have our ultimate goal of setting up an open studio where we can teach the art of printing and also allow artists to rent out presses so they can print their own creations. This is our aim and is what drives us forward. We would love to build a creative hub in our local area to spread the printing love and to promote local talent."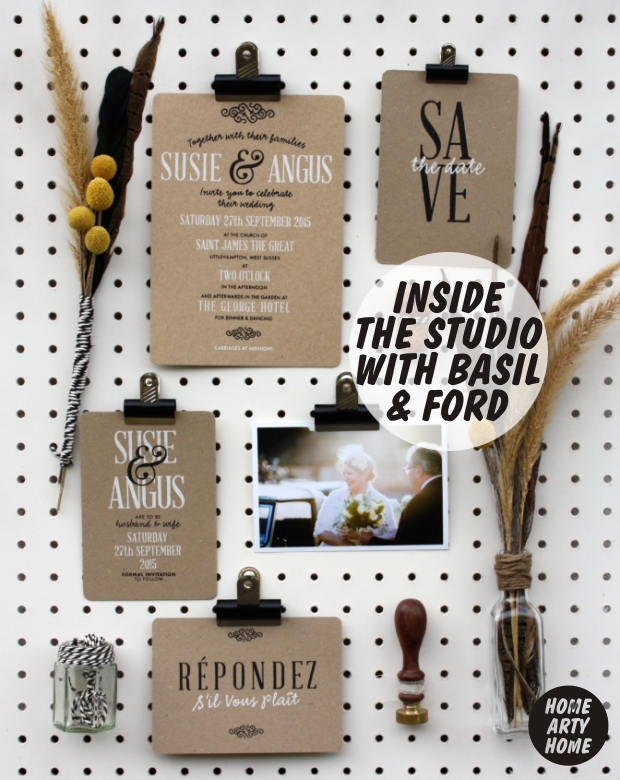 You have additional items alongside your art prints – are there any new products you plan or hope to add?
"We have just completed our new range of wedding stationery. Each range has been designed to feature full stationery sets as well as added extras for your big day including wooden signs, bespoke napkin and teatowel favours, badges and wax seals to name just a few. These ranges will be officially launched early next year (although they are already available on our website now).
We are also currently working on a series of plywood prints that will hang with colourful cord and an array of fabulous fabric patterns that will be screen printed and hand made into cushions and bags. We are also finalising some new writing sets which we are very excited about. All to be launched in the coming months."
What do you hope people feel when they see your work or bring it into their homes?
"We have a variety of styles so hope to cover a plethora of emotions depending on the buyer. Many of our products are personalised so these are often bought as gifts for other people. We have had such a lot of wonderful feedback from newly weds and new parents as their new map print, baby print or personalised cushion is a constant reminder of such happy occasions. A lot of our prints have a sense of humour and therefore should make all those that look at them smile. Then lastly our typographic prints (with more being added soon) should be inspirational and give people a little bit of motivation to go out and make the most of today."
Is it important to be on a marketplace site as well as your own site?
"We have a shop on Not on the High Street which has been great. We have also been featured in a couple of their adverts such as this one in the Times and one of our cushions will be featured in their Valentines day campaign in January.
These marketplaces give a shop window to small up and coming businesses and they are definitely a great way to get your products out there. Setting up your own website is important too so you can push direct sales but it is very hard to compete with the number of visitors to these larger sites and that is why it is so great to get involved."
Finally, are there any events coming up?
"We haven't done a huge amounts of events to date as we focused our first full year on creating our products and working on our online shop. Our 2015 schedule is rather different as we look to book into many makers fairs and craft markets across the country. We are also working on our wholesale offering and hope to get several retailers stocking our mighty fine things over the coming months. We have a few local Christmas markets over the festive season and then we will start 2015 with a bang and get our calender full so we can take our mighty fine creations out into the (real not virtual) world."
Visit Basil & Ford here and don't forget to make use of your Home Arty Home 20% discount with the code HAH14 valid until Christmas Eve.