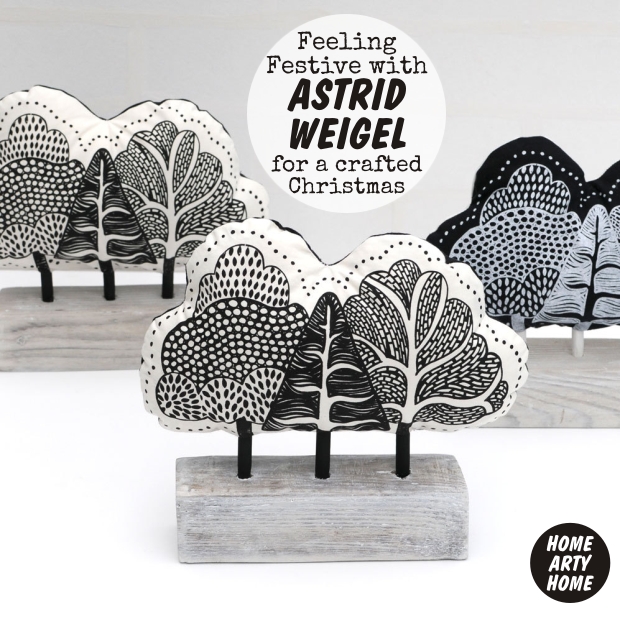 Sometimes we want to feel the warm hug that a traditional Christmas brings to the home. For that blanket-wrapped feeling, look no further than Astrid Weigel's beautifully illustrated and crafted home accessories which put a contemporary, hand-made spin on folk art.
Delightfully hand-printed, pop one of Astrid's trees, wreaths, cushions, or table runners into a room and your space will take on a fuzzy Christmas glow.
I love the handprinted art and the tea-towel that's also a DIY make-your-own Russian doll kit. Home Arty Home caught up with Astrid to find out more about her work and creative process: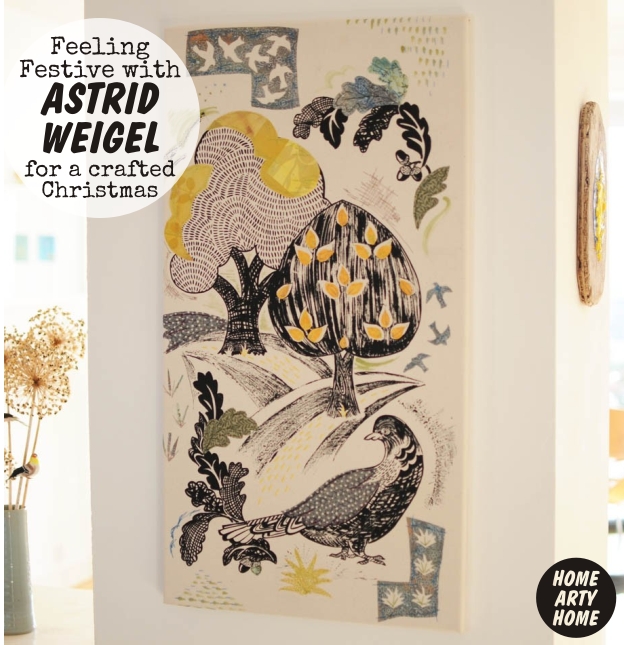 How did you get started? What made you want to create and launch your range? 
"I studied printed textiles and worked as a designer for a number of years. Having taken a "longish" career break being a full-time mum, the call to return to doing something creative became really loud and strong. Initially, it was more one-off things like paper collages, wall-hangings, hand-made bags but about five years ago I took the decision to make a more cohesive set of products with a strong look running throughout. As I hadn't done any screen printing since college, I decided to do a short workshop at the Glasgow Print Studio to refresh my skills in that department and soon after I opened an Etsy shop with a small range of hand printed homewares."
What's the creative process for you? What inspires your work? 
"I definitely have to work things out in a sketchbook first but my doodles are certainly not things of beauty. I sketch things out quite roughly to begin with until I'm happy with the idea, sometimes drawing it to size to see if it works. Once I'm 100% satisfied I'll prepare the artwork for making the screens and there's no going back then. I've always loved Mid-Century design and bold graphic prints of that time like the work of Edward Bawden and early Marimekko designs and although I acknowledge this influence, I don't slavishly want to copy the style. Living in the countryside means that nature is a recurring theme in my work but I love mixing that up with abstract, geometric elements for a contrast."
How do you create your items?  
"I hand-print 99% of my fabrics – it's a bit old school now but it's a process I love and know I wouldn't get the same satisfaction sending designs out to be printed. That's not to say I'm a Luddite because digital printing has a lot going for it; I've already dipped my toes in the digital pool by producing a tea towel in that way and, being very happy with the outcome, I might go down that route again in the future."
Where are your items made?  
"I'm really fortunate that that I'm able to work from home. The only process that is not done here is the actual screen making which I do at the Glasgow Print studio; the messy bit of printing is done in my utility room, later decamping to my workroom where the transformation from printed fabric into actual finished object happens. It's a very laborious and hands-on approach as I do all the designing, printing and sewing but means I can ensure 100% care and attention goes into each and every piece."
Do you have any collaborations on the go? 
"No collaborations to date but it's something I'd be very interested in doing because it's good to get out of your comfort zone and challenge the way you work. So if there's anyone out there who thinks my style would sit happily alongside their own, I'd love to hear from them!"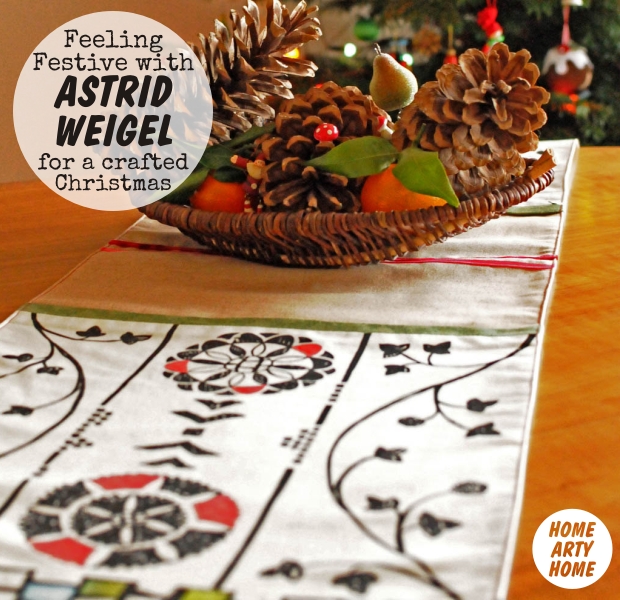 How do you see the range developing? 
"I'd love to do a more commercial set of homewares – I really like how Donna Wilson has produced a very commercial range but managed to retain her unique, quirky, fun style so if I could achieve something like that, I'd be happy. First though, I think I'm going to need a very large "thinking cap" with large quantities of coffee and biscuits to work out the finer details of how to get there!"
Are there any new products you plan or hope to add? 
"I tend to use the quiet times in the New Year to sit down and evaluate how my work has performed – what has sold well and what needs to be dumped or reworked. I like to start a new sketchbook where I can doodle any ideas that pop up so I can develop new products to launch later in the year."
What do you hope people feel when they see your work or bring it into their homes? 
"One reaction I frequently get at craft fairs is that my work brings a smile to people's faces. I don't want my work to have a clinical, stand-offish beauty to it but instead bring a sense of homely, coziness, something that's easy to live with but has a quiet presence about it; what's important is that people treasure and enjoy it for years to come."
You have your own site plus you're on Etsy & Folksy – is it important to be on a marketplace site? 
"I launched my own website about 18 months ago but retained my Etsy and Folksy shops. It's vital to make it as easy as possible for people to find you so an online presence is invaluable. Additionally, I have a small selection of work for sale through the Papa Stour website which features work from Scottish based designer/makers. I do think it's really important however, to find the right market place for you – it's temping to have your work here, there and everywhere but I do believe you have to be selective so it's seen alongside like-minded makers."
Finally, are there any events coming up in the future? 
"My busiest time of year is the final three months and to finish off I'm staying put in Scotland. I have two full weekend events in Glasgow and Edinburgh, details of which can be found on my website, plus a selection of work can be seen and bought at the Green Gallery's Christmas exhibition in Stirlingshire. Plans are still on the drawing board for what shows to take part in 2015 but I do like to take the occasional foray down south to England!"
Discover more of Astrid's work at her website or Etsy.