Art & Design, Decor, Events, Features, Home, Home Arty Home, Homewares, New Art, Prints, Themes, Trend, Wide World
Three ace Wimbledon ways to bring tennis into the home
Anyone for tennis? Wimbledon may be over but that doesn't mean our love affair with tennis has to come to an end for another full year. For the fan of the sport, or purely for a quirky hit of playfulness, here are three designers that can help you add a stylish splash of Wimbledon to your home.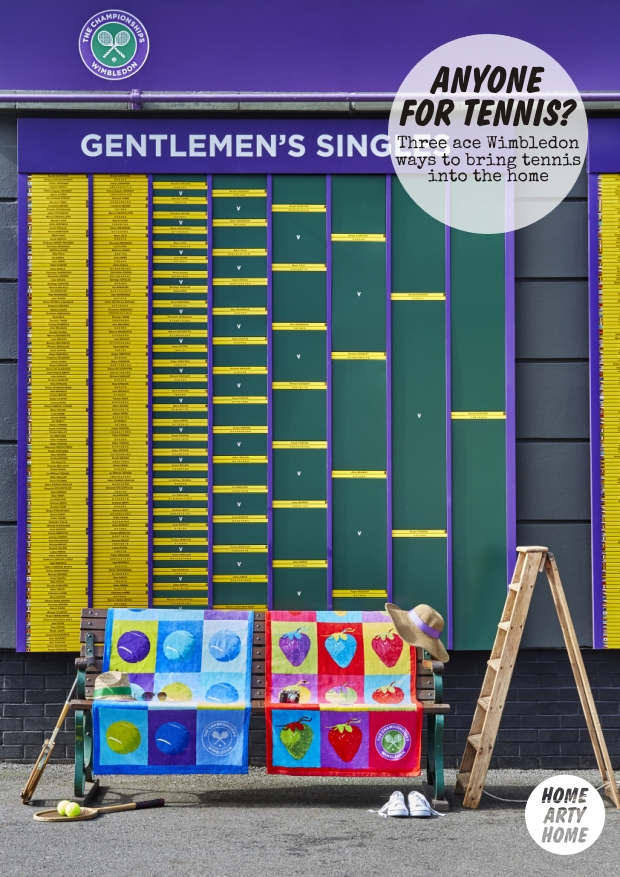 It seems appropriate to start with these wonderful tennis-inspired towels by Christy. Apart from practicing constantly, tennis players must forever be showering to rinse off sweaty training sessions, or advertising razor blades if you're Roger Federer, so no self-respecting tennis player, or bathroom for that matter, should do without Wimbledon towelling.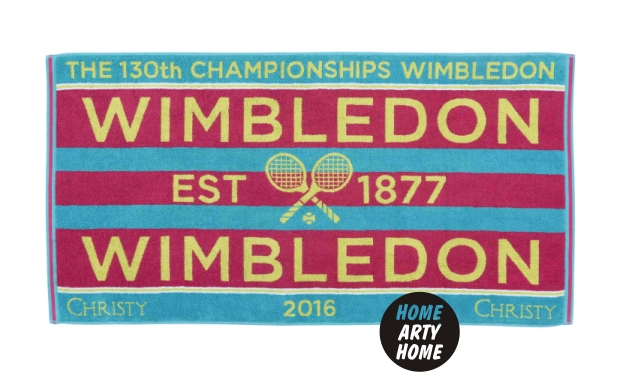 Alongside the officially-branded towels in the traditional purple & green (which are two colours that, outside of Wimbledon, should never be paired unless you're deliberately going for "1980s-shellsuit"), there are a couple of brightly-coloured marvels featuring graphic tennis balls and strawberries that will ace your bathroom space, also available at Amara.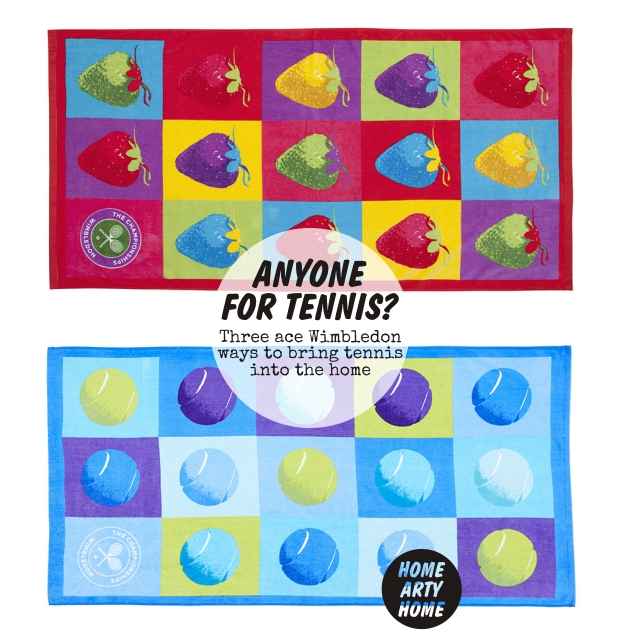 What else does a bathroom need? Plumbing, heating, tiling, ventilation – yes obviously, but this is Home ARTY Home so we won't trouble ourselves with such practicalities here and instead will concentrate on curating artful goods on the assumption that the plumber has already plumbed and the builder's grouted.
Where were we? Oh yes, a bathroom needs a mirror and what could be better than these upcycled vintage tennis rackets? Federer could do with one of these when he's practicing shaving for those commercials. Created by Emma Loves and available from Etsy, each mirrored racket is a truly unique item.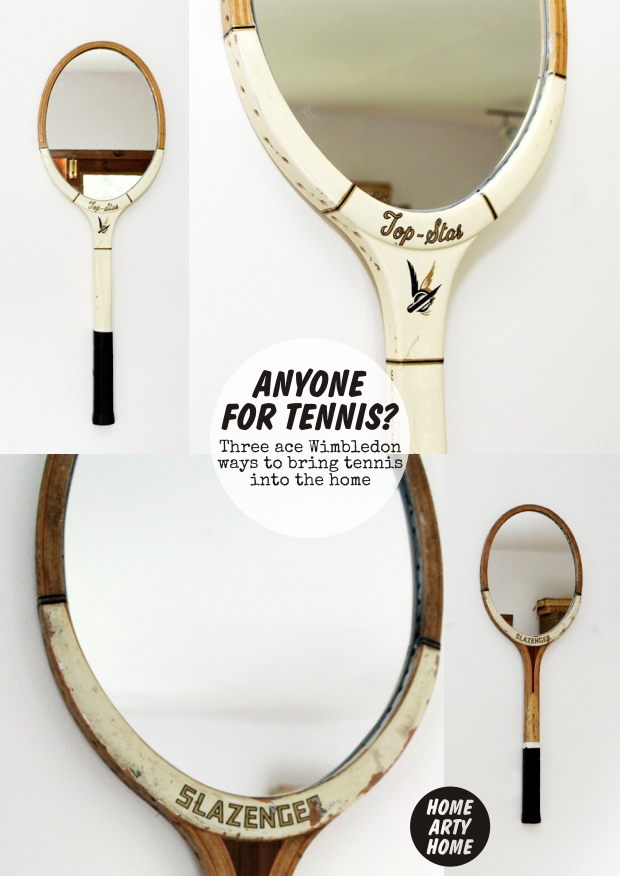 So far the towels and mirrors would go a great way to creating a stylish bathroom or WC, so let's accent the space with some pop art on a tennis theme, shall we?
Featuring Terry-Thomas as the ultimate cad, who keeps putting off Ian Carmichael from his stroke with sneering taunts of "hard cheese", classic British comedy "School for Scoundrels" featured one of the most iconic tennis matches ever committed to film.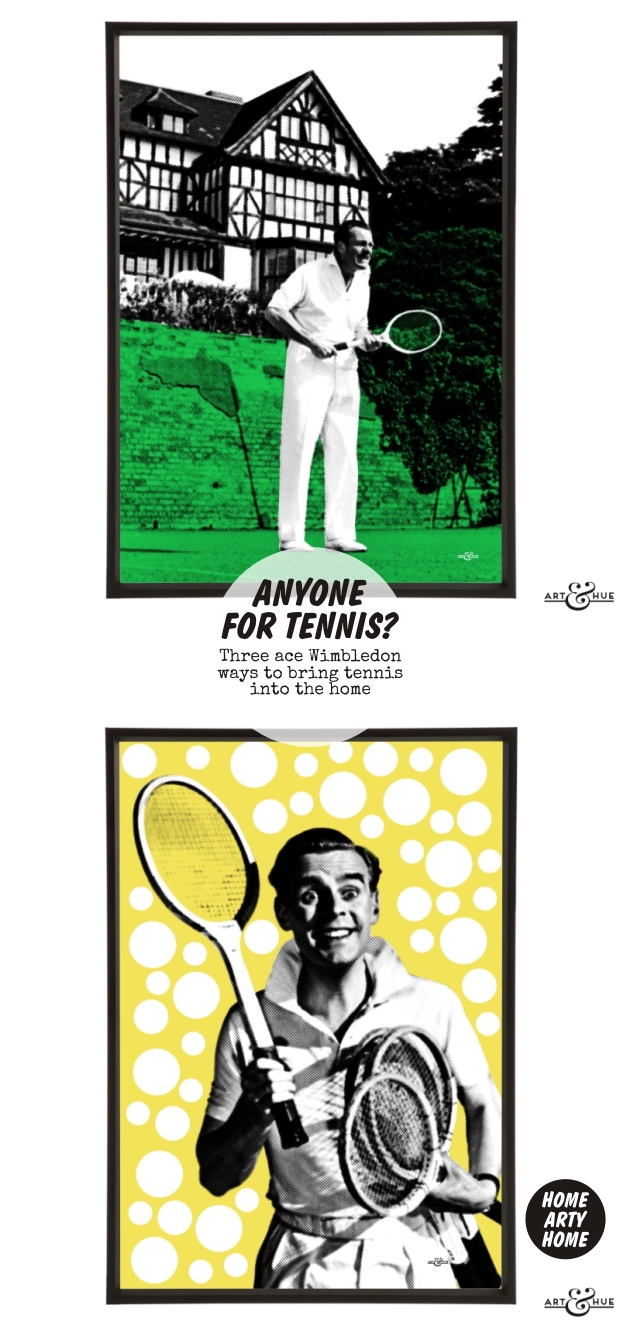 Available in a wide choice of 17 colours and three sizes, Art & Hue's prints featuring both actors from the film would make the perfect gift for the tennis fan or classic film buff, as well as adding the finishing touch to the stylish tennis-inspired bathroom or cloakroom we seem to have inadvertently decorated in this post. Where better to shower or freshen up? To paraphrase the umpire, new balls indeed.