Art & Design, Decor, Featured, Features, Home, Home Arty Home, Homewares, New Art, Paper Goods, Prints, Profile
Fox & Velvet
We're all subjected to so much information and imagery that it really does take something super-special to stand out.
Whether it's flicking through online department stores or browsing Etsy, it's all too easy to go for ages and pages without anything attracting enough attention to warrant a link click.
On a recent trawl of Etsy on the hunt for art & design to feature her at Home Arty Home, I was stopped in my tracks by the wonderful Mid-Century inspired illustrations of Fox & Velvet.
With prints that are simultaneously modern yet retro, as well as fun and stylish, you could imagine Fox & Velvet's designs being used in a title sequence for a 1960s caper film with Capucine or Audrey Hepburn.
Home Arty Home had to get in touch and find out more about the prints and the process, so take a look at the Q&A with Fox and Velvet below and, afterwards, browse their great prints at their website, Etsy, or Not On The High Street using the links below.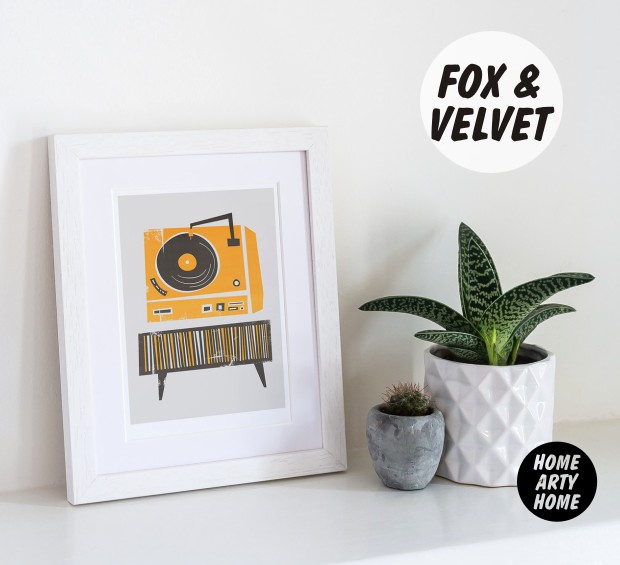 Who are the people behind the brand?
Fox & Velvet are Suumin, originally from New Zealand & Mark from Liverpool.
How did you get started? What made you want to create and launch your range?
We met while we were both working for Apple in Covent Garden. Then one day Mark suggested we leave our jobs and go travelling around Asia and New Zealand, which we did for a whole year. That was a life changing time for the both of us, and we gained a years worth of independence and wanted that to continue when we returned home.
We both love design, Mark has a graphic design background and Suumin has dabbled in various creative areas before settling on illustration & writing. Our current range of city based illustrations is influenced massively by our love for travel and our experiences when we were away.
What's the creative process for you? What inspires your work?
We are a little bit obsessed with mid century design and that era of illustration. I say obsessed because in our work hours that's all we talk about. Designers like Saul Bass, Paul Rand & Jim Flora have really captured our imagination and we look up to them so much when we are creating our ideas. Our design process is a real collective. Mark suddenly jumps to life and starts typing into his notes on his phone ideas that pop into his head and then Suumin 'quality controls' the ideas until we're left with only the best.
We then do rough sketches and eventually move over to the computer and digitise and colour our ideas. This stage we often tag team so we'll each spend a bit of time developing the illustration, so most of our pieces have a lot of both our influence in them. One of our main characteristics is to use a variety of textures to give our work an aged look, whilst still looking modern, which means they work really well as prints.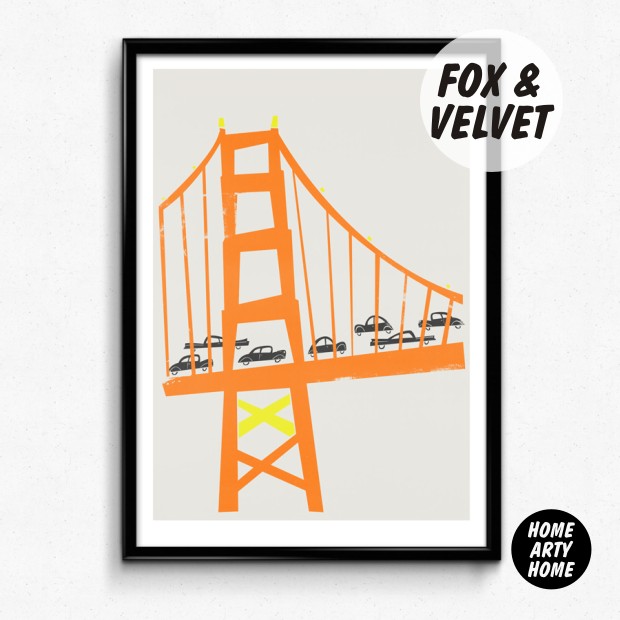 Where are your items made? Do you make them yourself?
We have a home studio here in Liverpool and everything is designed printed and packed there, whilst we listen to our other obsession, our vinyl collection.
Do you have any collaborations on the go?
We were very lucky last year to have some of our work featured on a BBC Three sitcom called 'Together'. Our friend, who is an assistant set designer showed our work to her boss and she requested our work as wall art on the set. We were blown away and jumped at the chance! The show was hilarious, and it was a massive honour and a very proud moment to see our work on the show and to be associated with such a huge brand. We have a couple of other big projects on the go at the moment – they are top secret so we can't say much, but we always update our social media pages as soon as we get the go-ahead to share big news.
How do you see the range developing? Are there any goals you're aiming for?
We talked a lot at the end of 2015 how we saw F&V developing, or where we wanted our work to be featured. 2016's main aim was to branch out into wholesale and be featured in some of our favourite shops around the country, which we are well on course to do. We recently had our first licensing agreement, a set of three postcards with UStudio, whose products we had been admiring in one of of favourite shops in Liverpool.
Another massive goal for F&V is to try and gain more commission work. We've done a lot of personal commission work but we'd love to branch out in to commercial work too. We'd really see our illustrations working well on a book cover, or in a supplement in The Guardian or New York Times (we can dream) but any commission we are able to achieve would be a very proud moment for us!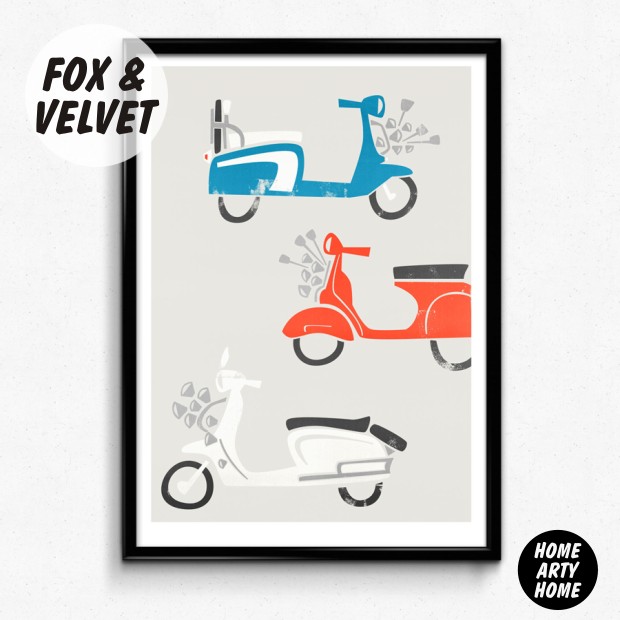 You have additional items such as greetings cards alongside your art prints – are there any new products you plan or hope to add?
We are working with a couple of companies at the moment to try and get our designs featured on other products like pillows, mugs and wall stickers. We have some products on Society6 and are about to open a Threadless store so we're looking forward to adding apparel to our range!
What do you hope people feel when they see your work or bring it into their homes?
Nostalgia and a warm fuzzy feeling hopefully. Artwork really makes a difference in making a house feel like it is your own space. We get sent pictures all the time from our customers showing us that our prints are pride of place in their homes. Now it doesn't get any more flattering than that, and we always sit there with massive smiles on our faces when we see those photographs.
Discover Fox & Velvet goods at their website, Etsy.