Crafts, Decor, Events, Featured, Features, Handmade, Home, Home Arty Home, Homewares, Offline, Paper Goods, Profile, Themes, Trend, Wide World
Two Key Trends in One Stylish Brand
When Home Arty Home visited Top Drawer in September, the art & interiors blog was captivated by the artisan paper goods of exhibitor Esme Winter.
Featured in the highlights round-up from the Olympia show, Home Arty Home had to find out more about the range and the process behind the papers.
With marbled prints a key trend, Esme Winter produce some of the finest papers using the age-old technique. Not so much a trend as a matter of pride in craftsmanship, handcrafted goods are on the rise and Esme Winter's papers are a prime example, swirled by the hands of artist Jemma Lewis.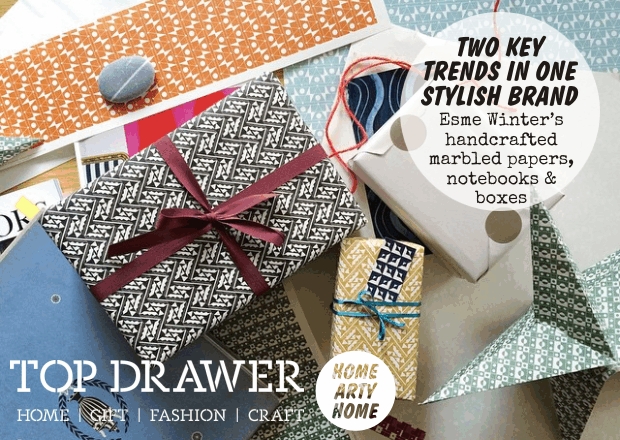 Taking gift wrap to another level, Esme Winter has already collaborated with Margaret Howell and Gio Ponti for Port and their striking products are ideal for fans of the contemporary and the traditional alike.
Home Arty Home caught up with Esme Winter to find out more about the people and the process behind the collection which incorporates two key growing trends: marbled papers as well as the continued rise of handmade items.
Who's behind the brand?
"Esme Winter is a partnership of Esme Winter and Richard Sanderson. We met at Bristol UWE where Esme studied Textile Design and Richard studied illustration. Our shared passion for paper and printmaking eventually led to the what we do today."
How did you get started?
"We officially started in late 2011. As a couple we would often exchange ideas and opinions about our personal freelance work and somewhat sporadically we started to design together.
We didn't have a set launch date or any kind of business plan, just an aesthetic approach. We made a few small items and it went from there."
What's the creative process for you?
"Our pattern designs initially come about naturally from drawings which will be revisited and developed over time. In a way, each of our designs have their own story, some may have been modified and re-drawn over and over and some just work instantly. Our 'new' designs are often very old!
A lot of our inspiration has been passed down through our families. We've been lucky enough to have been exposed to great art from a young age. In particular; Eric Ravilious, Mary Fedden, Barbara Hepworth, Ben Nicholson, Alvar Aalto to name a few."
How are your items made?
"We design everything ourselves and manufacture using a variety of traditional printmaking techniques such as offset lithography and foil-blocking. We use a variety of different manufacturers in the UK to make the majority of our products and our Notebooks are made in Holland."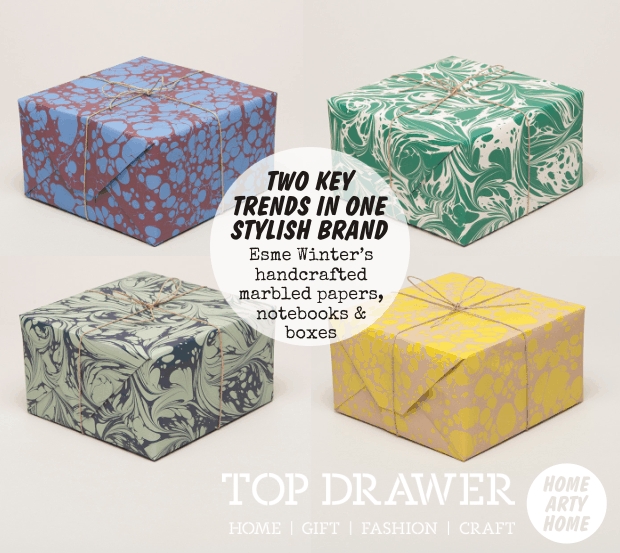 Do you have any collaborations on the go?
"Our new Marbled Paper collection is a collaboration with Marbled Paper artist Jemma Lewis.
Jemma has a great reputation within the antiquarian book trade. Her original marbled papers are beautiful examples of traditional techniques, all made in her garden shed in rural Wiltshire.
Marbling is one of the earliest and most skilled forms of artisan paper decoration and by working with Jemma we have created a range of truly authentic, contemporary marbled papers.
We also have a few other collaborations in the pipeline, but they're under wraps for the time being!"
How do you see the range developing?
"We're constantly thinking of new ways to increase our range, but for the time being we're sticking to paper goods. We strongly believe in a patient and considered development over 'too much too quick'."
What do you hope people feel when they see your work or bring it into their homes?
"A sense of excitement we hope – especially if they are using our paper to wrap a gift or are receiving a gift in our paper. We strongly believe that the gift wrapping can be as important as the gift itself. By taking care and having attention to detail, wrapping and unwrapping objects is a joyful and enriching experience for both the gift-giver and receiver."
Visit Esme Winter to see more.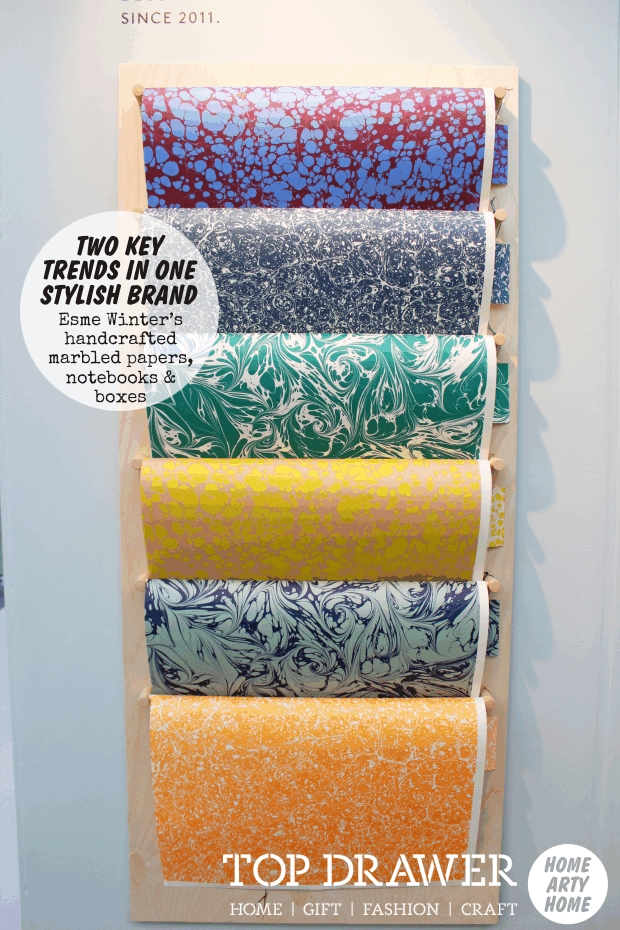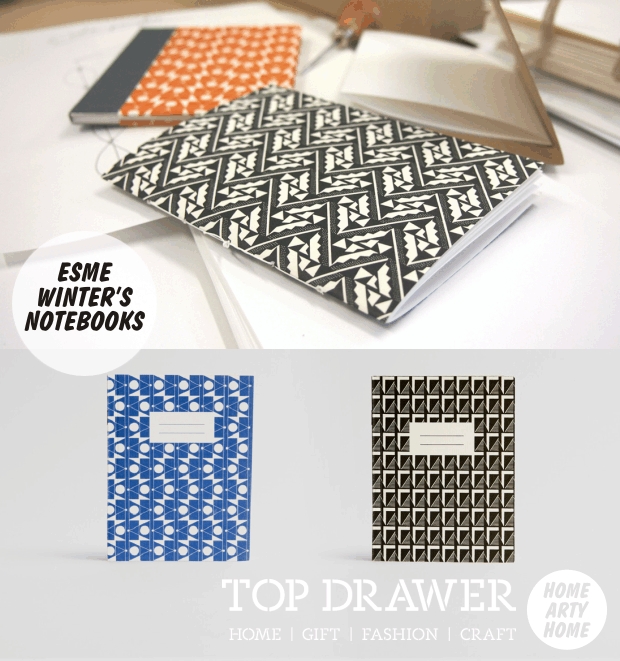 Photography: Home Arty Home & Esme Winter