Art & Design, Colour, Crafts, Decor, Fabric, Features, Handmade, Home, Home Arty Home, Kitchen, Paper Goods, Themes, Trend
Mad for Marbling
No, I'm not talking about the stone, marble, which is a classic material, a neutral almost, that looks great in the home, particularly kitchens and bathrooms. Today Home Arty Home is going mad for marbling, the age-old technique of creating swirling paint and ink effects on paper.
It's been around for centuries and used primarily inside books but a new crop of designers and paper artists have given the method a contemporary spin by using modern colour palettes to produce exciting goods that are part of this key & growing trend.
From neon to camo, pastels to brights, in contemporary colours marbled paper takes on the feel of 1960s sci-fi, like a lava lamp or the matmos in "Barbarella".
A touch of marbling in a room will add instant modernity with it's hit of colour and pattern, or it would be tempting to mix up a few marbled items, like multi-coloured sweets in a jar.
Whether it's for gift-wrapping and greetings cards, or for lampshades and cushions, bring some affordable luxury into the home with these hand-crafted designs.
Gallery Images above:
Art on Water's beautiful handmade marbled papers / 2 Lovely Gays interior design project featuring Calico Wallpaper / Nanners Nerman's Stationery / Harlequin's Makrana Wallpaper at WallpaperDirect / Esme Winter's artisan papers in collaboration with Jemma Lewis / Janey Whitehorn Lampshades / Katie Leamon
's gift wrap, art print and greetings card / Stone & Vein's marbled card
Christian Lacroix Wallpapers at Amara.com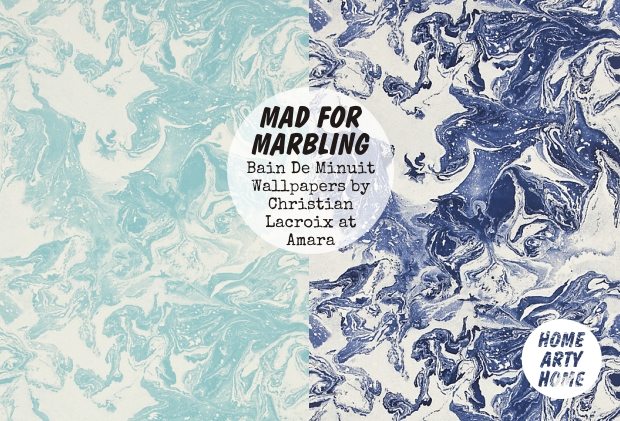 Katie Leamon's Christmas Crackers / Nanners Nerman Stationery / Edition de Luxe Notebooks: