Art & Design, Decor, Events, Featured, Features, Home, Home Arty Home, Homewares, Media, New Art, Offline, Paper Goods, Prints, Profile, Themes, Trend, Wide World
Fed up with Politicians? Take a look at pop art by Art & Hue for Vox Pop, a new political party that aims to put the public in charge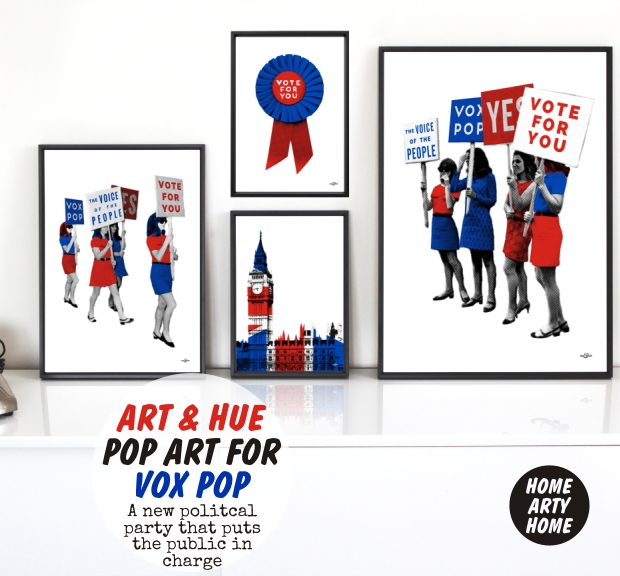 Art has always been inspired by politics, from the way the Monarchy dictated how they should be perceived in portraits, to Picasso's statement against fascism in Guernica, up to Banksy's street art comments on surveillance.
However it's not common for art to try to initiate political change. Shepard Fairey is widely credited by some as helping Barack Obama reach the White House by appealing to younger voters through his signature OBEY-style HOPE posters, and now Art & Hue has created a new series of pop art prints for Vox Pop, a new British political party.
Created in Vox Pop colours of red & blue, like the Union Jack, but also available in the full range of Art & Hue's palette to choose from (including a great new rainbow blend), Home Arty Home is inspired by both the art and the new political concept to put the public in charge of government through direct democracy.
Vox Pop, which means the voice of the people, aims to get rid of the current undemocratic system of representatives (who don't represent their constituents but follow their party-line) and allow us, the British public, to determine our own future by suggesting and voting for policies online.
The Ancient Greek origins of the word "Democracy" translates as "People Power" so it makes sense to give power to the people and, as an online blog, Home Arty Home fully approves of making politics accessible and fair through online voting.
There are four pop art prints, all available in three sizes, including Parliament, two with demonstrating placards (that look as glamourous as Chanel's Spring/Summer 2015 collection), and a fabulous political rosette imploring the viewer to "Vote For You".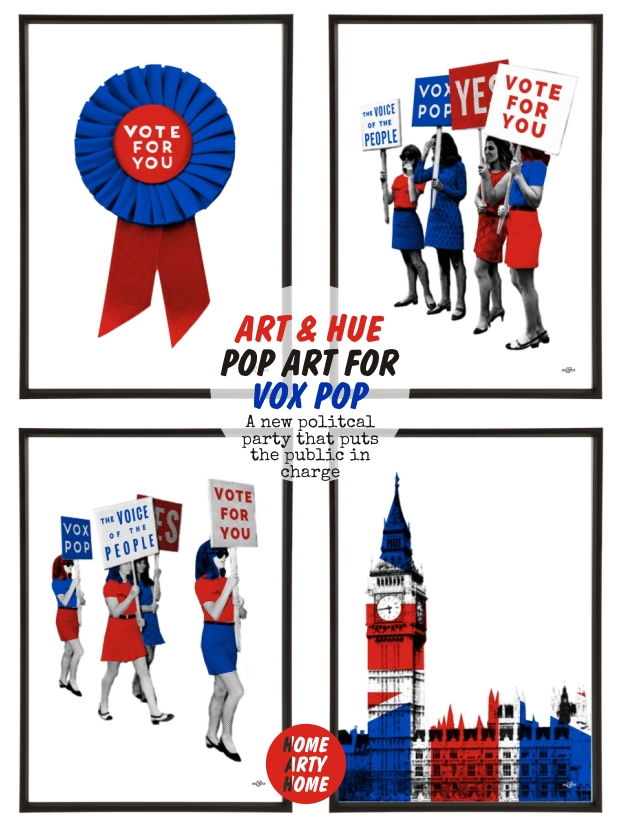 If you're not politically-minded, the Rosette prints would make a great gift to congratulate a friend or loved one on their wedding, passing their driving test or exams, or even just to show you care, with optional sayings such "You're Number 1", "Well Done", and the optimistic "YAY!".
You can even customise the rosette prints with a special bespoke message to the recipient to add that personal touch and show more care & attention than a greetings card (plus an art print is a permanent reminder unlike a card that will get filed and forgotten about, or binned).
Take a look at the launch video for Vox Pop at YouTube which features Art & Hue's artwork, and read more about the new party at their website.
The pop art prints are available from Art & Hue at their website as well as Etsy.