Modern technology has transformed the way artists can create and sell their work. From graphics software to manipulate shapes and colours, to online marketplaces like Etsy as a platform to display and sell artworks, the old days of relying on local galleries to accept an artist are over.
With modern tech comes a slew of graphic artwork so it's always nice to discover art that starts life by hand and uses technology to enhance the handmade foundations.
Eloise Renouf is a prime example of a modern artist. Eloise's art prints start off life through using her hands, whether it's drawing or painting. She then uses computers and digital printers to create work that is then sold online at Etsy.
Home Arty Home loves Eloise's mid-century stylings that are brought bang up to date with a sophisticated colour palette. Available in accessible A4 and A3 sizes, for which standard frames are readily available (take a look at our previous feature on frames), it's a simple process to add colour and pattern to a space.
We've been aware of the amazing artwork by Eloise Renouf for a while so we were pleased to see her prints selected to be part of the Etsy Local Gallery Wall at the recently-opened London branch of West Elm.
The West Elm gallery was curated by Will Taylor of Bright Bazaar, who said "I don't think any room is complete without a dash of pattern to bring some visual punch to the scheme – something that Eloise's abstract art prints provide in an instant. I was fascinated to learn that all of her images start life as something hand created, either painted, printed or drawn".
We caught up with Eloise to find out more about how she started and what inspires her artistic process: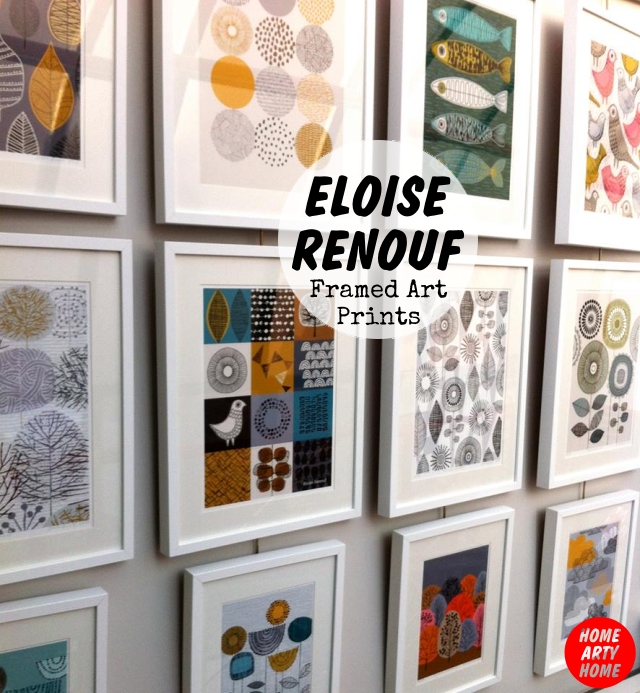 How did you get started? What made you want to illustrate, create and sell your artwork?
"After graduating from University, I had some interesting design jobs in London and New York, but I always felt that I wanted to "do my own thing". I was never really fully satisfied creatively working to someone else's brief. So in 2000, my partner and I established our own stationery company, Eloise R Designs, designing and publishing our own greeting cards. We did this successfully for about eight years, but began to lose interest, and with a growing family found it too hard to maintain a good work/life balance.
I took a couple of years off to be "Mum", but found I needed a creative outlet, so I set up my Etsy shop. Initially it was just a bit of fun, and gave me a reason to produce work, but it quite quickly became a job in its own right, and also gave me a platform to show my designs to prospective design partners. I've been lucky to have been offered quite a lot of commission work through my shop."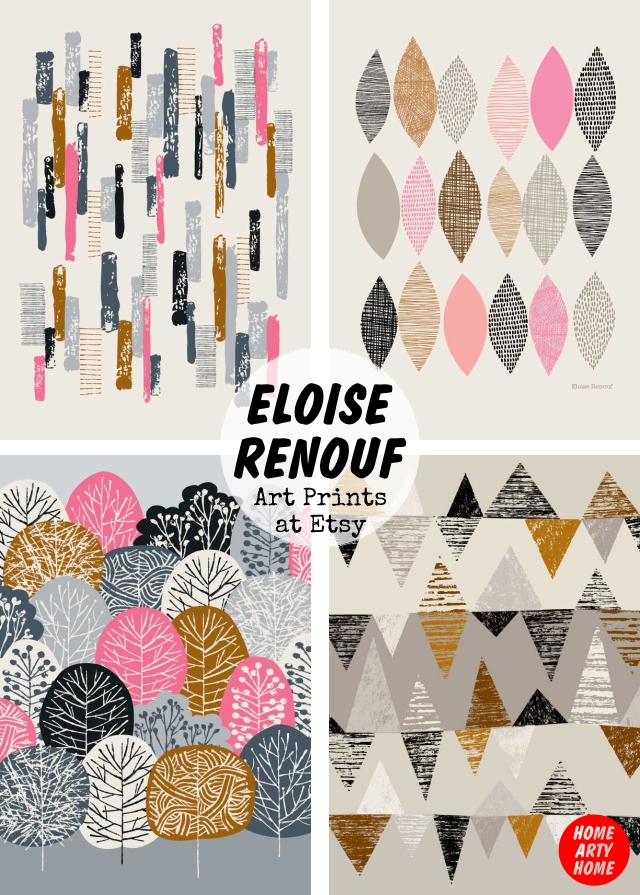 What's the creative process for you? What inspires/influences your work?
"Everything starts with drawing and mark-making. It's impossible to create new work based on fresh air! So I'll look through vintage books, visit exhibitions, sift through piles of magazine cuttings, visit the library, take walks etc until some themes start to develop, and then I research these more fully by getting the pencils and paints out. Sometimes I draw tangible objects, sometimes shapes, sometimes just textures. Because many of my artworks at the moment are digital, I usually paint and draw in black and white.
My influences are quite broad, though there are obvious links in my work to mid century creations. I particularly like ceramics, textiles and illustration of that period. But anything can spark an idea, and I often find interesting reference material when I'm out on a walk, especially relating to colour."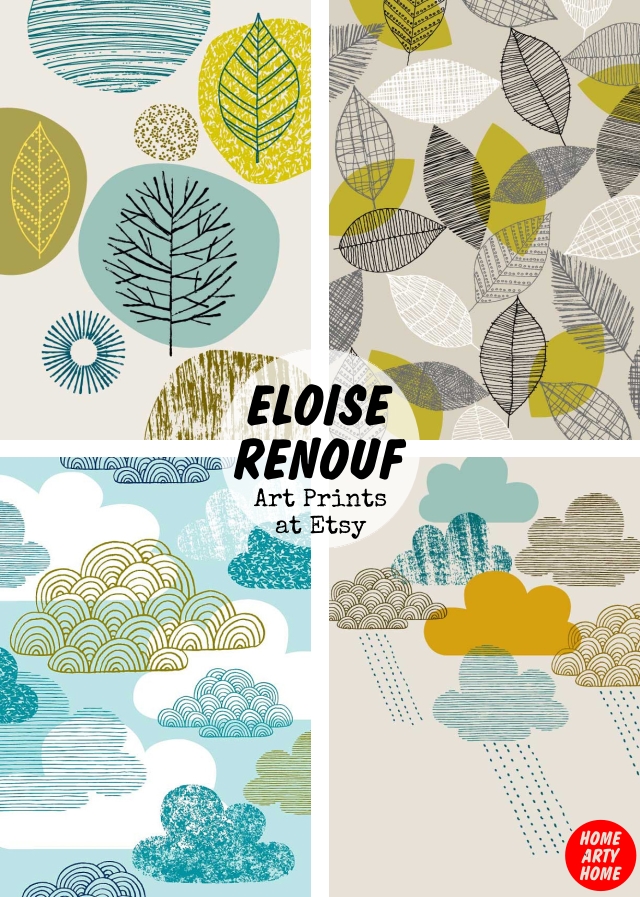 How is your art printed?
"Digitally. I resisted the use of a computer for ages (probably too long!), but as long as the hand-drawn qualities are evident in my artwork, I'm happy with the process."
Where are your items made? Do you make them yourself?
"I make most of my items myself. All the paper prints are printed by me, meaning that I can easily accommodate custom sizes, and don't have to hold stock. My fabrics and tea towels are professionally printed in the UK, but I make these up into cushions and pouches myself too."
Love your designs on the Cloud9 Fabrics. Do you have any other collaborations on the go?
"I have just completed the artwork for a very exciting (but at present still secret) project with a large company based in the USA. It was a real honour to be involved, and I can't wait to share the results! I'm also working on a range of greeting cards."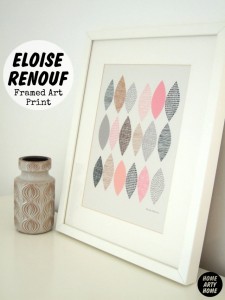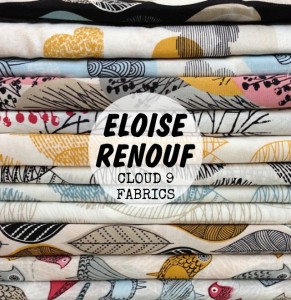 How do you see your work or the collection developing? Are there any goals/projects you're aiming for in 2014?
"I feel it's time to develop my look and I'm in the process of exploring new themes and directions. I'm looking to branch out from my current comfort zone. I'm hoping and planning for this to be a year where things get a bit exciting, both visually and product-wise!"
Are there any new products you plan or hope to add?
"I'd really like to broaden my offering, and introduce new products with my patterns and designs on them. I'm at a bit of a crossroads at the moment – lots of ideas brewing, but I need to make decisions about which to pursue as I don't have the time or resources to follow them all! Lots of people ask for my prints in much bigger sizes, so trying to arrange that is certainly on the agenda!"
Finally, are there any events coming up in 2014?
"I will be attending a couple of very local fairs, which are of an amazingly high quality. The next one is The Secret Garden Craft Fair in Sherwood, Nottingham on the 21st June. It's the loveliest community event."
We love the way Eloise Renouf combines hand-illustrated and hand-painted elements with modern digital technology to create colourful art prints.
Discover more of her amazing work over at Etsy.