Art & Design, Colour, Decor, Featured, Features, Home, Home Arty Home, Homewares, Media, New Art, Paper Goods, Prints, Profile, Themes, Wide World
Carry On but no need to keep calm
Remember when everything seemed to have "Keep calm & carry on" plastered on it? A lovely sentiment for wartime but it quickly became a cliché through over-exposure. Sometimes we don't want to keep calm, sometimes we want to carry on having fun.
Step forward Art & Hue with the new collection of pop art prints inspired by the longest-running British film series, the Carry On films. Yes, longer than James Bond even (007 will need to make another six films to catch up).
Before you decide that Carry On wouldn't fit into your minimally-styled neutral space, think again. We can all be pre-occupied with perceived or ascribed "good taste" until a space becomes a personality-free zone of blandness that may photograph well but doesn't offer any pleasant surprises or feel like a home.
A sudden hit of something unexpected, something whimsical, is ideal for making a room feel thought-out as well as bringing a smile to the face. One of these Carry On prints in a minimal setting would provide an instant lift of retro, Mid-Century style that will make the heart sing. And no need to keep calm.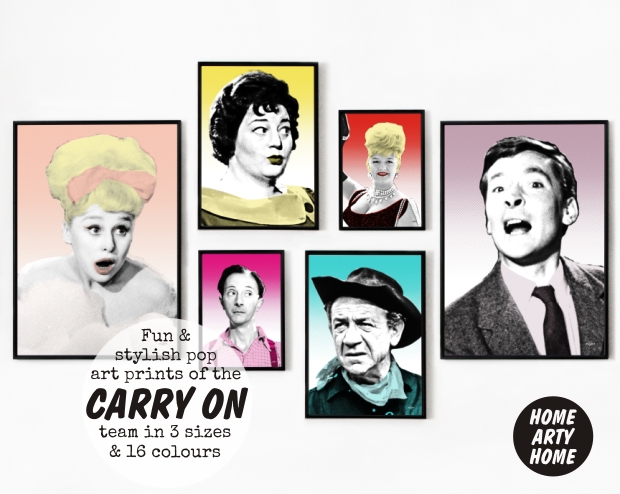 Delving into the archives at Pinewood Studios, where the Carry On films were originally filmed, Art & Hue has produced the largest collection to date (larger than The Avengers collection) to produce six pop art portraits of the much-loved stars as well as reworked the classic posters of the first 12 films into stylish fine art prints.
Unlike traditional movie posters which are printed on thin paper with inks which fade, Art & Hue has created fine art print versions of the posters printed on museum-quality archival card of 310gsm, made from 100% cotton, using pigment inks which last lifetimes. Based on the first 12 Carry On films, all of the prints come in three sizes and 16 colour options, are available with or without cast billing, with most using (or remixing) the original poster imagery, and some re-imagined.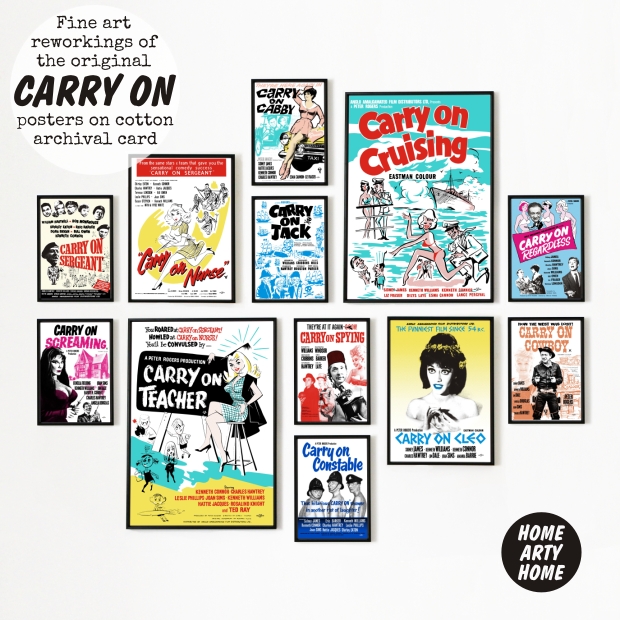 Sid James, Kenneth Williams, Hattie Jacques, Charles Hawtrey, Joan Sims, and Barbara Windsor (Dame Babs) have been given the Art & Hue treatment to create a collection of pop art portraits, also available in three sizes & 16 colours for you to choose from to fit into the design scheme of your home.
There's nothing more British than the Carry On films which follow on from a long comedy tradition that dates back to bawdy music halls and end-of-the-pier saucy postcards. It's the brazen cheek of the Carry Ons that makes them so irresistible and their cultural significance should not be underestimated. Whilst the humour of the Carry Ons may be derided by some as corny or dated, it's only because the films have endured and established themselves in the British psyche that the jokes now seem so familiar. Like Shakespeare permeating our language, jokes from the Carry On are always with us, such as a casual "Matron" to acknowledge an accidental innuendo.
Focusing on relatable occupations for the first few films (Carry On Sergeant, Nurse, Teacher, Constable, and Cabby), if you know anyone working in these fields, they would make the ideal gift. What doctor or nurse could resist a "Carry On Nurse" poster and which taxi-driver wouldn't be chuffed with a "Carry On Cabby" print?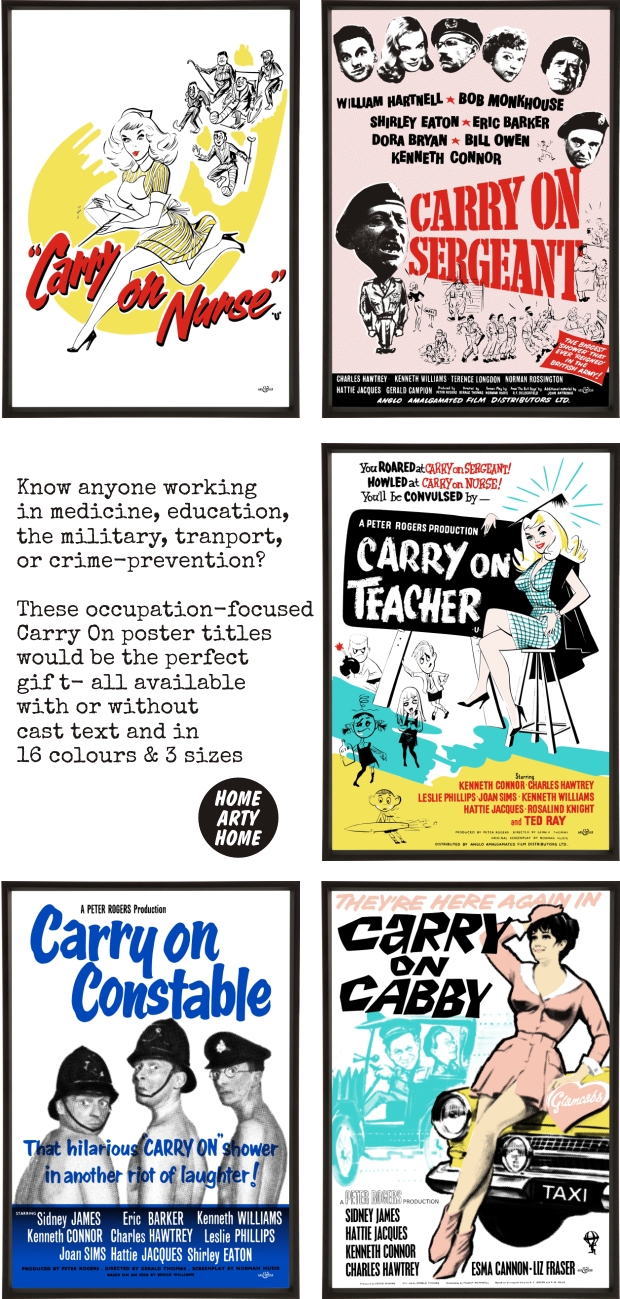 Likewise, a veteran cruiser would love the "Carry On Cruising" print, available in Art & Hue's 16 colours plus the colours of popular British cruise lines Cunard and P&O.
Carry On Jack and Carry On Cowboy would make great prints for a boys room with Carry On Screaming a good fit for an office space.
To add fun & luxury to a bathroom, it doesn't get more luxurious than Amanda Barrie as Cleopatra bathing in milk. Bubbly Barbara Windsor (or Dame Babs) in a bubble bath would also make a wonderful addition to a well-ventilated bathroom to add a touch of relaxed pampering to what has generally become a functional, no-lingering space.
Discover the full Carry On collection of pop art prints at Art & Hue.