More sad news for the British High Street today with the announcement that BHS has gone into administration. Whilst it may be unnerving for us to see another mainstay of the shopping landscape at risk, it must be a lot more distressing for the staff of the struggling retailer.
Philip Green offloaded the company for only one pound, yes £1, after he was unable to turn around the downward trend, and it seems the current owners have not fared any better.
Whilst the fashion offering of British Home Stores (and we're using the term "fashion" very loosely here) is well below par, the homewares has always punched well above its weight and the lighting department in particular is always worth a browse. BHS has collaborated with Kelly Hoppen in the past and their home accessories design team continues to produce great lighting even now.
It's a shame the other departments haven't been given the same leeway that lighting has, and it's surprising that the store hasn't concentrated on interiors, because as a brand the name of the store promises greatness. It's British and we all know how popular the word British is right now in everything, from Bake Offs to Sewing Bees; it's Home and we all like to browse for new goodies to sprinkle around our home; and it's Stores, which has a lovely vintage feel, like the old General Stores you'd see in 1930s movies.
Hopefully the chain will survive the current financial troubles that it's found itself in, if only for the staff's sake, but just in case the lights are about to go out across British Home Stores, it's well worth popping in to snaffle some gorgeous and affordable lighting whilst you can.
(Just in case, best to buy in-store rather than online to make sure you get your goods in case deliveries stop).
Love this beaten copper pendant: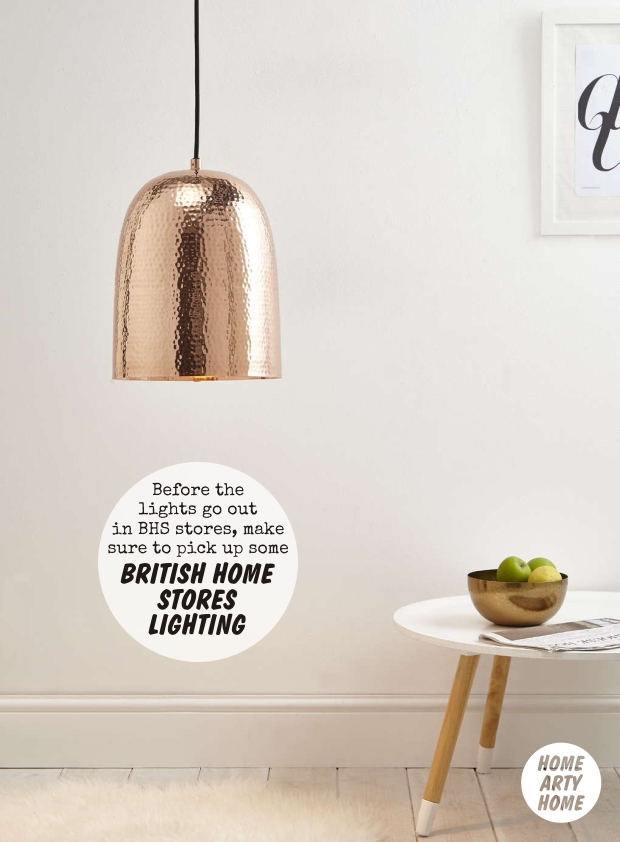 This lit decanter would look great amongst the booze in a cocktail area: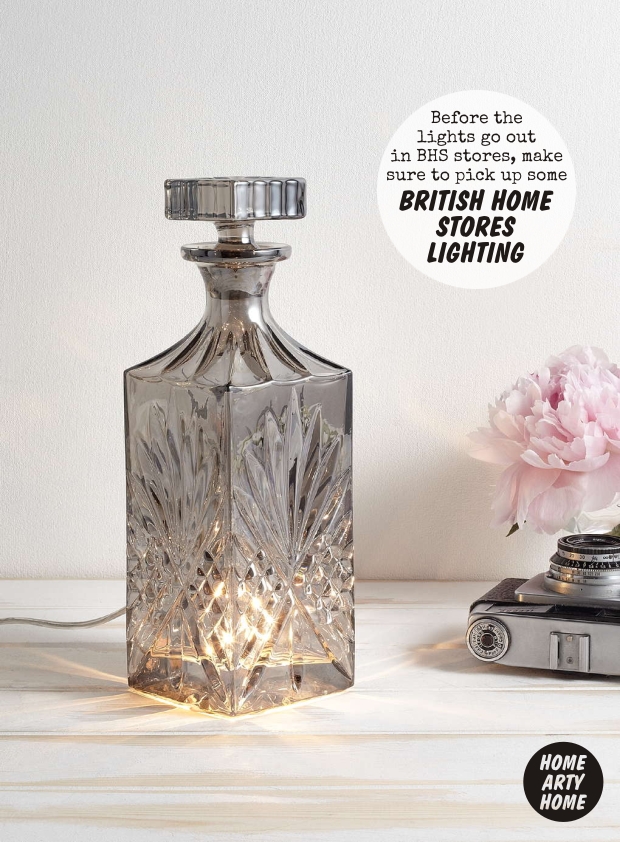 Artfully random glass cluster if you have the height for them: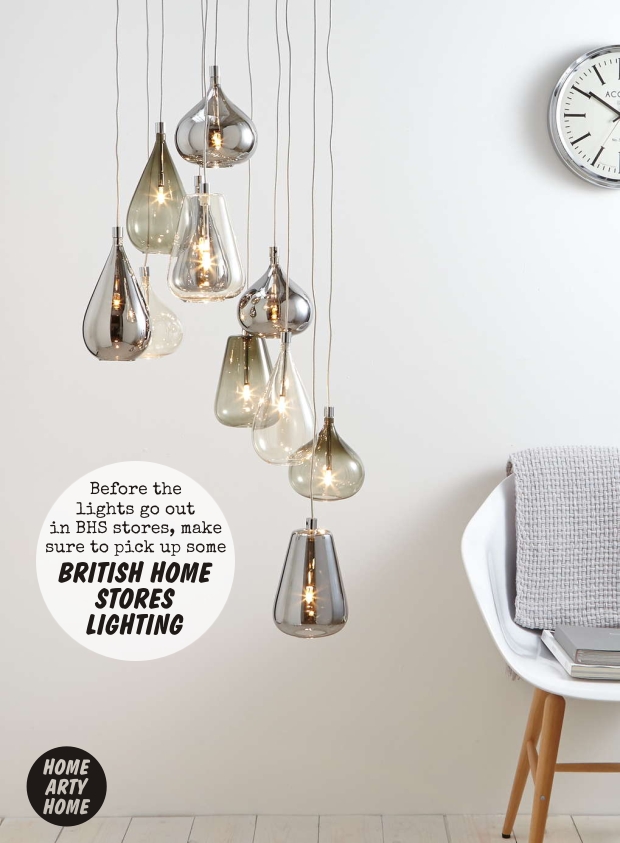 Again, place this decanter lamp next to the booze or perhaps on a dressing table next to perfume bottles for extra glam and soft lighting: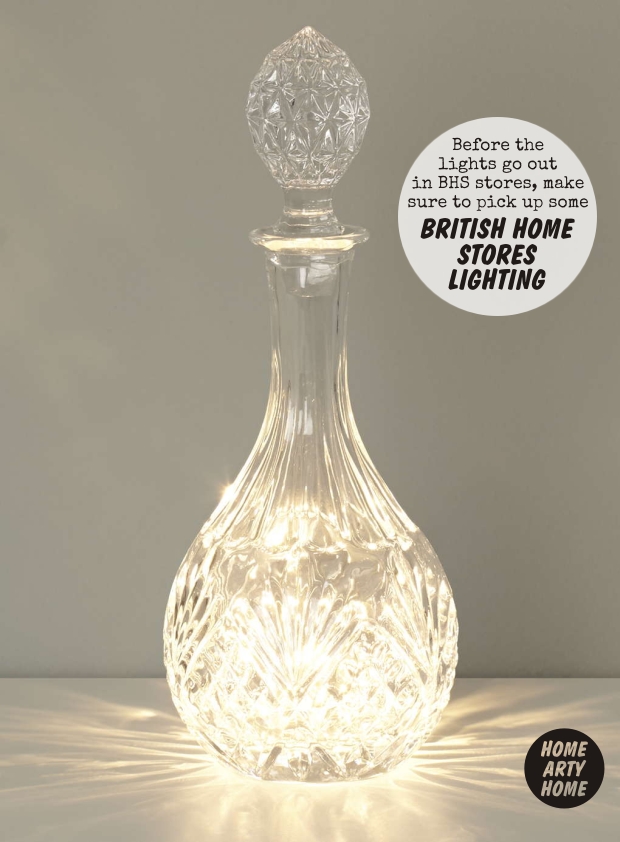 Love this retro brass base, pair with a tall wide lampshade in a colour or pattern to fit your space: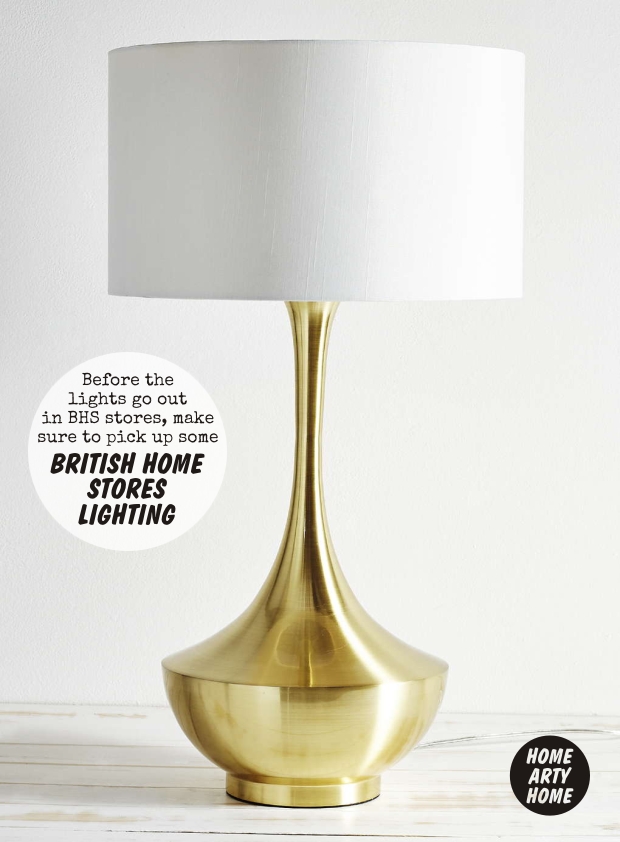 All images from the BHS website