It's that time of year again, post-Christmas, when all the television ads seem to be imploring us to get a new sofa or kitchen. Do we all look around our homes after festivities, perhaps having had too many friends and family visit, and think we need more seating? Do the companies behind these ads think that all of us haven't given any thought to our interiors until it's too late and we've got visitors poking their noses into our dated kitchens or sitting on ugly seating we're embarrassed by?
Chances are if you're reading Home Arty Home, you've got a keen eye for design and art and are happy enough with your decor, but that doesn't mean we can't all spruce up some rooms with a few well-placed additions to breath new life into our homes for the new year.
Instead of being tempted to invest in an expensive new sofa, buy a low-cost stylish throw to cover up any offending seating and sprinkle fresh art and accessories around your home to refresh it for 2015.
Taking something old and putting a fresh spin on it is what we all do when redecorating or accessorising so where better to look for inspiration than these three designers and artists who have done just that to old art classics!
Firstly, Home Arty Home loves Art & Hue's art prints of remixed art classics – they've transformed art icons into pop art with style and irreverence that would bring a freshness to any space.
Reworked classics include Botticelli's The Birth of Venus, Leonardo Da Vinci's Mona Lisa, Gainsborough's Portrait of a Lady in Blue, and Vermeer's Girl with a Pearl Earring, plus the famous statues of Venus De Milo and Michelangelo's David get the signature Art & Hue halftone treatment.
Available from the Art & Hue website as well as Etsy UK.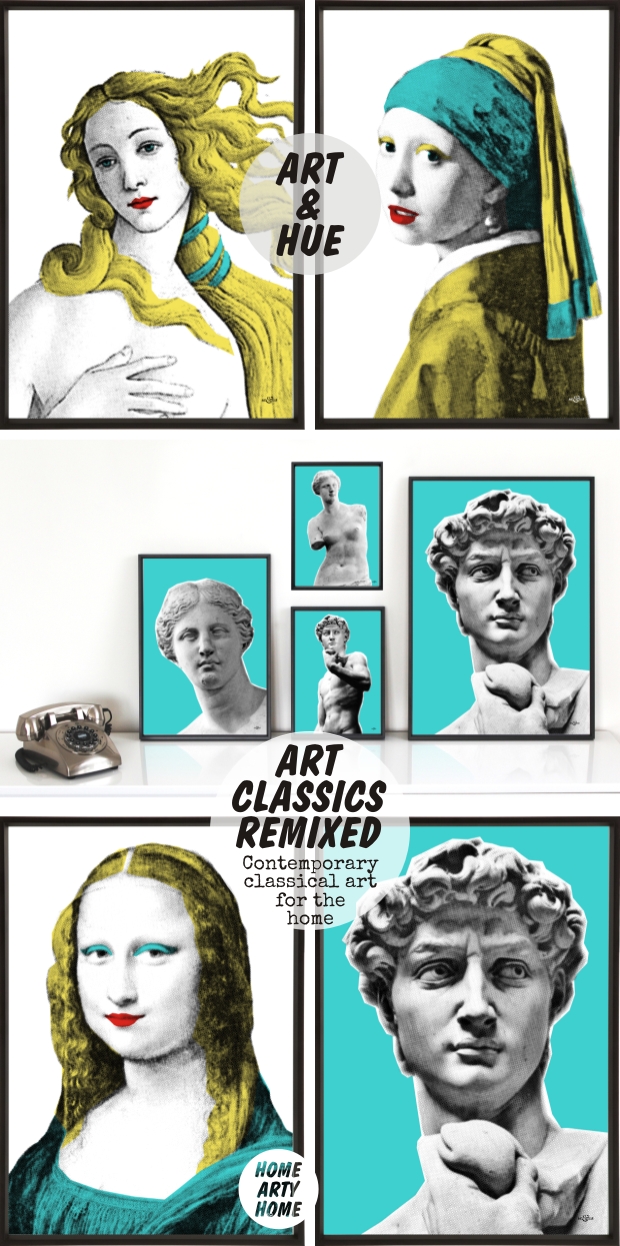 Next, Mineheart have created a unique collection of art and home accessories that feature classical paintings that have been graffitied with spray paint and brush strokes. It's a great way of bringing contemporary life to an old picture and making it relevant for a modern interior. Home Arty Home particularly loves the defaced Marie Antoinette portraits and the paint-dripped landscape cushions, as well as Mineheart's lighting – they've transformed marble busts into table lamps and pendants.
Available from Mineheart's website as well as Harrogate store Lime Lace.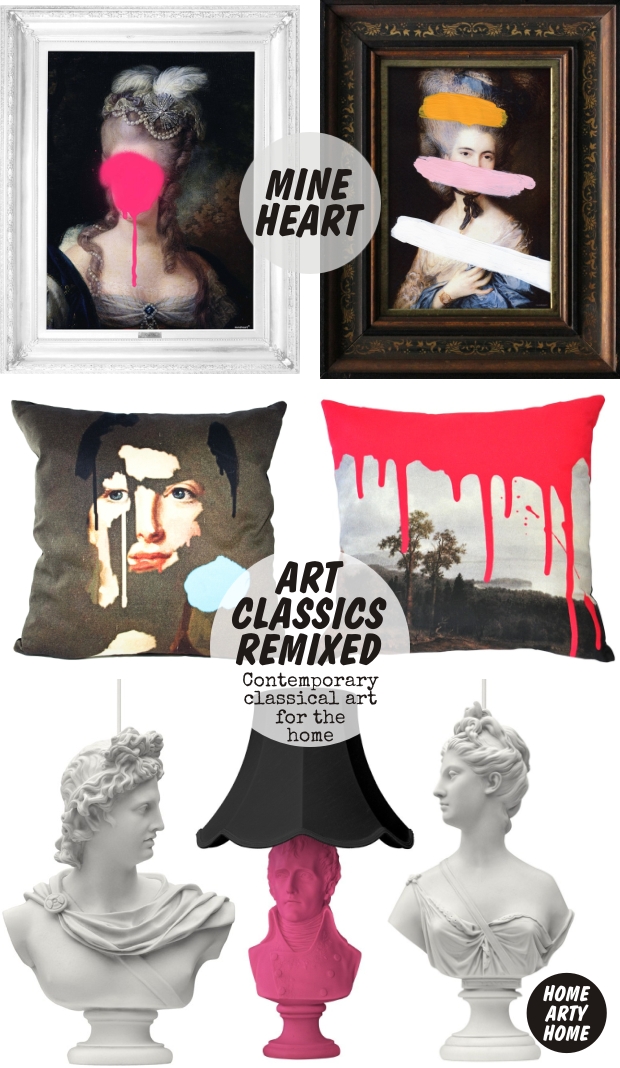 Finally, let's take a look at a French design brand that's reasonably new to the UK (so new that they'll be making their British trade-show debut this weekend at Home London) who have put a fresh spin on classical art by creating portraits of animals in the style of Old Masters. ibride create trays printed with quirky creature portraits as well as a range of tableware in cool blues that cross Fornasetti with Portuguese tiles.
Store owners, press and bloggers can see ibride's newest items at their UK distributor's stand, Pad Home, at Home London this weekend, and you can shop some of their delightful trays at Liberty London.