#ShopTalk, Art & Design, Colour, Decor, Etsy Picks, Events, Fabric, Featured, Features, Home, Home Arty Home, Homewares, Kitchen, New Art, Paper Goods, Prints, Profile, Stores, Themes, Trend, Wide World
10 Years of Etsy!
Time seems such a fluid concept sometimes, especially when considering that Etsy is celebrating 10 years of their marketplace this year.
10 years of Etsy isn't really that long a period of time yet, simultaneously, it's hard to remember a time before the site. The marketplace seems to have always been there when needed, but that's probably because it's established itself as a must-have when looking for unique goods from independent makers, artists, and designers.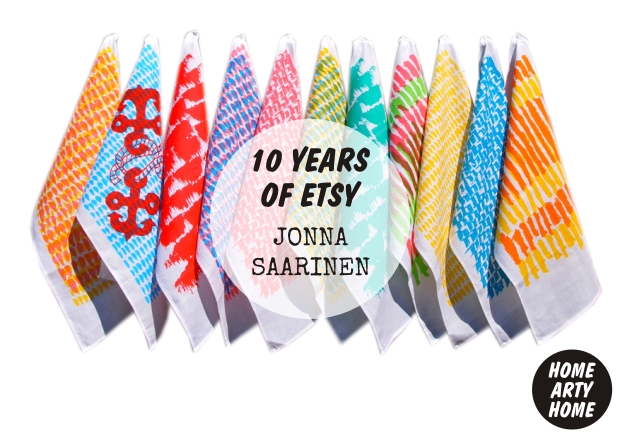 "It has been fantastic to be on Etsy, as they have widened my market from local to worldwide. As a result, I now work with lots of different people from USA to Germany, and most of my wholesale goes to Australia for example."
Jonna Saarinen
The openness & inclusivity of the site, which allows creatives from across the world to sign up and sell their stylish wares, means it's never been easier to shop for independent items that will add an individual touch to a home.
Take the wide range of artists on the site for example: there surely is something for everyone, from modernist prints to graphic pop art, delicate illustrations to bold maps, plus many Etsy sellers offer items that can be personalised, customised, or created from scratch for a truly one-off bespoke piece.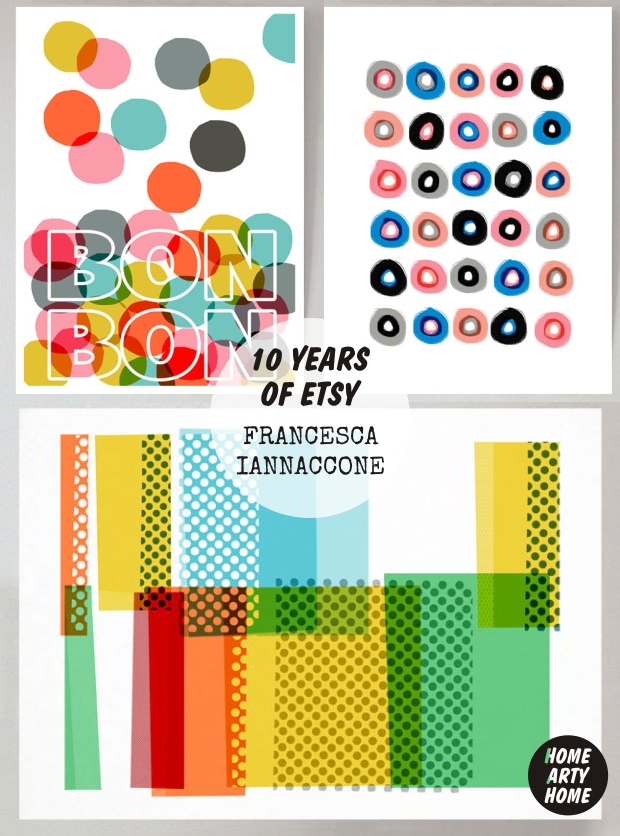 "It helped start my business, so I owe Etsy a lot! A lot of my wholesale orders come through Etsy. I have had contact with Ikea and Heals via Etsy convos. You never know who's out there looking at your work. Apart from that I've made some lovely friendships. It definitely has the best networking and connection opportunities."
Francesca Iannaccone
Of course with so much choice, it's easy to disappear down an Etsy rabbit hole! A simple search can turn into hours of clicking and browsing from one artist to another, all the time discovering even more great finds (but as first world problems go, this really is on a par with "my diamond shoes are too tight").
Etsy provides a vital platform for emerging creatives to present their wares directly to the public and possible collaborators and, as the feedback from Etsy sellers I've elicited here will testify, the marketplace has proved important to get their work in front of possible shoppers & potential stockists globally.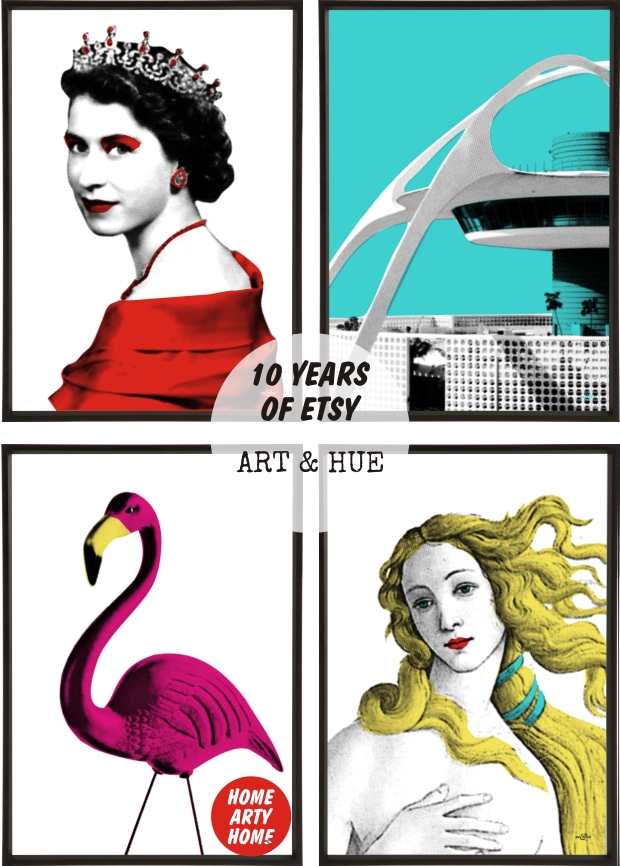 "Without Etsy, I wouldn't have been able to connect with international buyers and stores so quickly, from New Zealand, Australia to across the USA. Launching my new collection of graphic pop art on such a great marketplace meant Art & Hue could reach a ready-made audience of shoppers who are browsing for unique work." Art & Hue
Not only does Etsy enable sellers to reach out directly to shoppers, the marketplace is also beloved as a way to make friends and business connections. There are pop-up craft and sales events across the world which brings like-minded vendors together to present their work physically to the public, and it's proved to be a successful online portfolio for finding shop buyers to stock their work.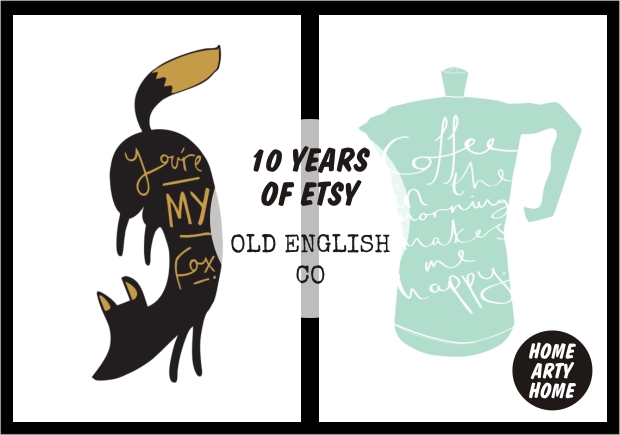 "We started off with Etsy and it has proved to be a great introduction in selling online. I'd say that most of my media attention has come through being spotted on Etsy – the collaboration with West Elm being a highlight."
Old English Co
On a personal note, Etsy has proved invaluable to Home Arty Home to discover exciting and fresh work and I'm sure it will continue to do so. Since Home Arty Home launched on the 1st of January 2014, it's been great to discover and feature the work of unique artists including Old English Co, Eloise Renouf, Jonna Saarinen, Art & Hue, Mappliqué, Francesca Iannaccone, Jimbobart, Bold & Noble, Sandra Dieckmann, Natalie Singh, to name a very, very few.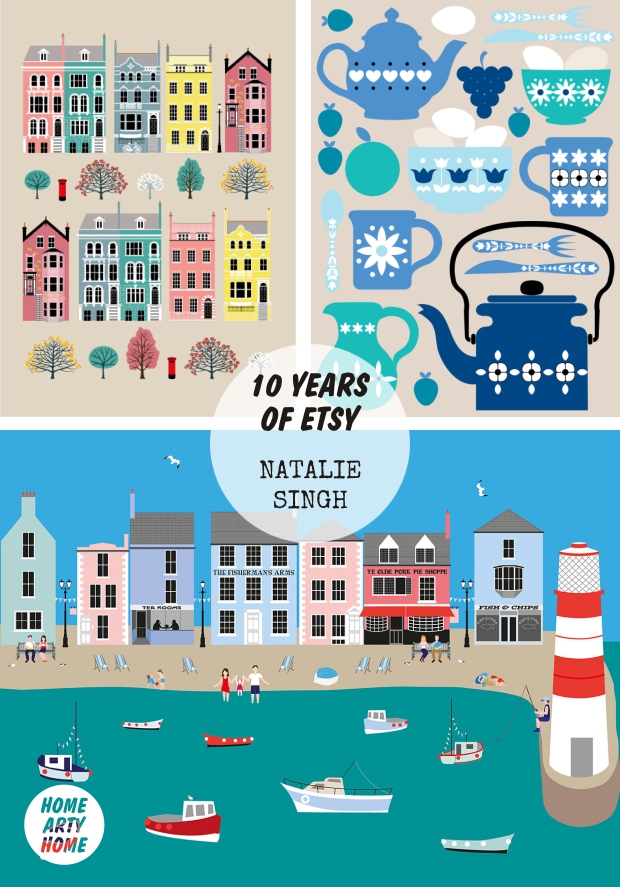 "Etsy's a fantastic marketplace for the type of items I produce, so it was the obvious choice for me to begin selling on there. The market in the US is huge and Etsy is a great way of tapping into that. Etsy has helped me with getting my work 'out there' and seen around the world."
Natalie Singh
There'll always be fresh talent looking to present their art and connect with the public so I can't wait to see the fresh work of new creatives that will be on Etsy in the future.
Without Etsy, there's a strong possibility that I wouldn't have stumbled upon the work of some, or even all, of these artists, so for that reason alone I'll raise a glass of something sparkling and cut a piece of chocolate cake (any excuse!) to toast Etsy a very "Happy Birthday!"