Following the post on Friday about Art & Hue pop art prints for Vox Pop, a new political party that aims to put the public in charge, Home Arty Home is staying in the Westminster bubble with a peek behind the scenes of politician's homes.
A lot has been talked in the news about MPs kitchens, past and present. From MPs kitting out their constituency and London homes with new kitchens to the House of Commons itself. Many jokes have been made about kitchens this past week, at Prime Ministers Questions and even during the Budget statement, so it's time we took a look at the kitchens in questions to see how they measure up.
I should preface everything by saying that there is no political judgement being applied to the design choices here (I'm now firmly Team Vox Pop with their aim of giving power back to the people!) so if a particular party's kitchen doesn't cut the mustard, it's based purely on design and not policies.
First up is the Cameron's kitchen redesign at Downing Street, which The White House publicly shared on their Flickr stream, with Samantha Cameron and Michelle Obama. As you'd expect from the creative director of a Bond Street stationers, it's stylishly done in whites, greys, and stainless steel with a classic Dualit toaster and stainless steel pots and pans. Home Arty Home loves the wall shelving which gives the feeling of openness, more than heavy wall cabinets would.
However, thank goodness for the mustard yellow velvet sofa to add some colour to the scheme (even the First Lady's purple dress adds a hit of much-needed colour) but surprised to see no blues anywhere – not purely because it's the Conservative Party's colour but that it marries well with yellow.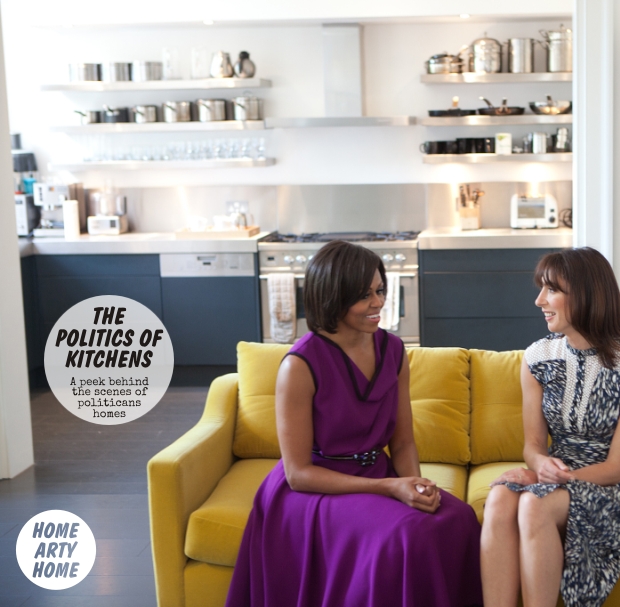 The kitchen in the Cameron's Oxfordshire home has featured heavily in the recent news cycle and not just because they have a red "Calm Down Dear" chopping board behind the Belfast sink (something about not running for a third term but that's for other, more political, blogs to cover).
This Chipping Norton kitchen could give the Downing Street one a few tips, particularly the use of art prints on the shelves to make it feel more homely and add some imagery to otherwise flat colour-blocking.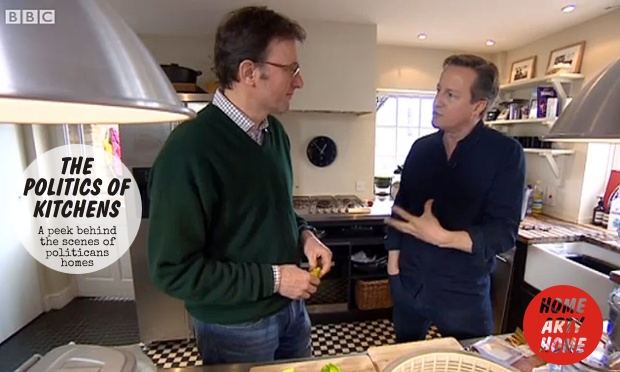 Personally, I'm not keen on the "chef's trousers" checkerboard flooring, or the low pendants which seem to get in the way of conversation (I wonder how many times the Prime Minister has banged his head on those). I know they're widely available and have been "on trend" but I'm not a fan, they give the kitchen an industrial "hot plate" restaurant feel not in keeping with a family home. This would have been the perfect opportunity to add a pop of colour (tory blue perhaps?) or humour, such as the alternative pendant lamp options I've selected further down.
Next, we hop to Islington to take a look at the opposition leader's kitchen, much of which has been made of by the press and opponents. Apparently there are two kitchens in Ed Miliband's home and this is the second one. Let's see what style tips we can glean from the space, shall we?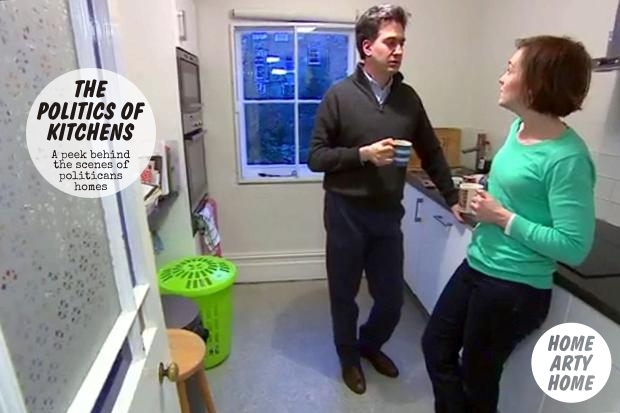 Hmm, not much style to steal there. Unless a vivid green plastic bin floats your boat. Moving on.
Even Labour MPs were unimpressed with the Labour leader's second kitchen, with Austin Mitchell MP tweeting a picture of what a "real" labour kitchen should look like: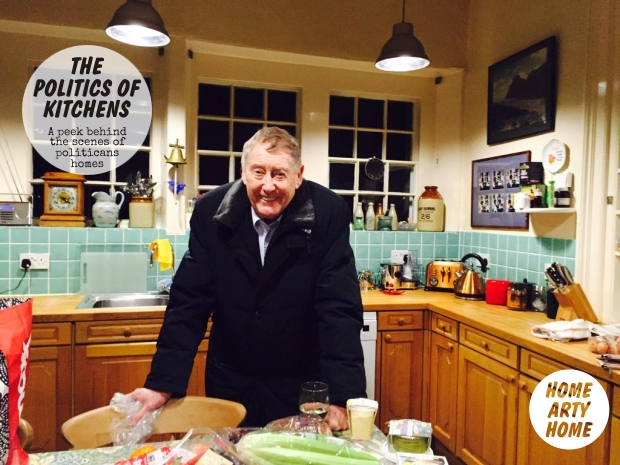 "This is what a real Labour kitchen looks like" – Austin Mitchell MP
You may not be a fan of the wooden cabinets but at least it looks like a homely, working kitchen and, again, I like the lack of wall cabinets, probably dictated here by the position of the windows, to make the space feel bigger (and note the correct height of the pendants).
Finally, let's take a look at the home of SNP leader Nicola Sturgeon. Not much to take from this space design-wise other than the Dualit toaster and Joseph Joseph utensils, but it does look neat and tidy!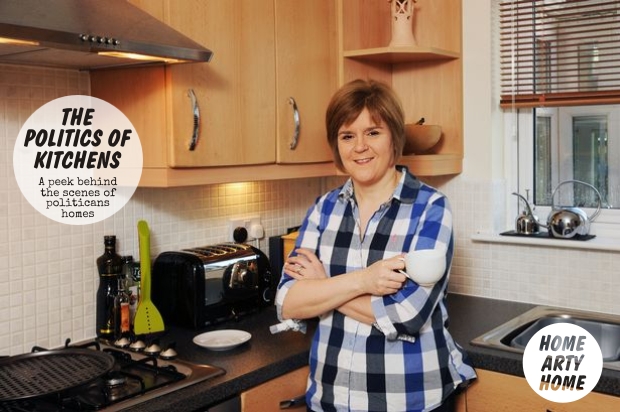 The politics of kitchens is a tricky one for MPs – we get the symbolism of a politician being photographed in their kitchen (family man, grounded, real human-being) but it only works if it's a real working kitchen (and I'm more than a little uncomfortable about the private family being brought out on public parade come election time).
A lot was made during the expenses scandal about the amount many MPs spent on fitting kitchens in their homes at the taxpayers expense and the so-called "John Lewis" list that the Expenses department referred to when gauging whether an expenses claim was reasonable.
It's understandable that John Lewis was the benchmark for pricing with their "Never knowingly undersold" tagline and we could all do worse than to bear the store in mind when planning our own kitchen design. Here are some pieces that are good enough for those that "rule" over us: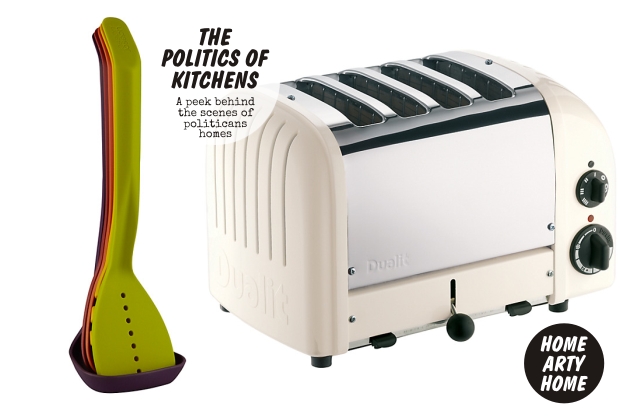 Joseph Joseph Kitchen Utensils – Dualit toaster
Some alternative pendants for the Cameron's Chipping Norton kitchen: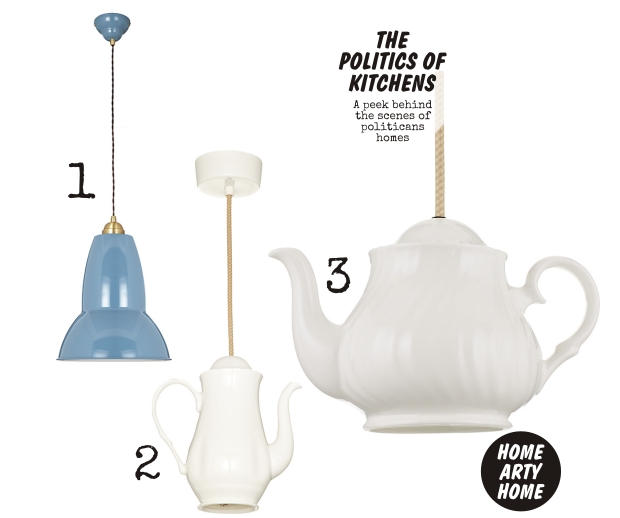 1. Blue Anglepoise Pendant 2. Original BTC Coffee Pot Pendant 3. Original BTC Teapot Pendant