#ShopTalk, Colour, Decor, Fabric, Features, Home, Home Arty Home, Homewares, Kitchen, New Art, Paper Goods, Prints, Stores, Wide World
#Shoptalk: Stylish & Eclectic Interiors from Lime Lace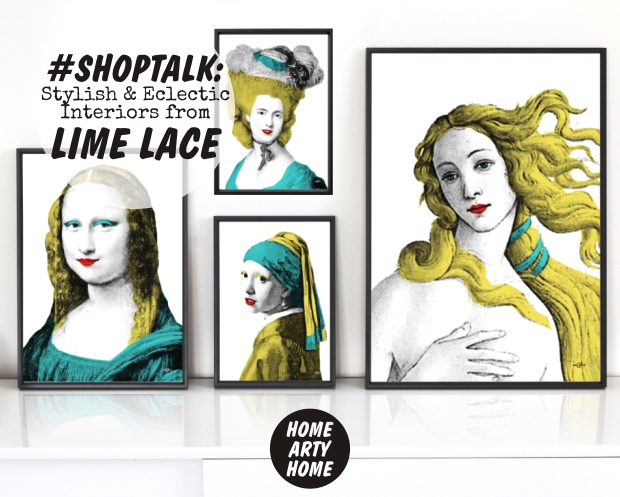 It's always nice to potter around interior design stores on the weekend, but when the weather gets rough (and there's below-freezing temperatures on the way), let's admit we just want to cosy up on the sofa and not brave the elements.
Thank goodness for carefully-curated online stores so we can browse to our heart's content without getting wet, windswept, or cold, as well as finding a mix of products that feels genuinely brought together with care and attention.
Lime Lace is the prime example of a contemporary interior design store – originally started as a physical bricks-and-mortar shop in 2012, Lime Lace is now online only with a website that carries a modern selection of unique design goods. It's great to see new and independent designers and artists, such as Home Arty Home favourites Mineheart and Art & Hue, rubbing shoulders with more established design brands including Seletti and NLXL.
The word "eclectic" gets some stick from certain quarters, and rightly so when it's applied to poor "shabby chic" interiors, but eclectic is literally the most appropriate word to describe the mix of diverse and artistic products at Lime Lace that includes stylish pop art, statue lamps, silver milk cartons, and animal-shaped sideboards!
Lime Lace has done all the browsing and legwork for you so you can sit back, order online, have your selections shipped to you, and not get your hair wet!
Home Arty Home caught up with Lime Lace's founder, Samantha King, to find out more about the stylish webstore: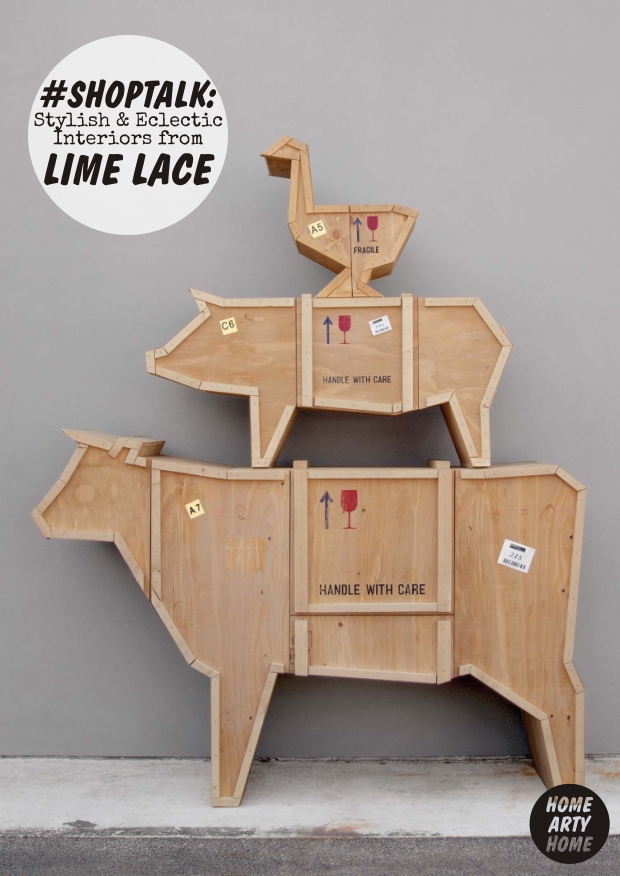 What inspired you to open the store?
"My background is in property developing and interior design, I became increasingly frustrated by the lack of individuality on the high street so decided to set up Lime Lace as a one-stop marketplace for unusual furniture, wallpaper, lighting, gifts, jewellery & art. We now sell our products to retail customers, commercial and residential interior designers all around the world."
Which artists & designers do you carry?
"We source designers and products worldwide, our range includes NLXL, Nkuku, Standard Designs, Peg & Awl, &K, Piet Hein Eek, Erika Wakerly, Mineheart, Art & Hue, …the list goes on…"
What do you look for in the items you offer?
"We look for products which get us excited and inquisitive! They have to be fun, stylish and high quality!"
Are there any new items you'll be introducing in the near future?
"We are in the process of working on a new childrens department, as the little people in our life should also have the option to have fun and interesting bedrooms that they're proud to show off to their friends."
You offer new and independent work – is this important to you & your customers to support new designers?
"Its very important to us! There are some very talented designers out there which are undiscovered and we love nothing more to provide them with a platform to show off their work to the public. This is also beneficial for our customers as they know whenever they log onto our website they are sure to find something new, creative and inspiring."
Exactly what we want from a design store! Visit Lime Lace online at their website and you can find a selection of their goods at Not On The High Street too.