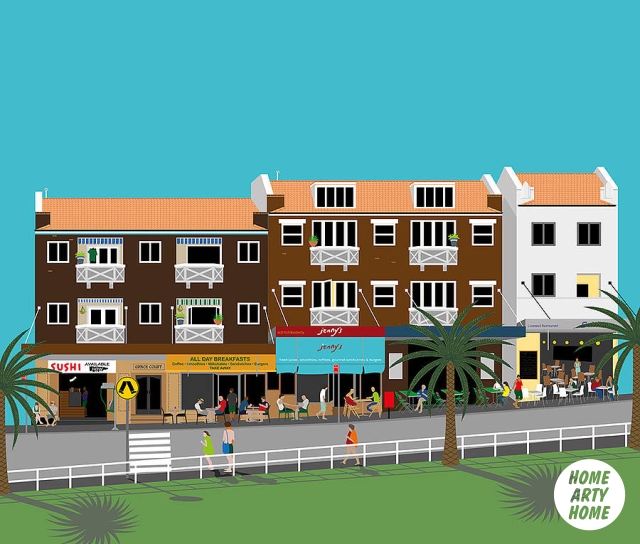 Having just lived through a British winter, and the wettest winter on record at that, we can't believe anyone would ever leave sunnier climes to relocate to this soggy island. Normally the traffic goes the other way, with damp pale Brits emigrating to Australia in search of sun and sky.
Originally from Sydney, Natalie Singh grew up surrounded by beautiful Australian landscapes yet traded in the warmth to settle in London where she now lives with with her husband and two teenagers.
Her Australian background had a major impact on her creativity and her love for colour and pattern, as can be seen in her work. Natalie hand-draws her townscapes and beach scenes, and uses technology to digitally colour and print her work which is available to buy at Etsy.
We love Natalie's two-dimensional buildings in particular and the graphic way in which streets and towns are simplified, and Natalie can create a personalised representation of any property as a special one-off print, an ideal house-warming or wedding gift.
We first discovered Natalie thanks to the Etsy Local Gallery Wall at West Elm in London. Will Taylor of Bright Bazaar curated a selection of UK artists from Etsy to display and sell their prints in the newly opened London design store.
We caught up with Natalie to find out more about her work: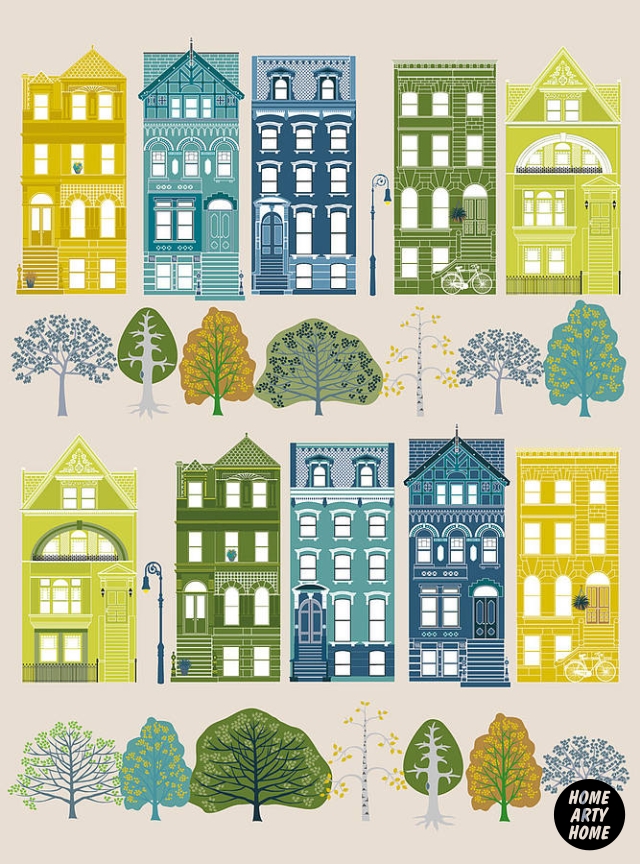 How did you get started?
"I've always been a huge fan of pattern, so combining that with my fascination with interior design and homewares resulted in me starting Natalie Singh."
What inspires your work?
"So many things. I'm saving images off the web all the time, taking photos on instagram, using pinterest etc. Always looking out the window on a journey, noticing colour combinations when out and about, etc. I even have some old fabrics and towels from my childhood which provide a constant source of inspiration! Usually my designs begin with a small sketch of the initial idea, and grow from there."
Are your items screenprinted or digitally printed?
"Digitally. Don't think I'd have the patience to hand screenprint all these designs, also I like to use a wide variety of colours so it wouldn't suit silk-screen printing."
Where are your items made?
"I print my digital prints in our own design/printing business, but ceramics and textiles are out-sourced to digital printers."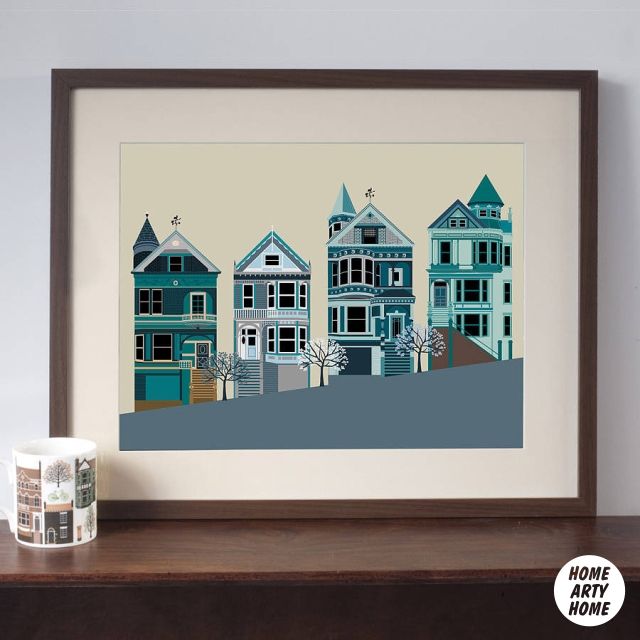 How do you see the range developing?
"I've recently been taken on by a licensing agent in the US so I'm hoping some interesting projects will come my way via them. Apart from that I would love to print more of my designs on cushion covers."
Are there any new products you plan or hope to add?
"I'm about to add my cushions to my website. They are digitally printed Sydney Harbour and Manly Beach designs on a cushion cover about 48cm x 48cm. I'm continuously working on new 'street scene' type prints too, so watch this space!"
What do you hope people feel when they see your work or bring it into their homes?
"A sense of happiness, cosiness and joy."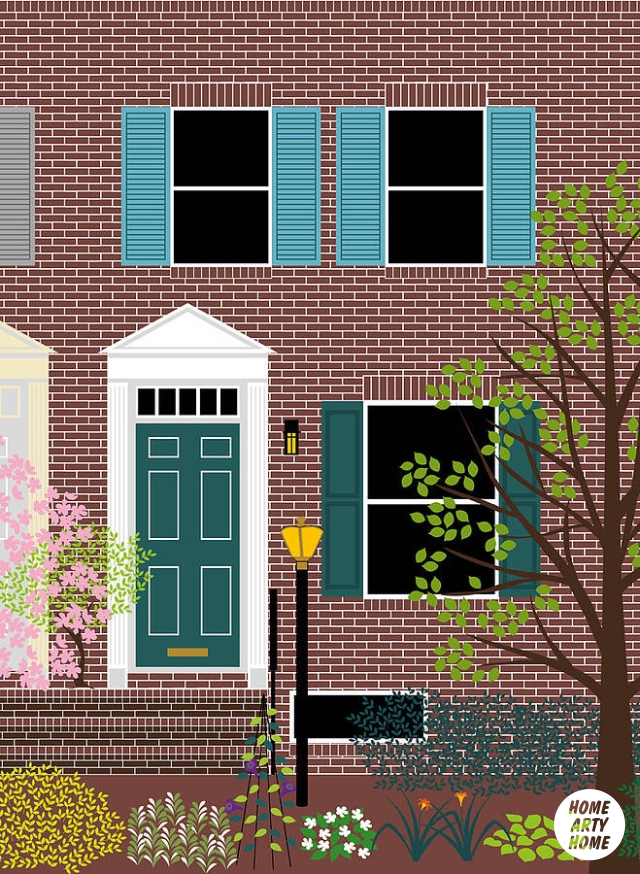 Visit Natalie Singh on Etsy to see her full range of art prints.