Despite the TV debut of the iconic character taking place on the 28th of September 1965, the 25th of October could quite easily lay claim to being "Mrs Peel Day" from now on, especially after the incredible event organised by the British Film Institute at London's Southbank on Sunday gone.
Fans from across the world gathered at the BFI for a cinema screening of a classic episode of "The Avengers", after which Dame Diana Rigg was interviewed on-stage by the BFI's resident film and TV expert Dick Fiddy.
Happy to talk openly about her time on the show, Diana Rigg was on top form during the interview, with some saucy comments, and it was palpable how much the audience adored her. It was particularly touching when Diana spoke about her much-missed co-star Patrick Macnee, who sadly passed away earlier this year.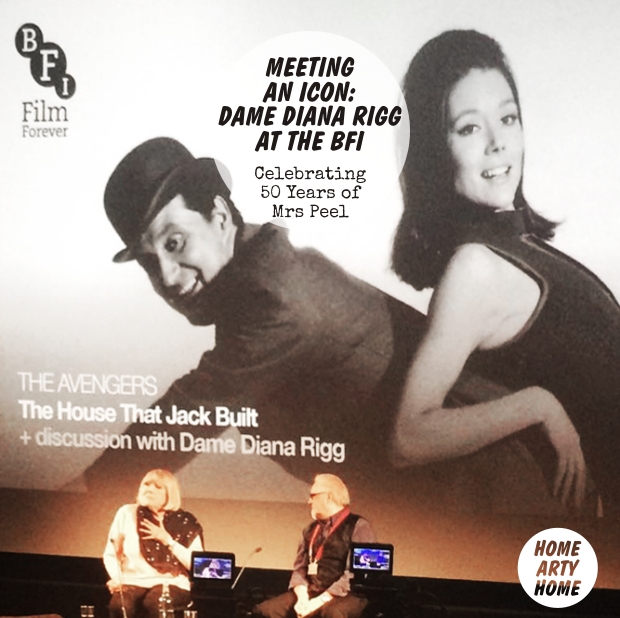 Celebrating 50 years of her iconic character Mrs Peel, the BFI made a day of it with books and art prints inspired by the cult 1960s show available in the BFI shop, and a pop-up exhibition of The Avengers pop art by Art & Hue in the Atrium gallery area – most appropriate given that Sunday the 25th was also International Artist Day.
Coming together at the last minute, the pop-up exhibition encompassed the full collection of 12 pop art prints which were on display with a mix of the three sizes and 17 colours available from artandhue.com/theavengers.
Presented to Diana Rigg, she commented how much she liked the prints and selected pop art to take home with her. How cool is that!?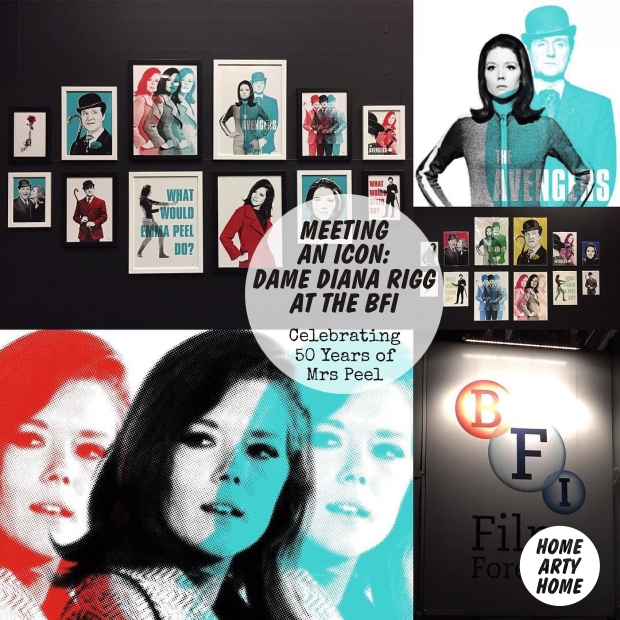 On a personal note, meeting Diana Rigg in the BFI green room was an absolute pleasure, and a total haze! To the extent that I didn't spot her talented daughter Rachael Stirling in the same room! (Rachael recently starred in one of my favourite BBC productions, the stylish thriller called "The Game", as a possible double agent who speaks fluent Russian, which I would have loved to have talked to her about). Hopefully next time!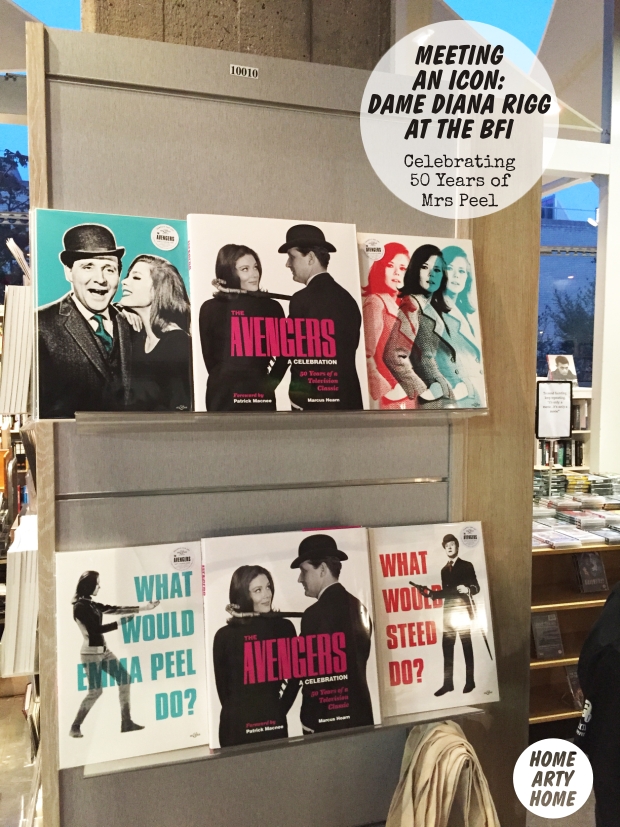 Meeting an icon, who gives every project she appears in instant cult status, was a dream come true. Warm, welcoming, and charming, there is nothing like a Dame. From "The Avengers" to "On Her Majesty's Secret Service" (arguably the best Bond film, majorly because of Diana Rigg), from "Evil Under The Sun" to "Mrs 'Arris Goes To Paris", Diana Rigg brings her unique innate style to all her film and TV performances and continues to be lauded to this day for roles such as Lady Olenna Tyrell in "Game of Thrones".
Huge thanks must go to Dick Fiddy at the BFI and Studiocanal for making it possible to meet Dame Diana Rigg and for a great "Mrs Peel Day"!