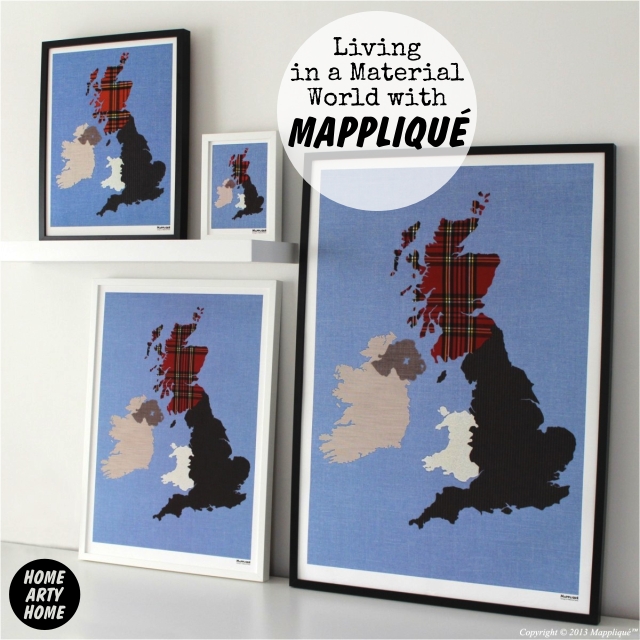 Mappliqué is a young home wall art brand of maps that uses relevant fabrics to represent each region, a simple yet ingenious concept that hasn't been done before. For example, on the fabric map of the British Isles, tartan is used to represent Scotland, knitted wool for Wales, pinstripe for England and linen for Ireland.
Home Art Home loves the handmade fabric maps as well as the reproduction prints on archival card that are available unframed in various sizes to fit standard picture frames (such as these from John Lewis).
So far Mappliqué has created fabric map art of the British Isles, USA regions, Scotland counties, Ireland, Wales, and France, with further countries and regions to come.
We love this unique concept so caught up with Mappliqué to find out more: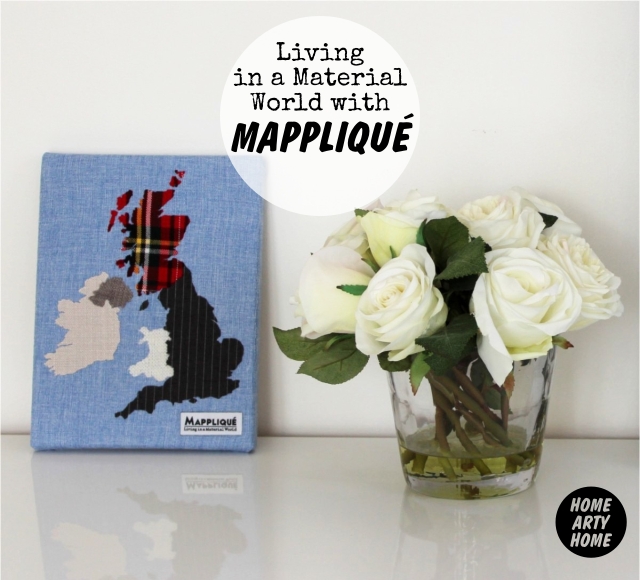 Why the name Mappliqué?
"It's a portmanteau of Map and Appliqué (the technique of applying one material to another), but Mappliqué can also be interpreted to mean "applies to me"."
How did you get started? What made you want to create and launch your range?
"The flash of inspiration came from an unlikely source. I was listening to Helen Zaltzman and Olly Mann on the the great Answer Me This podcast discussing the distinctly French identity of the cycling onion-seller wearing a beret and stripy top. It dawned on me that fabrics are such an important part of national identity yet no-one had created a map to reflect this.
Fabrics are born out of a nation's efforts, through wars and industry, agriculture and pop-culture, yet had been rarely referenced as a means of cultural identity, and never in map form. Amazingly, a quick Google search showed that no-one else had thought of the idea of using country-specific fabrics to represent each region on a map so felt obliged to create it.
Whilst reductive, stereotypes are generally formed through centuries of historical repetition and most nations are rightly proud of their rich textile history, from the many tartans in Scotland to the numerous fabrics invented across France."
What's the creative process for you?
"Having worked with textiles for many years, it's been a fascinating process to research and source appropriate materials to represent each region. Once the materials are decided upon and gathered, the process of handcrafting the original fabric map art can begin.
Using fabrics to represent different regions may seem a simple concept but it's surprisingly never been done before. The first fabric map to be created by Mappliqué was of the British Isles using Tartan to represent Scotland, grey pinstripe for England, knitted wool for Wales, and linen-style textiles for Ireland and Northern Ireland."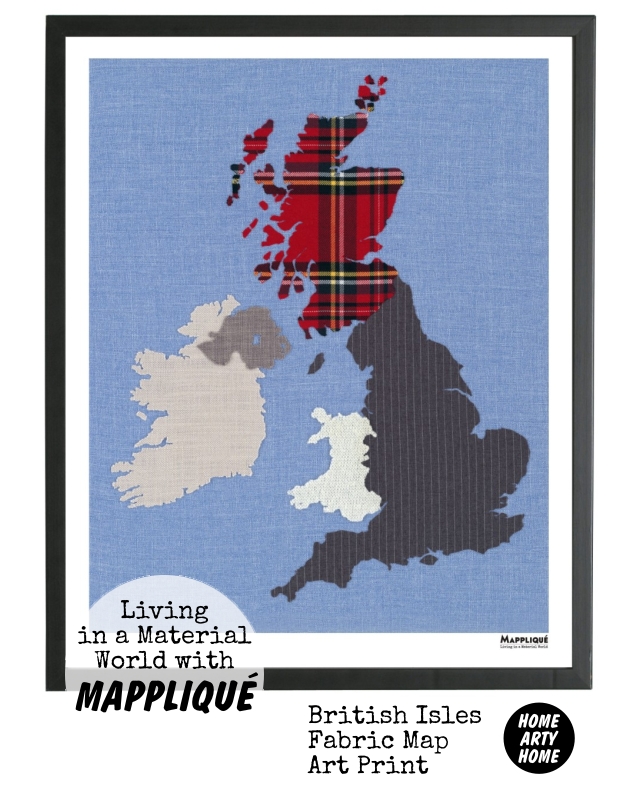 How are your art prints printed?
"The original fabric map wall art has been professionally scanned using one of the largest museum-quality scanners in the country to capture the detail of the fabrics. The scans are then calibrated to match the colours of the original fabric wall art before being giclée printed in rich and vibrant colours with water-based inks, which are better for the environment than chemically-derived solvents, onto 100% cotton card, which is a quality thickness of 315gsm and acid-free to guarantee longevity."
How are your items made? Do you make them yourself?
"All the original fabric maps are hand-crafted, the wall art is lovingly created using relevant fabrics to represent each nation. Whilst the original art pieces are priced to reflect the time and effort that goes into creating each handmade work, the fabric maps are also available as accessible reproduction giclée prints on 100% cotton 315gsm paper, by expert printers, which perfectly capture the textures of the original textiles."
How do you see the range developing?
"I'm currently researching and working on additional countries and territories to add to the British Isles, USA, France, Scotland, Ireland, and Wales, as well as larger pieces with more detailed regions. There are plans for an additional map-themed range of prints for which I'm currently gathering research – they'll be quite different but in keeping with Mappliqué's core principles of fabrics and maps.
I anticipate more bespoke commissions for people who want unique wall art for their homes that fits alongside their design scheme – have created a few so far using interior fabrics that people had already selected for their upholstery and cushions, as well as creating a couple for fashion and design showrooms who wanted a map of the British Isles using fabrics they produce as a show piece for their brand."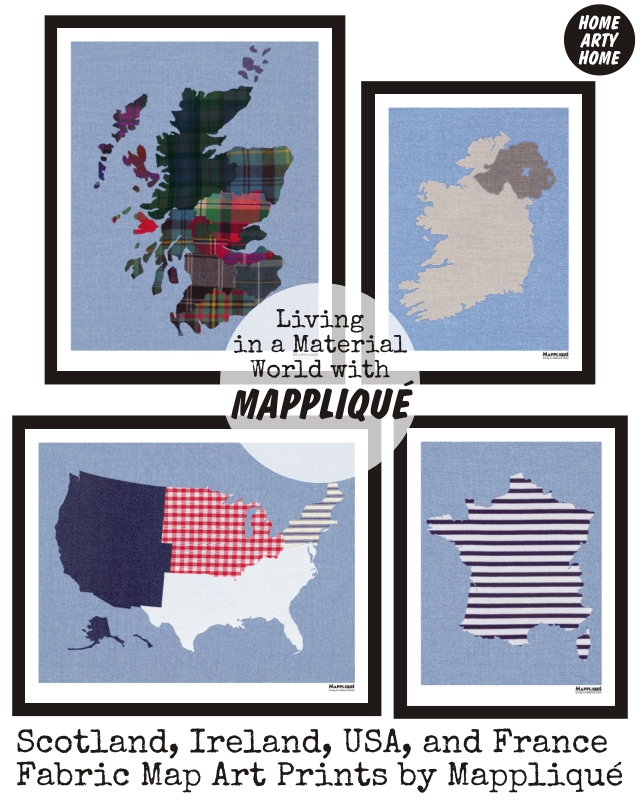 You have notebooks alongside your art – are there any new products you plan or hope to add?
"Soon there'll be hand-crafted cushions with appliquéd fabric maps added to the website and Etsy and also investigating the options of digitally-printed cushions to add a more accessible option next to the hand-crafted cushions.
There are talks about licensing some of the art prints onto additional product categories such as fine china mugs but it's early days."
What do you hope people feel when they see your work or bring it into their homes?
"I hope people feel that the hand-crafted fabric maps are like vintage heirlooms that have been passed down through generations, yet contemporary and stylish to look appropriate in any interior, from minimalist spaces to cosy homes.
Bespoke pieces can be commissioned to reflect the environment in which they are destined to be displayed and can even use the owner's fabrics, for example outgrown clothing recycled to fondly remember idyllic childhoods, or a family heirloom textile gathering dust in the attic repurposed to take pride of place."
Visit the Mappliqué website here to see the full collection.