The 4th of July was not only Independence Day in the USA but also Independents' Day across the UK, when shoppers are asked to support their local independent stores throughout July.
Since the late 1970s, the independent retailer has been under threat. First by large supermarkets, out-of-town retail parks, and chain stores, and then more recently by online stores. It seems as if the independent shop is an endangered species yet there is hope that the best will survive.
Many of us love the idea of shopping local and independent. Financially, ethically, and socially it can make great sense: we're supporting local trade, all money spent stays in the local area (instead of going into an offshore bank account) and we're helping to keep local people employed. Laudable reasons but not enough to see indies survive – there are more factors at work that need to hit the mark for an independent to be successful.
As far back as 1938, when Eric Ravilious published his book called High Street, there were concerns over the changing landscape of our shopfronts, and these worries have been amplified to this day with more and more independents closing each week.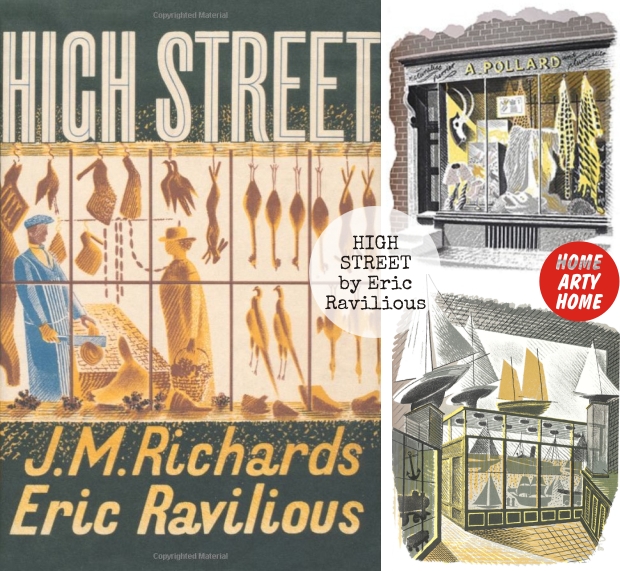 The joy you feel in a well-considered one-off store is intangible yet innate. A wonderful indie creates its own little world, a unique universe that no chain store or multiple can come close to. If it backs it up with unique products, great customer service, and a friendly & helpful personality, it's a wonderful experience that fosters loyalty.
This is probably the appeal of art prints of shop fronts. Like looking into a doll's house, or stepping into a Wes Anderson movie, they attempt to capture the magic of visiting these unique spaces and cherish the individuality of each store.
Take The Printed Peanut's latest book of shop prints called "Up My Street": containing lithographs of traditional shops such as the Launderette, the Greengrocers and the Ironmongers, the concertina book stretches out into a 139cm long print of the British High Street.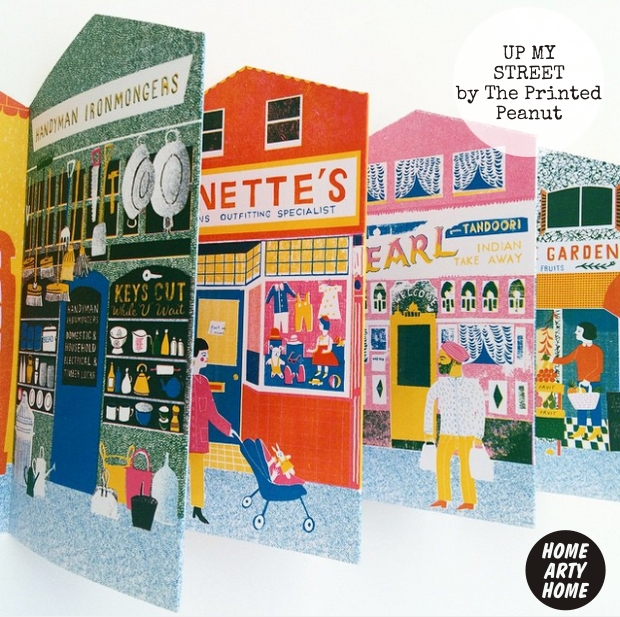 When I visit stores, I like to do so incognito to gauge the feeling and customer service especially if I've featured, or am planning to feature, them on Home Arty Home – I want to know how shoppers will be received if I've written about a store.
I've browsed Home by Kirsty in Cardiff without initially introducing myself and was pleased with the friendly and open atmosphere of the store. Likewise, an undercover visit to Edited in Brighton was a delight with two members of staff being super-helpful and making great suggestions (and even throwing in a freebie). It's visits like these that give hope for the future of independent stores staying the course against the increasing hegemonization of the High Street.
I haven't had the pleasure to visit The Hambledon in Winchester yet (not for want of trying) but I'm smitten with the store from their social media presence – their regular tweets and Instagram photos are seductive and they've successfully created their own world that is distinctively "them". It's no surprise to see both The Hambledon and Edited open additional stores in other locations – they've discovered their voice and it's resonating with shoppers.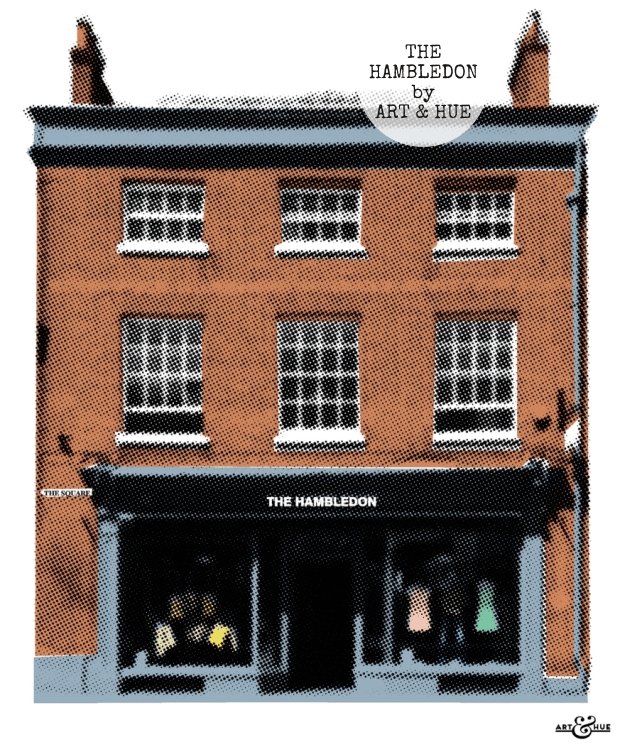 The Hambledon by Art & Hue

Unfortunately, for every great indie there are probably a dozen poor ones. Being an independent store does not entitle it to business from local customers – I've visited stores I would have loved to support but the service was rude, bordering on comical. As an example, I was keen to visit an independent hardware & lighting store in Hastings which I'd heard about, but the experience was a major let-down.
I like to browse initially without being pounced on but it's polite to acknowledge customers when they enter your store – one wannabe hipster in this particular shop didn't even look up from the computer screen at the counter and another one continued to stack shelves as if we were in his way. There were no prices on any items and when asked how much something was, it took them a full five minutes of browsing on their computer to discover the cost.
Product knowledge is key – knowing the stock well to better service customers is a vital part of retail. Thought-out stores with a unique product mix and great customer service deserve to thrive and independents are better placed than chain stores to achieve this.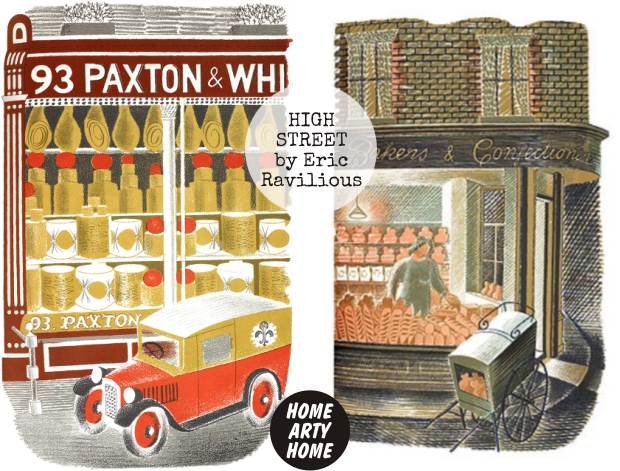 Considering how important a unique product offering is, it still amazes me when I walk into an indie home, clothing, or gift shop to see items I could pick up in the department store chain up the road. Indies need to focus on products that are exclusive to them in their area and if possible online too.
Nearly everything is available online from somewhere else so there's the persistent danger of "showrooming". Showrooming is where customers visit stores to see items in person before scouring the internet for a cheaper supplier.
No indie wants to pay rent, business rates and electricity bills to be a free showroom for an online competitor, so independents should be working with brands to secure exclusive items or develop mini-ranges just for that store – that could mean a one-off colourway or limited-edition design, or discovering artists & designer-makers on Etsy to provide unique items.
Colette in Paris has become an institution for fashion, art, and design because they understand that unique collaborations in their signature blue boosts their brand identity and generates excitement & loyalty.
Whilst online stores can offer a wide selection of items and lower prices, they can't offer the thrill of "retail therapy" and walking home with a shopping bag of promise. For those that get it right, let's praise, champion, and cherish our best indie stores to give these local businesses the support they deserve.