#ShopTalk, Art & Design, Decor, Featured, Features, Handmade, Home, Home Arty Home, Homewares, New Art, Offline, Paper Goods, Prints, Profile, Stores, Wide World
#ShopTalk: Give us this day our Ink & Thread! British-made goods in Derby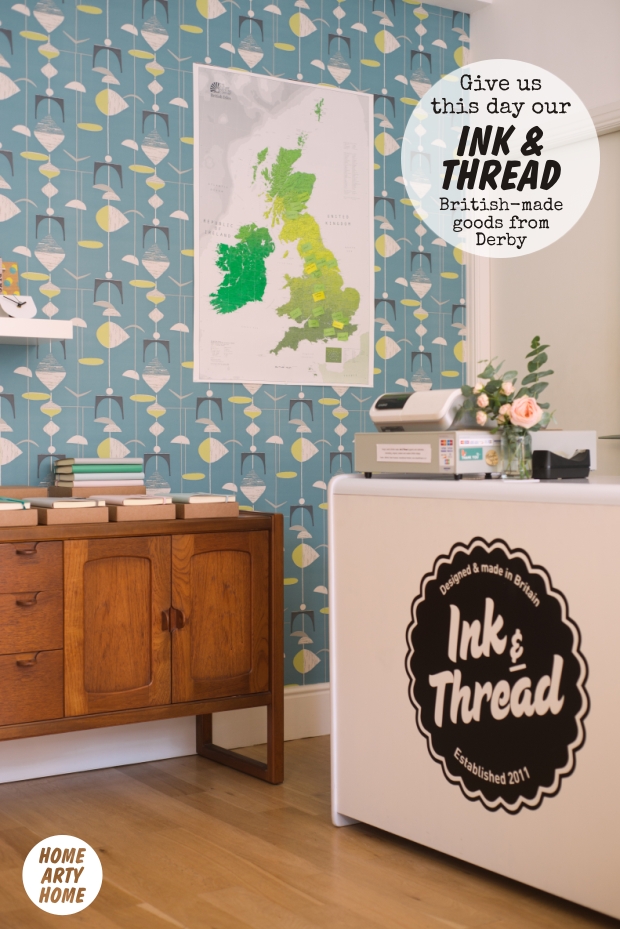 There are some shops I know I would need a chaperone to stop me buying up everything in the store, mainly the shops that are featured at Home Arty Home, and especially Derby independent Ink & Thread.
With a mix of artistic stationery, accessories, and art prints, all made in Britain by British artists & designers, I know I would struggle to keep a check on my spending as there will be temptation all around. The well laid-out store displays items beautifully on mid-century furniture and fixings and it would be all too easy to throw everything into my shopping basket.
It's great to see a store supporting British independent designers and fully admire Ink & Thread's ethical commitment to keep delivery miles down and pay a fair wage for British-made goods.
With a wide range of well-designed products, including greetings cards and restored & reupholstered vintage furniture, Ink & Thread carry some Home Arty Home favourites including Ohh Deer, Stuart Gardiner, and Cecily Vessey to name a very few.
Thank goodness Ink & Thread have a website as well which means I can browse items until I get a chance to visit Derby at some point to experience the store in person, and in the meantime Home Arty Home caught up with the proprietor to find out more: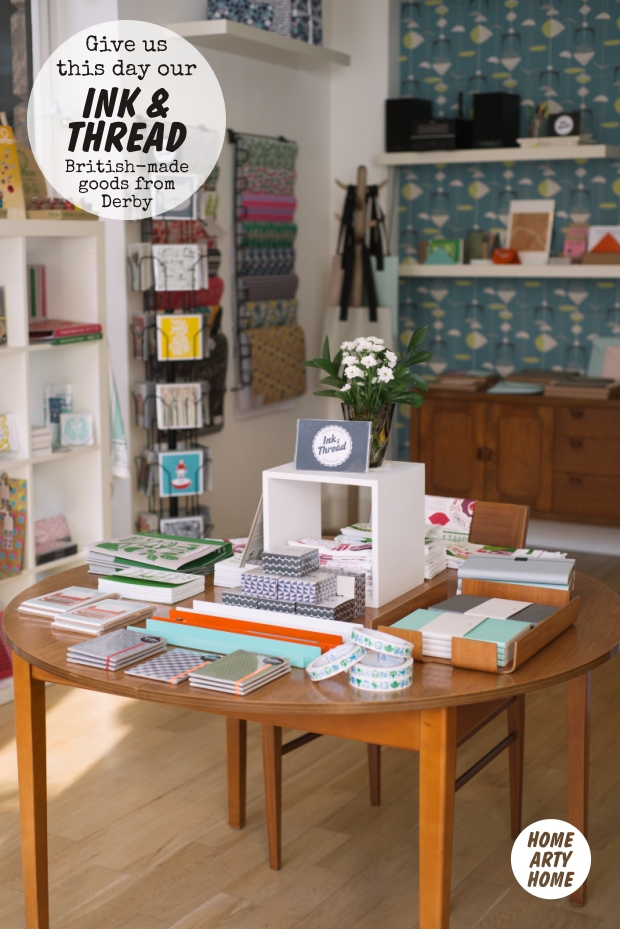 When did the store open?
"Ink & Thread opened in November 2011 on a beautiful street in Derby's historic Cathedral Quarter and started selling online a year later."
What inspired you to open the store?
"A love of design; from buildings to packaging I just love how things look. Visiting cool design shops in other cities and always thinking on the way home, why isn't there anything like this in Derby?
I wanted to open a shop which supports and showcases all the fantastic design and illustration which is being produced by talented people in this country and to buy direct from the designers and makers. It's great to be able to tell customers the detail about every single product; who designed it, where and how it was made."
Which artists & artistic homewares designers do you carry?
"A huge range and we're very happy to say that absolutely all of it is British made; companies like Stuart Gardiner, Cecily Vessey, Herb Lester, Wrap, Ohh Deer and Alison Hardcastle to name just a few."
What do you look for in the items you offer?
"In one sentence I would say colour, design, quality and attention to detail."
Are there any new designers you'll be introducing in the near future?
"One of our newest designers is Ola London, who only launched in May. Their beautiful notebooks have been traditionally produced; they're such lovely quality. I'm also really pleased that we'll soon be stocking a range of screen printed cushions by up and coming designer Joanna Corney."
You offer new and independent work – is this important to you & your customers to support new designers?
"It's very important, I want to support new creative talent and buy from small design companies who are producing great things. I want customers to come in and discover something new and find designers they've not seen before. Everything at Ink & Thread has been designed by somebody who cares about design, colour and attention to detail as much as I do; which is a lot."
Images by Holly Booth Photography for Ink & Thread