Whilst Home Arty Home generally likes to feature artistic home accessories that are bright, fun, or highly illustrated, we hope readers have noticed that we also have an eye for elegant and subtle designs, for which we turn to designers like Lauraloves.
A range of stylish and luxurious accessories, Lauraloves creates cushions, hangers, wash bags, and eye masks from silk, all made in Great Britain, and has seen her designs stocked in Fenwick and Harrods.
Home Arty Home caught up with Laura Nicolson, the designer behind Lauraloves to find out more about her process and collection: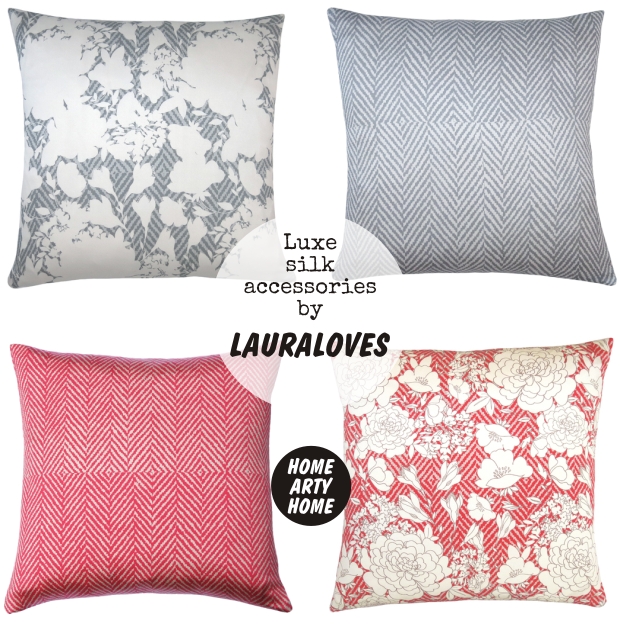 How did you get started? What made you want to create and launch your range?
"After graduating, I worked as a designer for a fashion textile company in London for many years. This involved working to a brief to create a collection every two weeks, which could sometimes be challenging when designing for projects that weren't to your taste. Really, I just wanted to design beautiful unique prints that I loved. I started to think about how to create my own brand. Then I bought my first home and discovered how difficult it was to find beautiful cushions which were good quality and weren't mass produced for the high street. My ideas and Lauraloves developed from here. My vision was to take the knowledge and experience I had gained from designing fashion textiles to create high quality original and beautiful printed cushions."
What's the creative process for you? What inspires/influences your work?
"I am inspired by fashion textiles and nature. Living in Kent means I have access to a lot of beautiful wildlife. I am always taking photos while walking with my dog Sophie. I love to draw and create texture and pattern. I create research boards to inspire me with all the latest fashion textiles. All my designs originate from drawings which I then work into on the computer."
You have cushions, wash bags, shoe bags, sleep masks, hot water bottles, even hangers – are there any new products you plan or hope to add?
"I am hoping to start making scarfs as I have been asked for these by several customers. Also I would really like to create upholstered furniture in my fabrics."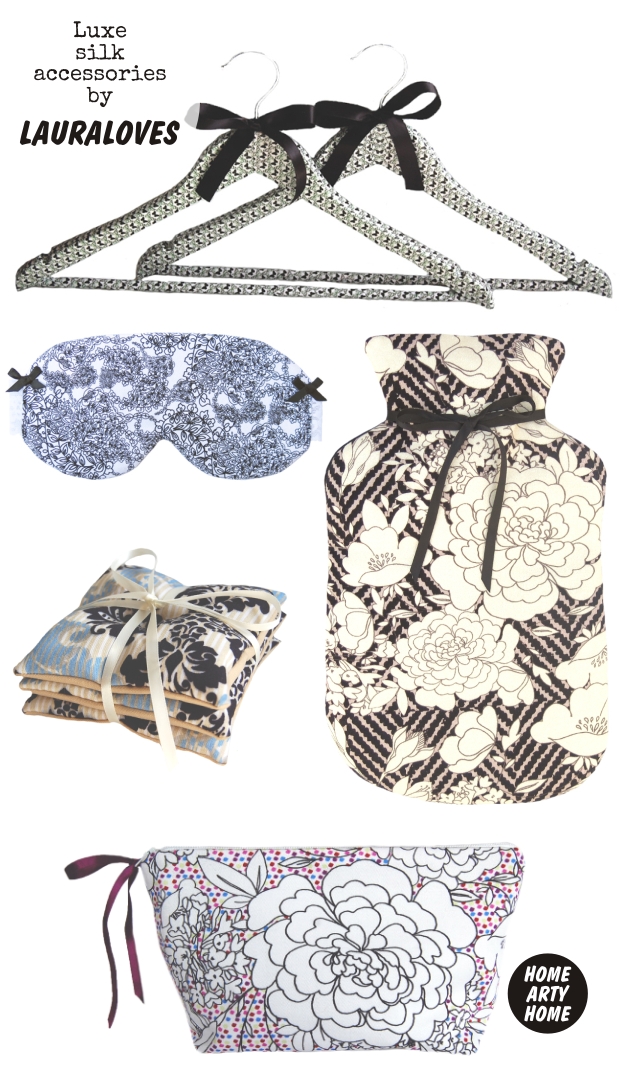 Where are your items made?
"All my products are designed, printed and made in Britain. It is very important to me that they are made in Britain. I design all the fabrics and make the first few of each product myself as I enjoy developing the product's shape and finish. My work is all digitally printed locally in Kent"
Do you have any collaborations on the go?
"I am always working on bespoke projects for my customer's homes. I enjoy the interaction involved when creating an individual design and colour palette specifically to suit them and their personalities. I am also working with a few restaurants in London to create textiles to fit in with the style of their restaurant and bar."
What do you hope people feel when they see your work or bring it into their homes?
"I want people to smile when they see my work and to love having my pieces in their home. With the bold colours and luxurious finish of my products I want them to be comfortable, unique and striking."
Do you sell your items only via your website?
"I sell my work through my own website and also other websites like In-Spaces and Wayfair. I have also had my products stocked in Harrods and Bentalls of Fenwick and independent shops."
Finally, are there any events coming up in the near future?
"I will be at the Wealden Times Mid-Winter Fair in November."
Visit the Lauraloves website to see the collection.