Art & Design, Decor, Events, Featured, Features, Home Arty Home, Homewares, Kitchen, Offline, Paper Goods, Prints, Profile, Wide World
Ohh Deer – Illustrated for Life
This week we happily dive headlong into the colourful illustrated world of Ohh Deer. A young brand that gathers together a varied group of creatives, Ohh Deer has quickly established itself as the go-to collective for unique and quirky art and interiors accessories.
Established in 2011 by illustrators Mark Callaby and Jamie Mitchell, whose delicate line drawings of adorable clothes-wearing animals are instantly recognisable, in three quick years Ohh Deer has already amassed a raft of national and international stockists with a roster of talent that reads like a contemporary "Who's Who" of artists and illustrators.
Gemma Correll, Sandra Dieckmann, Kris Tate, Robert Farkas, Leah Flores, and Jack Teagle are just some of the highly-regarded artists working their magic on Ohh Deer items alongside the founders' work.
With new product categories beyond the usual (wall-mounted bike rack shaped like deer's antlers anyone?), we can't wait to see what Ohh Deer comes out with next so caught up with Jamie to find out more about the company and what's in the pipeline: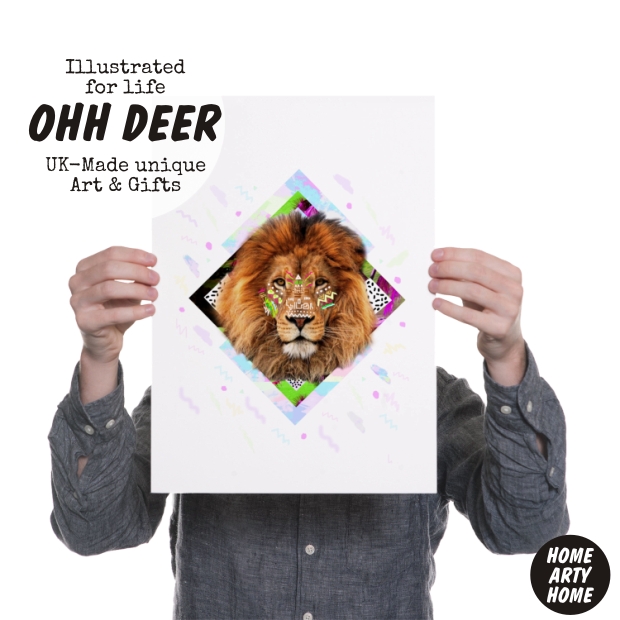 Who's the person, or who are the people, behind Ohh Deer? 
"Ohh Deer is the brain-child (eugh, I hate the word brain…) of Jamie Mitchell (me) and Mark Callaby."
How did you get started? What made you want to create and launch Ohh Deer?
"It started off as a hobby, but when I get a project to get my teeth into it always gets a bit more serious than that. I was studying architecture at the time of starting it – I was in my year out in industry. After having studying for three years, I became a bit disillusioned by the reality of the profession and started to push Ohh Deer more in the time I had off. When I finally realised Architecture wasn't for me I had no idea what I wanted to do, but figured if I worked on Ohh Deer fulltime I'd probably earn enough to pay my rent."
What's the creative process for you in selecting artists? What influences your choices?
"It's a mixture of personal preference and what we can see working for our clients – It is after all about supporting artists commercially – each person takes a large amount from their sales. So ensuring we're maximising the potential for them to 'get out there' is unfortunately quite important when it comes to business."
Where are your items made? Do you make them yourself? 
"All of our items are made in the UK, we're going to start bringing some of the manufacturing in house soon which is exciting!"
Do you have any collaborations on the go?
"We're in the process of finalising our collection for the Tate Galleries, we're going to be the only (or the main should I say) supplier for Notebooks to Urban Outfitters, so have just finished up their range and ASOS have just commissioned some lovely new product types, so they'll be coming through in a while. Other than that we're developing new ranges with several artists at the moment."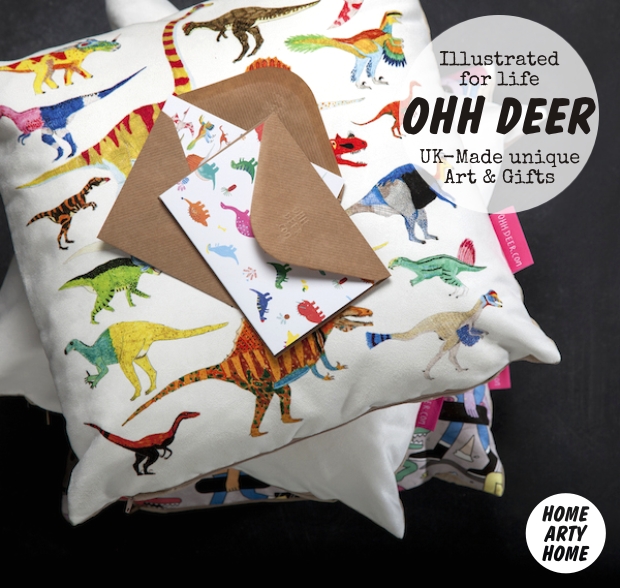 How do you see the range developing? Are there any goals you're aiming for in 2014? 
"We just did our first trade show in America, which went well, so we'll be looking to turn that into something to work from – onward and upward. We're aiming to bring a fair amount of production in house as I mentioned earlier, which would allow us to produce lots and bits of pieces for others if they wanted to make the most of our existing styles."
You have cushions, stationery, and iPhone cases alongside your art prints – are there any new products you plan or hope to add?
"There's always things we want to add, we're working on more stationery items as it continues to be one of our most popular areas and we're working quite heavily on clothing at the moment. I'd love to do knitted hats!"
What do you hope people feel when they see your work or bring it into their homes?
"Happy! Our world is very colourful, bright and playful and we hope that giggles are had when they receive one of our items or add it to their homes / lives."
Finally, are there any events coming up in 2014 for Ohh Deer?
"We're going to be at Harrogate Home and Gift Fair in July and then Top Drawer at London Olympia in September, but we're hosting a sample sale with Kigu on June the 21st at The Rag Factory in East London so people will be able to come and grab some bargains!"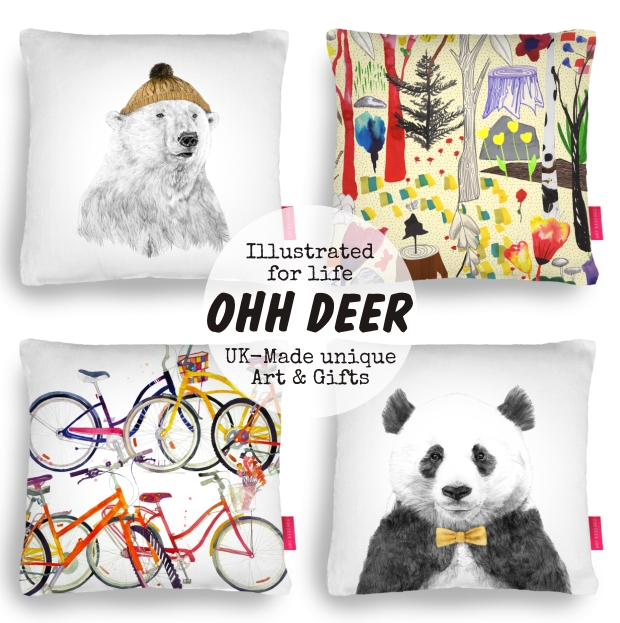 For more information and to browse the wide range of illustrated goods, visit Ohh Deer.