Sometimes you want to add colour and comfort to a room without distracting from the existing art on display. The ideal solution is to turn to pattern, and when pattern is this soft and cosy, who can resist.
Seven Gauge Studios produce knitted home accessories in stylish colour combinations and geometric repeats that reference the past yet look decidedly contemporary.
In 2010, Joy Bates, the designer and founder, launched Seven Gauge Studios and started to turn super-soft pure lambswool into cushion covers, blankets, hot water bottles, and scarves, and has since amassed a wide range of fans and stockists.
An ideal way to add a soft hit of pattern and colour, Home Arty Home caught up with Joy to find out more about Seven Gauge Studios and her inspirations: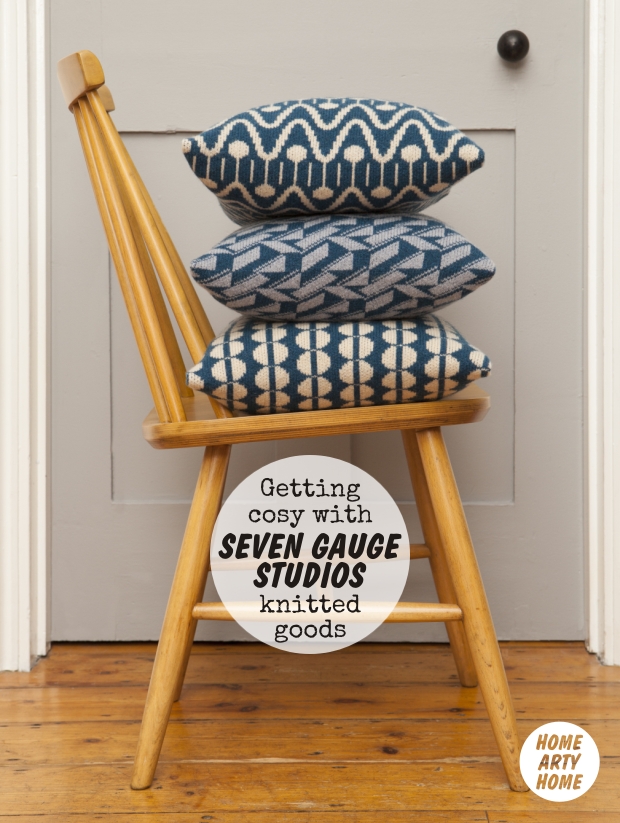 Who's the person, or who are the people, behind Seven Gauge Studios?
"Just myself and my husband Paul, who takes care of my website, gives me invaluable help at trade shows and much needed support generally."
How did you get started?
"I'm actually a self-taught knitwear designer and have been involved in knit one way or another ever since my early twenties. I've worked for various knitwear companies designing men's and ladies knitwear, I've worked on a freelance basis designing knitted concepts for various designer labels such as Ralph Lauren, Calvin Klein, Nichole Farhi through to major chain stores like Marks & Spencer, Gap, Old Navy etc. Pattern and colour was always my area of expertise, so eventually I decided it was time to launch my own label of knitted accessories focusing on strong pattern and colour."
What's the creative process for you?
"My work usually starts with me gathering ideas from all sorts of sources – tear sheets from magazines, books, my collection of old knitting patterns and vintage fabrics. I'm addicted to Pinterest, I find it so useful to save and categorise anything that interests me. I use my Pantone App when I'm out and about – it's useful for noting colour combinations…
I then put a storyboard together of ideas and colour palettes and from there start to draft out patterns and knit sample swatches. I drive myself crazy knitting loads of different combinations and finally settle on a collection."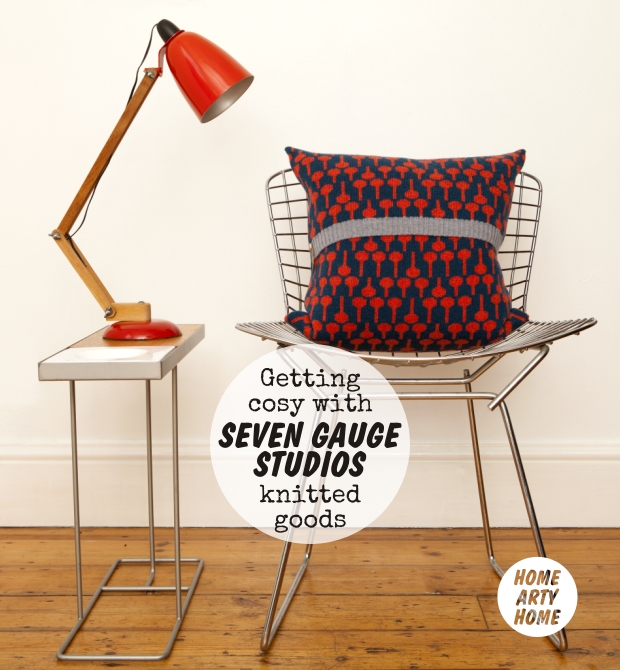 How are your items made? 
"Knitted on domestic and industrial knitting machines, washed to give a soft handle and finally hand finished."
Where are your items made? Do you make them yourself?
"At the moment I make the smaller items on domestic knitting machines at my studio in Nottingham. The blankets are made at a small family run factory near to me, I try and keep everything local as much as possible using manufacturers and suppliers close by. It's important to me to keep manufacture within the UK, we need to hold on to the factories that are left!"
Do you have any collaborations on the go?
"Seven Gauge Studios for Heal's. Keep a look out…"
Are there any goals you're aiming for in 2014? 
"Later this year I hope to be turning all manufacture over to the factory, giving me more time to work on new designs and products."
You have various product categories at the moment – are there any new products you plan or hope to add?
"I would love to produce upholstery fabric, I think my patterns would translate well into woven's… I also love print too, so who knows!"
What do you hope people feel when they see your work or bring it into their homes?
"I always think it's an amazing thing when someone likes your product enough to buy it and take it home. I hope it makes them feel happy."
Finally, are there any events coming up in 2014?
"I will be exhibiting at Tent London again this year – 18-21st September 2014 Old Truman Brewery, London (Stand G08 T1)"
Visit Seven Gauge Studios here.