Art & Design, Etsy Picks, Featured, Features, Home, Home Arty Home, New Art, Offline, Paper Goods, Prints, Themes, Trend, Wide World
Five Sussex Landscape Artists for the nostalgic world of Mapp & Lucia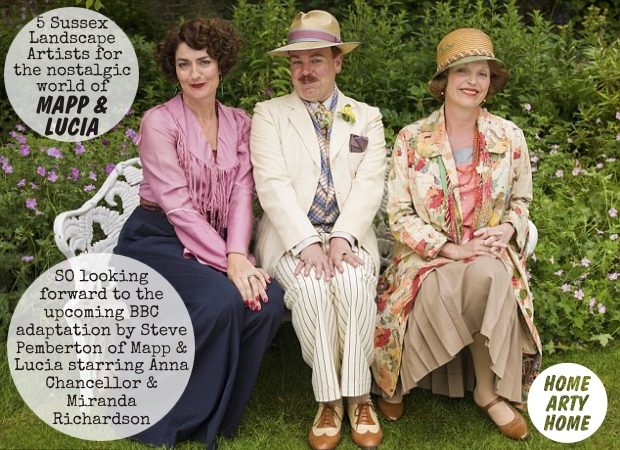 Image: Nick Briggs BBC
On a pleasant day-trip to Rye in Sussex this Summer, I stumbled upon the BBC filming a new adaptation of Mapp & Lucia, the stories by E.F. Benson, in the actual house that he lived in, Lamb House, which is now a National Trust property. The house is called "Mallards" for the tales of social one-upmanship with the town called "Tilling", but we all know it's Rye he's writing about, down to the church, shops, and marshes. The picturesque town feels like a film set so it's great to see that the BBC have been filming in the original locations.
As a huge fan of both the books and the Channel 4 series from the 1980s, I'm probably looking forward to the BBC version more than I should but, with The League of Gentlemen's Steve Pemberton adapting it and starring Anna Chancellor and Miranda Richardson (perfect casting!), I have high hopes.
It got me thinking about the appeal of the amusing stories, as well as other film & TV productions, set in the '20s and '30s. I think we have a collective nostalgia for that sweet spot of British history, between the two World Wars, when life seemed idyllic: villages looked like Chocolate Box lids, there weren't so many people or cars around, you could buy a house for a thrupennybit, and a daily trip to the butcher and baker, with a wicker shopping basket crooked over the arm, was a pleasant experience.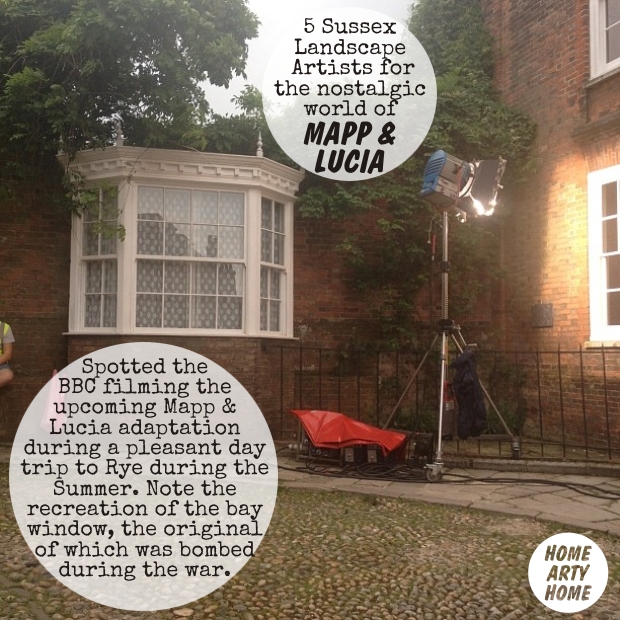 There was also a distinct feeling of modernity and progress provided by the contemporary artists of the time who were pushing the boundaries of artistic expression with their abstracted view of the world.
Three of the proponents of the era, Eric Ravilious, Eric Slater, and Paul Nash, were all inspired by Sussex landscapes to create work which is still highly-regarded. They've proved influential in their style and technique and an inspiration to many contemporary artists, printmakers, and designers today (whether they know it or not sometimes).
Educated at Eastbourne School of Art, and later at the Royal College of Art where he was taught by Paul Nash, Eric Ravilious produced haunting watercolours of Sussex landscapes which led to lithographic prints and collaborating with Wedgwood. His work has inspired and informed many printmakers to the present day and it's easy to see why his art is still popular and relevant.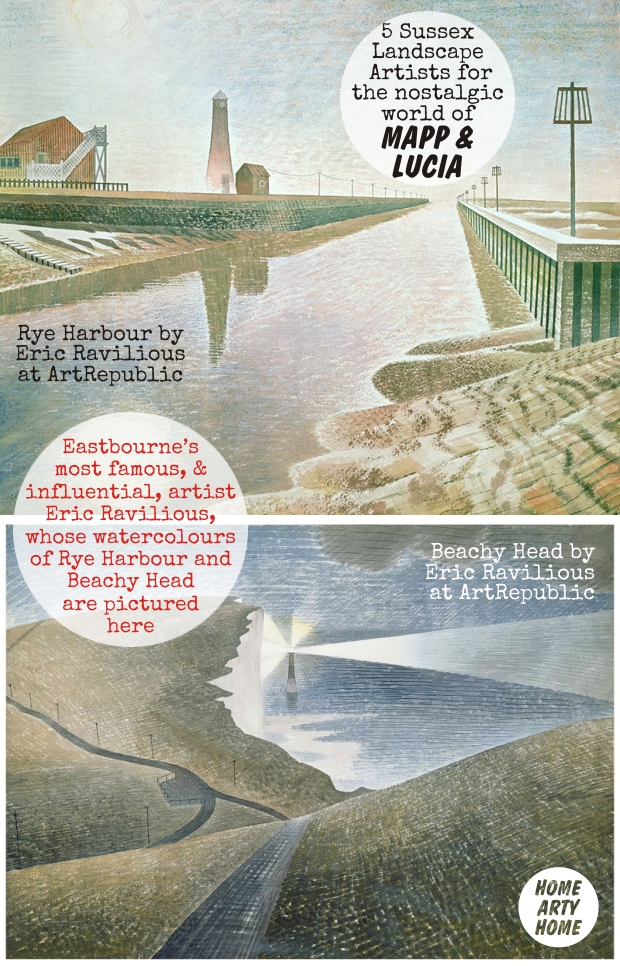 Eastbourne gallery Towner not only has an impressive body of work by Eric Ravilious in the permanent Ravilious Room, but also offers limited edition prints of his watercolours in their online shop.
ArtRepublic have a wide selection of limited edition giclée prints of Eric Ravilious' watercolours as well his striking and innovative 'High Street' series of shop lithographs.
Another Sussex based artist of the era was Eric Slater, who studied at Hastings and lived in Seaford. In the run up to the Second World War, he produced many affordable prints of scenes near his home using Japanese woodcut techniques he learnt from a well-travelled neighbour.
There's an accessible softness of touch that draws you in to his evocative prints and I personally love the print I have of the Coastguards Cottages from the Towner. You may well recognise the location as it was featured in the powerful movie Atonement, starring Keira Knightly & James McAvoy.
The Eric Slater website, by Slater expert James Trollope, has a great selection of limited edition giclée prints of his work as well as a beautifully-produced book and greetings cards.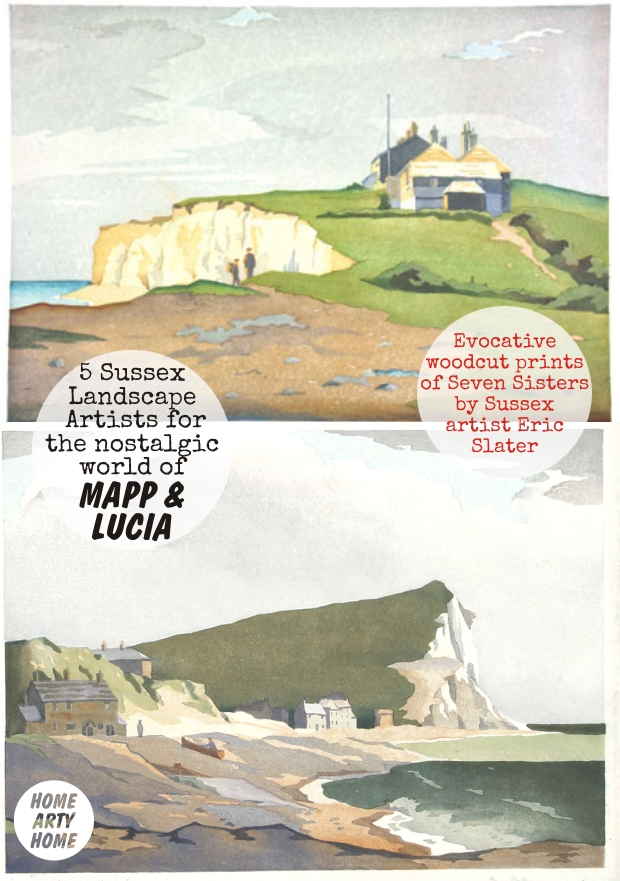 Considered by many to be one of Britain's most important war artists, Paul Nash taught Ravilious at the Royal College of Art and visited Paris where he was influenced by abstract modernism and surrealism.
Emotionally scarred by the First World War, Nash moved to Dymchurch where he painted seascapes and landscapes of the surrounding area, including Rye, the stomping ground of Mapp & Lucia.
ArtRepublic have a selection of some of his work including Rye Marshes, commissioned by Shell Oil for their advertising, and Dymchurch with the sea wall that featured in several pieces by Nash.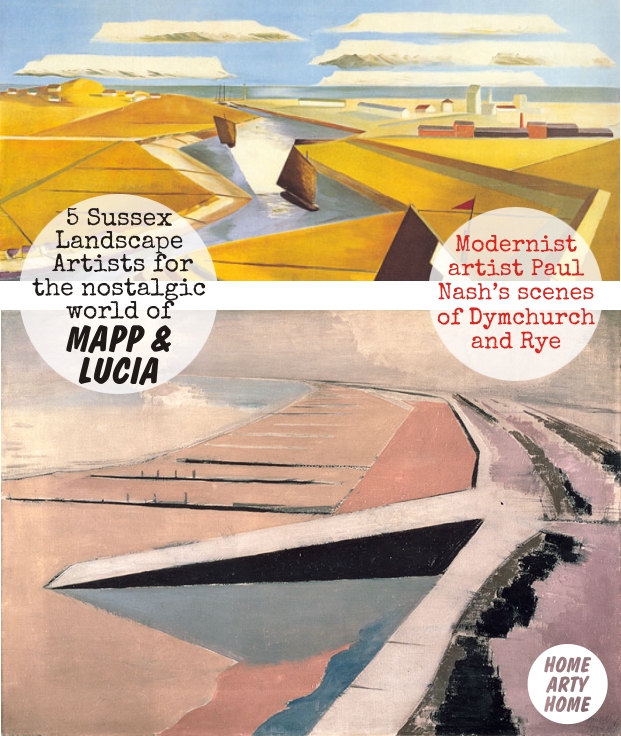 There are other famous Sussex-based artists of the era, notably the Charleston set, but I've never been particularly drawn to their work or their outlook – always too closely associated with fascism of one form or another. In fact, "bit of a Mitford Sister" has come to mean an insult in my book – too precious & rude.
As easy as it is to eulogise about the charming era between the wars, we must not forget that fascism was on the rise and it was a hellish life of poverty & drudgery for many. However, that doesn't mean we can't look back and appreciate the work that came out of the era as well as the art inspired by the locations, which includes pieces by contemporary artists and graphic designers.
Case in point are two Eastbourne artists who have put their signature graphic spin on the Sussex coastline: Adam On Sea and Art & Hue.
Adam on Sea's graphic representations of landscapes and coastlines have a vintage feel to them, like a seaside poster from the 1950s, which would look cheerful in a beach-themed room, and I love Art & Hue's use of halftone dots to create stylish pop art such as these Sussex coastline giclée prints which are subtle yet simultaneously striking.
Paul Nash's angular landscapes, Eric Slater's use of Japanese woodcuts and Eric Ravilious' graphic litho prints were considered progressive for the time and they were all pushing forward a modern aesthetic through using contemporary techniques. I would like to think that if they were around today they would be making use of the advances in computer software and printing technology in the same way that Adam On Sea and Art & Hue are pursuing to great effect.
I hope you've enjoyed our virtual trip around the Sussex coast. There's no air-date yet for the BBC adaptation of Mapp & Lucia but it's slated to be on BBC One in the run-up to, or during, Christmas.
UPDATE: Mapp & Lucia will be on BBC One on the 29th, 30th & 31st of December 2014 at 9pm – set your boxes to record or catch up on iPlayer.