Art & Design, Colour, Decor, Fabric, Features, Home, Home Arty Home, Homewares, Kitchen, Prints, Profile
Colourful Kitchenware by Jonna Saarinen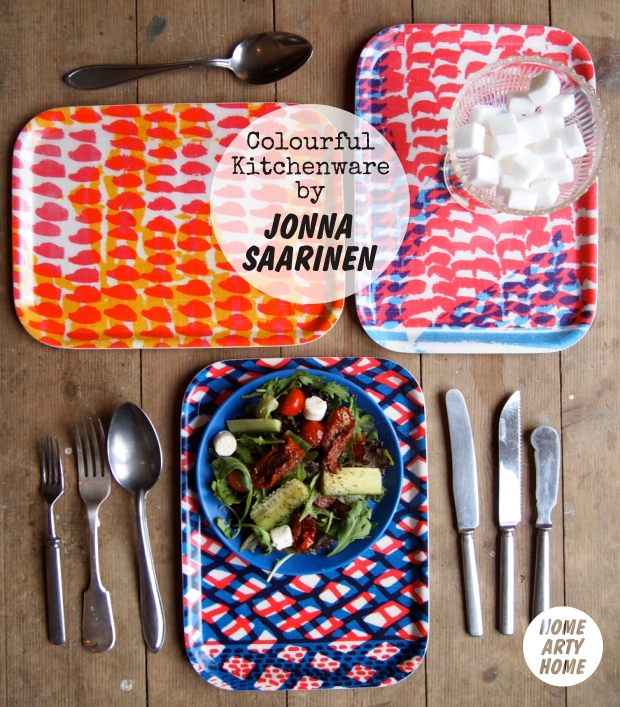 Today Home Arty Home dives headlong into the colourful world of Jonna Saarinen's kitchenware.
The Finnish textile designer is a graduate of both Central Saint Martins College & the Royal College of Art and Jonna's work includes influences from Nordic nature and the seaside, in a range of interior items developed by hand-drawing, mark-making and screen-printing.
After graduating from the Royal College in 2011, Jonna Saarinen launched her eponymous homeware collection and has gone on to win fans and stockists around the world.
Using screens to over-print bright colours gives the range a real pop art flavour that Home Arty Home thoroughly approves of. Jonna Saarinen overlays different patterns and colours to produce some designs that look like close-ups of newspaper print images, as if the CMYK dots that make up a halftone photograph have been magnified hundreds of times.
As well as selling at Etsy, Jonna Saarinen supplies stylish design stores, such as Lois, to which end she is taking part in 100% Design which opens on Wednesday at Earl's Court. To mark the occasion, we caught up with the designer-maker to find out more about her range, process, and plans for the future: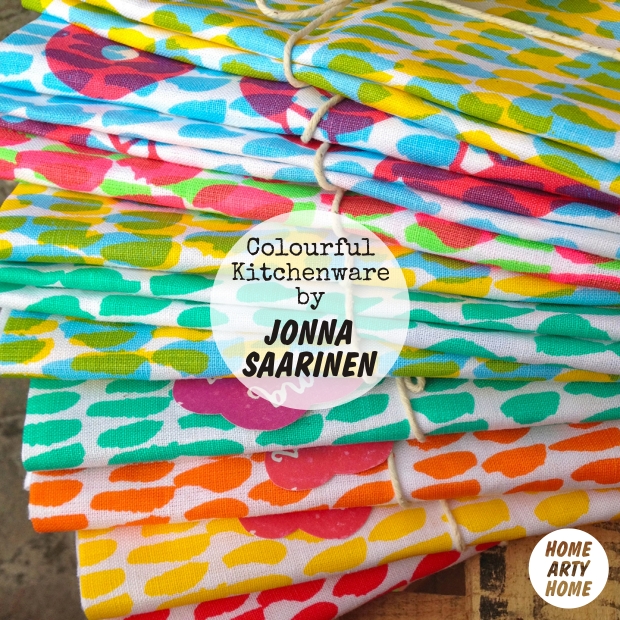 Who's the person, or who are the people, behind the brand?
"The person behind the brand is me, Jonna Saarinen, a Finnish screen printer and textile designer, and I currently work in South London."
How did you get started? What made you want to create and launch your range?
"The idea of a having my own creative business has always been a dream of mine, and the brand was formed during my final year studying Textile Design at the Royal College of Art here in London.
After my graduation in the summer of 2011 I continued to work with my final collection, and the brand was officially launched in November 2011 at the Ideal Home Show in Earls Court."
What's the creative process for you? What inspires/influences your work?
"My creative process often starts from mark-making with inks, watercolours and crayons, and I also enjoy working in black and white. Afterward I transfer the artwork to silk screens, and begin mixing colours & screen printing, to figure out my final designs. I love when you get, sometimes even accidentally, unexpected results in screen printing, that can change the whole creative direction of what you were working on,
I draw most of my inspiration from my childhood, and from the long hot summers I spent with my eclectic grandmother on the Finnish Archipelago, running bare foot in the forest and swimming in the Baltic Sea.
My gran was a true believer, that you can never have too much pattern. Her woolly socks, hand knitted cardigans and patterned aprons & dresses were the original inspiration for the Hundreds & Thousands collection, that celebrates everything over printed, colourful and, of course, layered patterns."
Are your items screenprinted or digitally printed?
"All my textiles are screen printed in my studio in South London, with Soil Association approved eco inks. As screen printing is also a design process for me, I do prefer it to digital printing."
Where are your items made? Do you make them yourself?
"I am a firm believer in local manufacturing and all my products are made in either in England or Sweden. As I said before, I do all my own textile screen printing, but for the other processes, I like to use manufacturers, who use sustainably sourced materials and continue supporting local manufacturing."
Do you have any collaborations on the go?
"At the moment I am working on a possible new future collaboration, as I love working with other designers and crafters, so watch this space! I do often also limited edition screen printed lines with my friend and colleague Kangan Arora, who I share our "Jonna X Kangan" studio with."
How do you see the range developing?
"The collection is expanding and evolving all the time, and I like to add new products in to the line at least twice a year. I am enjoying the fact, that the line is growing organically and I can still really concentrate on the design progress. Though I am currently only producing and developing interior items, who knows what the future holds!"
You're known for your colourful trays, how & why did you start with trays?
"The printed birch trays were one of the biggest part of my Royal College of Art graduation show, and I currently only have a fraction of designs in production compared to the the original tray collection! The trays are very Scandinavian, where we have them in every day use and they often are used instead of plates – it felt right to keep in the core of my business when I launched."
You have trays, tea towels, and dish cloths – are there any new products you plan or hope to add?
"This summer I launched a new line of chopping boards, large round trays, coasters and pot stands – alongside 4 new tea towel designs – that still complement the original Hundreds & Thousands collection. I am hoping to launch more printed 'kitchenalia' items soon and maybe experiment on some bespoke glassware."
What do you hope people feel when they see your work or bring it into their homes?
"I always wanted people to smile when they saw my work, and it to bring as much happiness & laughter as possible! You can never have too much happiness or colour!"
You have your own site plus you're on Etsy – is it important to be on a marketplace site and which do you think is best for you in your experience?
"It has been fantastic to be on Etsy, alongside all the other online marketplaces that I am on, as they have widened my market from local to worldwide. As a results, I now work with lots of different people from USA to Germany, and most of my wholesale goes to Australia for example. Its important to also have your own website as well, so people can find out more information about you and your products – in this day and age, a good internet presence is a key for any new business or designer!"
Finally, are there any events coming up?
"I will be exhibiting at 100% Design at Earls Court during London Design Festival 17th to 20th September! I am currently getting ready for the London Christmas Market mayhem (all the details will be on my website closer to the time) and there will be more trade fair appearances next year, with new product launches and new ideas!"
Visit Jonna Saarinen website here or the Etsy shop here to see more.