Gathering momentum as an interiors trend, Home Arty Home takes a look at the use of acid yellow to create contemporary effects of cartoon light.
Whilst neon yellow has been in use for a while (and looks great in white interiors with touches of pink), and trompe l'oeil paint effects are generally reserved for painting bucolic landscapes, they both can be refreshingly contemporary when combined and used in a more abstract way.
Artistic interiors aren't limited to hanging artworks in a room, paint can be used for stylish artistic effects, without going down the "Changing Rooms" mural route.
Take these examples that use bright yellow paint (or temporary duct tape) to work as pools of light or shadows. Home Arty Home first noticed this clever effect last year when Spanish creatives Fos used yellow duct tape (so as not to damage the protected stonework) on the exterior of Rayen, a vegan restaurant in Madrid. They stylishly created the effect of a pool of light, with the extra clever touch of part-painting the exterior furniture and framed picture.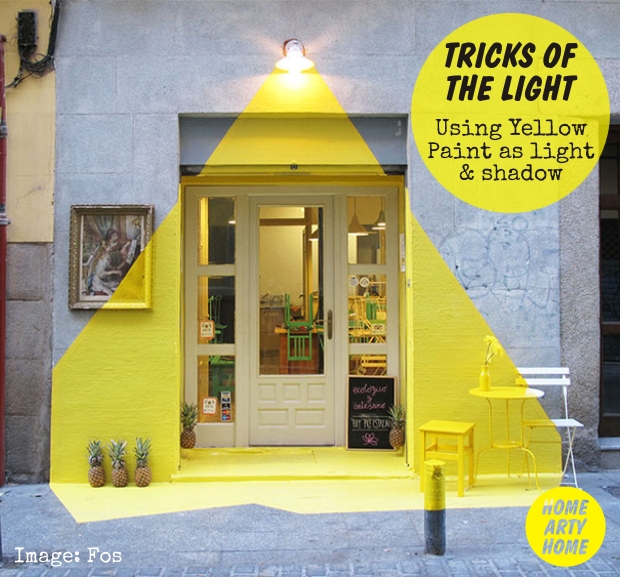 I've spotted the effect of using yellow paint to create beams of light from a wall light in various locations: at Rayen restaurant in Madrid by Fos in September 2013; The Piece Collective boutique that opened in April 2014 in Los Angeles; DF/Mexico, which opened in July 2014, by Softroom in London; and in The Tech Box at the Grand Designs Live exhibition that took place in London during May 2014.
So four sightings makes it a trend, right? Beyond the wall lamp effect, paint has been used as a stairwell filled with yellow "light" as seen in the beautiful image above by photographer Hanna Fuglbjerg; and the yellow box office at Hamer Hall in Melbourne by ARM Architecture which looks like light beaming through a letterbox.
The effect can also be used in reverse as demonstrated at Delicatessen 2 in Tel Aviv, as photographed by Assaf Pinchuk. Designed by New York agency Z-A Studio in 2010, yellow paint is used to create shadows behind mirrors and under tables. Seriously, even though this space was designed four years ago, could this shop be anymore on-trend and fabulous for right now? White pegboard with acid yellow used as light and shadow equals perfection.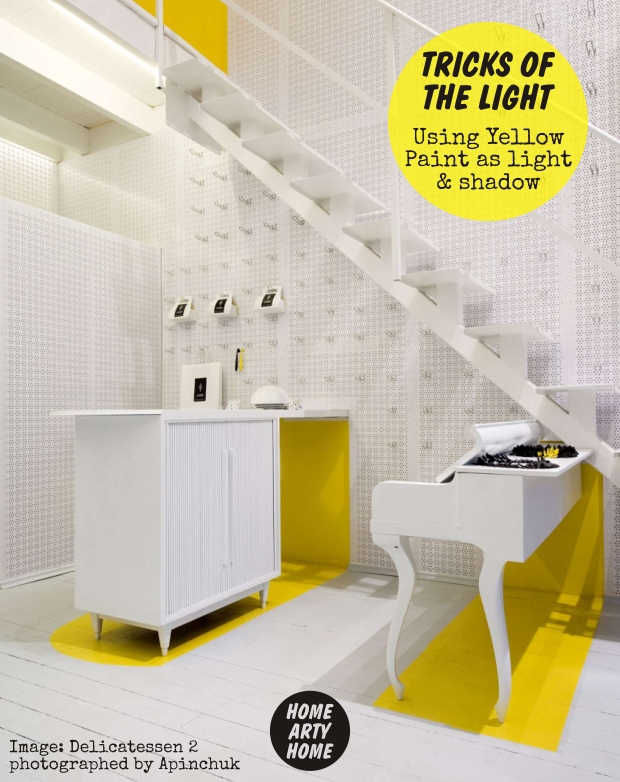 If you like the look but don't want to devote a whole wall to the colour, it's a great idea that can be brought into the home in small doses. Justina Blakeney has cleverly painted a simple and small circle around a shelf which makes it look as if it's being lit by an imaginary spotlight. The effect could be used in any corner of the home that's looking bare or unloved to add visual interest.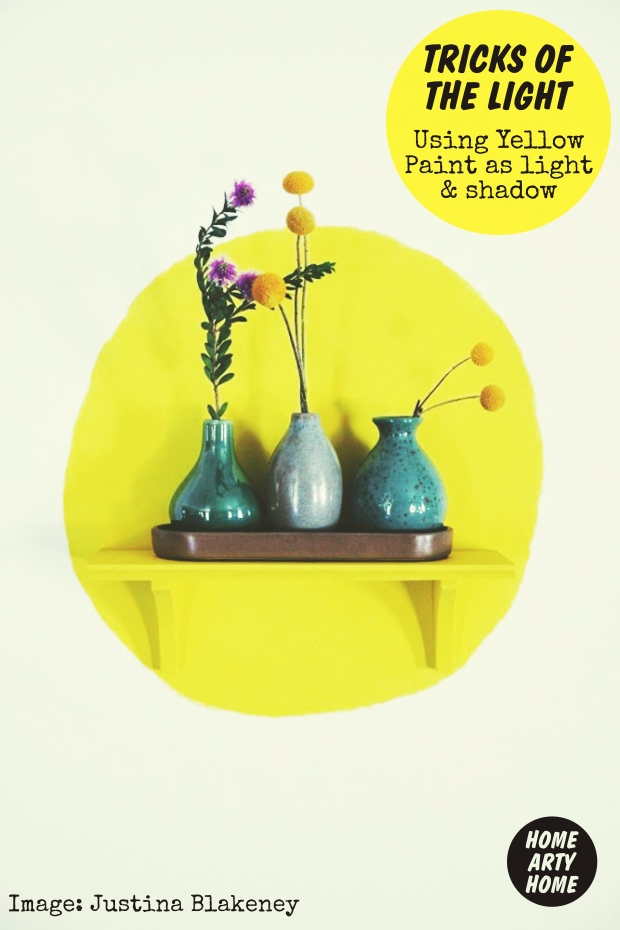 Kitchen splash-backs or doors, window frames or doors, or just a shelf or rug, clever placement of a pop of neon yellow could light up a dark room. Ecos Organic Paint offer all their paints (gloss, matt, or chalkboard, for example) in acid yellow which is the ideal vivid shade with no nasty chemicals that most paints have.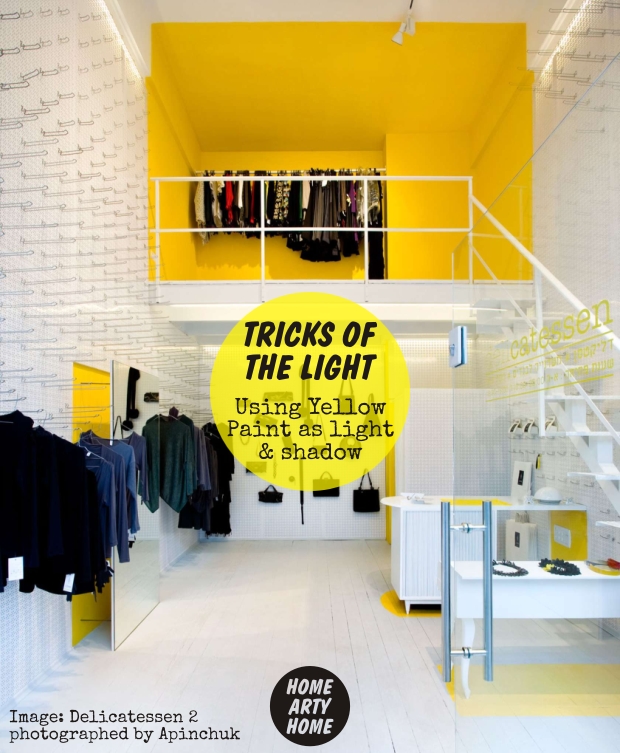 Images: Fos / Rayen / The Piece Collective at Abbot Kinney Online / DF Mexico / Softroom / Hamer Hall / ARM Architecture / Justina Blakeney / Z-A Studio / Assaf Pinchuk
For more images and inspiration, take a look at the Home Arty Home Pinterest board where I've gathered more examples in bright yellow, as well as other colours.