Art & Design, Colour, Decor, Features, Home, Home Arty Home, Homewares, New Art, Paper Goods, Prints, Themes, Trend
Four Stylish & Contemporary takes on Memphis Milano
I'm sure we're all aware of the resurgence of the early-1980s design movement, the Memphis Group, as it's been influencing many artists and designers for a while now, but let's face it, there can be some seriously ugly interpretations.
At the risk of giving away my age, I must admit to not being a fan of the "style" the first time around – too impractical, shouty, and gimmicky for the sake of being quirky – the interiors equivalent of Cicciolina or Timmy Mallett.
Described as "Fisher-Price on acid", whenever I hear Memphis Milano, I remember the crime against design that was Danny DeVito's house in "Ruthless People" – brash, clashing, and annoying, the house matched the character. Whilst it may have been the look of the moment, I'm sure that the film-makers were lampooning the gauche millionaire and his bad taste by cramming the house with Memphis-inspired pieces.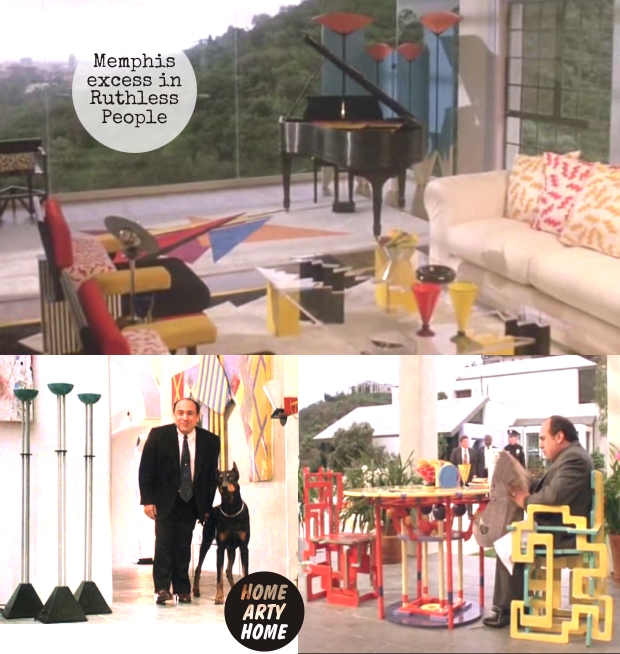 A very funny film in which Bette Midler steals every moment she appears in, it's worth watching for a good laugh but NOT to take style tips from.
To avoid the look of bad TV graphics, the sort that would appear on 1980s children's & "yoof" shows, or regional magazine programmes, here's a selection of artists and designers that have taken the movement of Memphis Milano as a starting point before adding their own distinctive spin to create something unique and stylish.
Camille Walala
The Queen of Memphis has to be Brighton-graduate Camille Walala – if you've been in London recently, you've most probably spotted her paintwork on and in many a building. She strips back graphic elements of Memphis to create restrained prints that relish their graphic simplicity and colour blocking.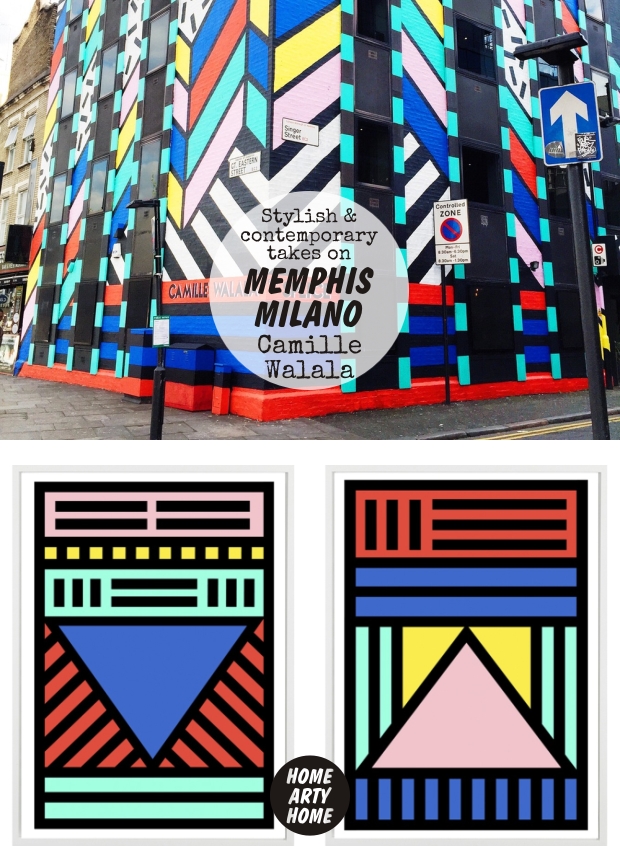 Art & Hue
With a nod to the Italian Memphis Design Group, Art & Hue's pop art collection called "Mid-Century Memphis" takes inspiration from 1950s jazz music and 1980s design to create four MidCentury-style abstract prints. Less Ruthless People and more Blue Note, imagine Saul Bass meets Ettore Sottsass and you're close to picturing the energy of 1980s graphics seen through the prism of MidCentury design.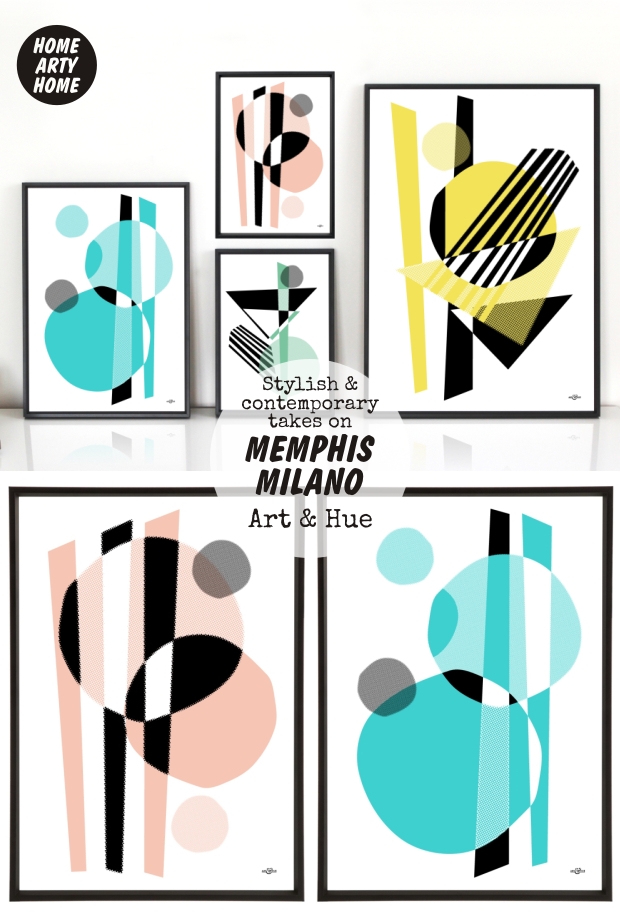 El-Aich
Available from Unique & Unity, El-Aich have produced a collection that references Memphis Milano but softens what can often be brash edges by hand-painting their ceramics. As each creation is decorated by hand, each piece is unique.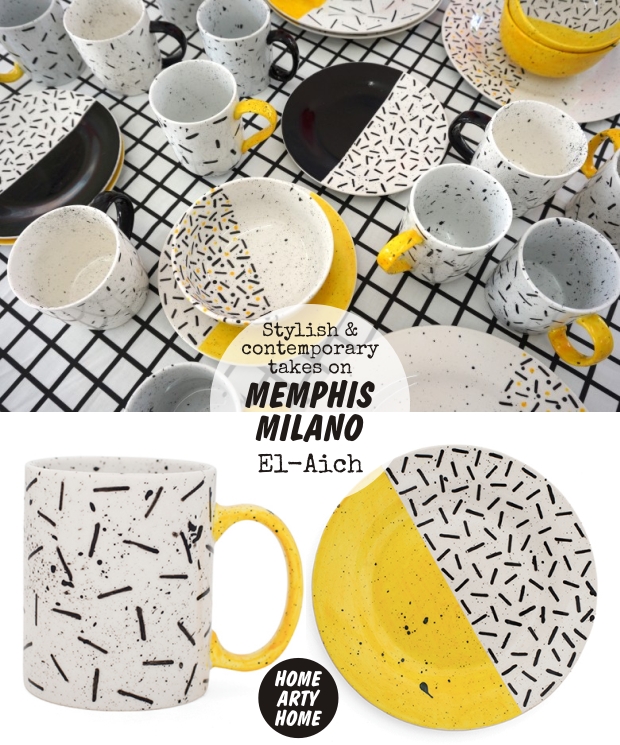 Giannina Capitani
Finally, Home Arty Home favourite Giannina Capitani's collection of knitted goods takes elements of Memphis and interprets them as cushions and other woollen home accessories. In Giannina's hands, the 100% lambswool softens the hard edges of the graphic designs to create welcoming and stylish pieces.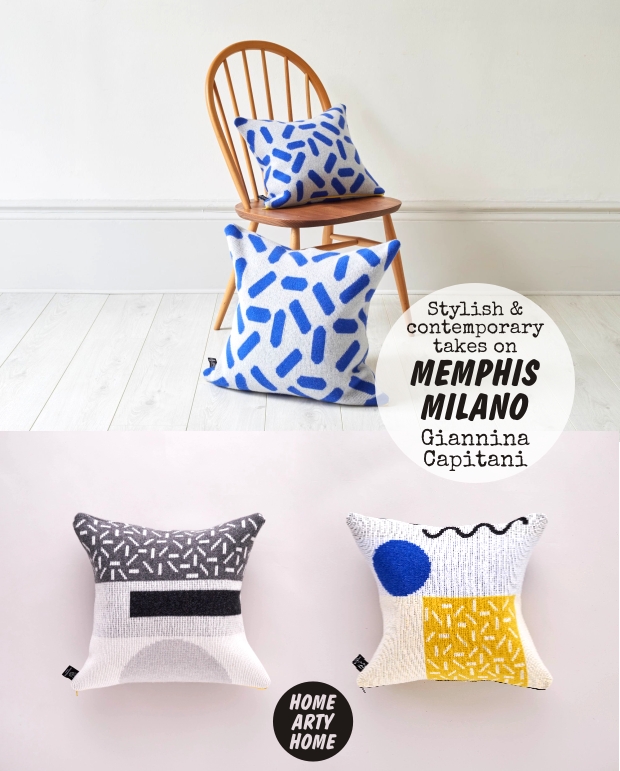 So there you have it, four creatives referencing the Memphis Milano design movement but producing work far more stylish than Danny DeVito's house.