#ShopTalk, Art & Design, Decor, Featured, Features, Home, Home Arty Home, Homewares, Kitchen, New Art, Paper Goods, Prints, Stores
#Shoptalk: Made in these Isles – the online treasure-trove of British-made Fashion, Art & Design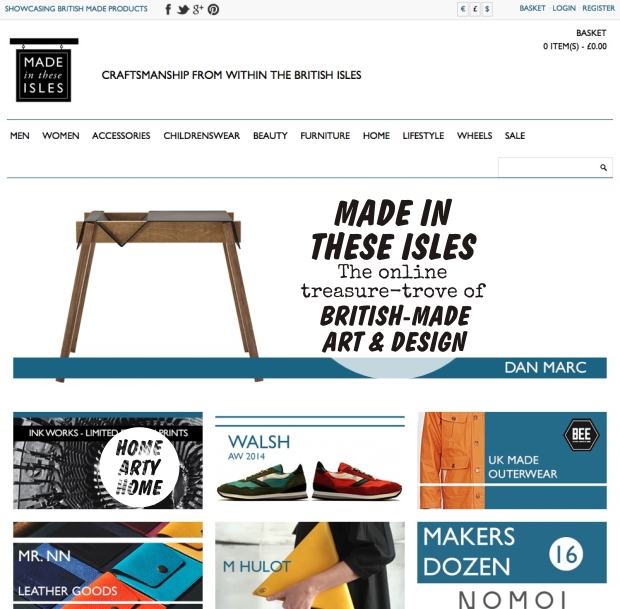 There are so many great emerging British artists and designers but it can be tough to discover them. Not everyone has time to scour social networks looking for British creativity, so thank goodness for Made in these Isles.
An online store that's dedicated to showcasing the best of British, Made in these Isles carries furniture, art, and home accessories by new, established, and emerging creatives. Alongside a curated fashion offering, browse the site to discover and buy statement pieces for the home that are distinctly unique from independent designers. It's great to see Home Arty Home favourites included in the brand-mix, including Sian Elin, Art & Hue, Gillian Kyle, Baines & Fricker, and Liam Treanor.
Home Arty Home caught up with the founder of Made in these Isles to find out more about the site and supporting British art and design:
What inspired you to open Made in These Isles?
"After a trip to Antwerp when we were on a mission for vintage clothing and furniture we realised that a lot of what we were picking up was being produced in Great Britain in the '70s, '80s and even early '90s. So on the train on the way back we came up with the name and decided to give it a go. We toyed with bricks and mortar but decided online first."
Which artists & designers do you carry?
"Probably far too many to mention here but some of our current favourites include Ink Works, Lane, Dan Marc, Baines and Fricker, Art & Hue, The Lost Fox, D*Hause, the list goes on."
What do you look for in the items you offer?
"Firstly we look to make sure the goods are produced here wihtin the British Isles and there is a certain simplicity of structure, form and function. We like to find new brands and up-and-coming new designers. We are more than happy to include brands with history and relevance as long as we feel their products fit with our ethos, which is to showcase craftsmanship from within the British Isles in whatever for that may take.
There is a nod to the past in terms of loving modernism and mid-century in terms of furniture and homewares whilst wanting to find new exciting brands in the clothing world who are ethical, maybe upcycle and are doing something a little different."
Visit Made in these Isles to see more.