Art & Design, Colour, Decor, Etsy Picks, Events, Featured, Features, Home, Home Arty Home, Homewares, Media, New Art, Offline, Paper Goods, Prints, Profile, Themes, Trend, Wide World
Mrs Peel, We're Needed!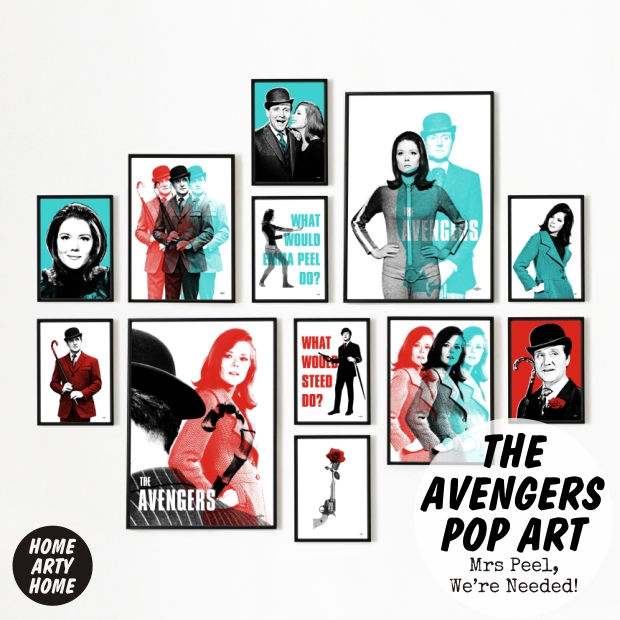 As a huge fan of the cult British TV series from the 1960s, I'm thrilled to feature this new collection of graphic pop art inspired by The Avengers, available for a limited time only, in the video above and the images below.
Since first discovering the show (when it was repeated on Channel 4), Diana Rigg as Emma Peel has been an inspirational icon. A strong and powerful woman on TV, who took on evil henchmen with high-kicks and karate chops and matched Steed's wit, it's no wonder that Emma Peel was a positive role model for children, and adults, the world over, at the time of broadcast and during subsequent airings.
2015 marks the 50 year anniversary of Emma Peel's TV debut with John Steed when she first appeared on British screens in October 1965 so to mark the occasion, Art & Hue has created 12 new prints featuring the iconic agents, including "Triple Emma" that gives a nod to Andy Warhol's Triple Elvis: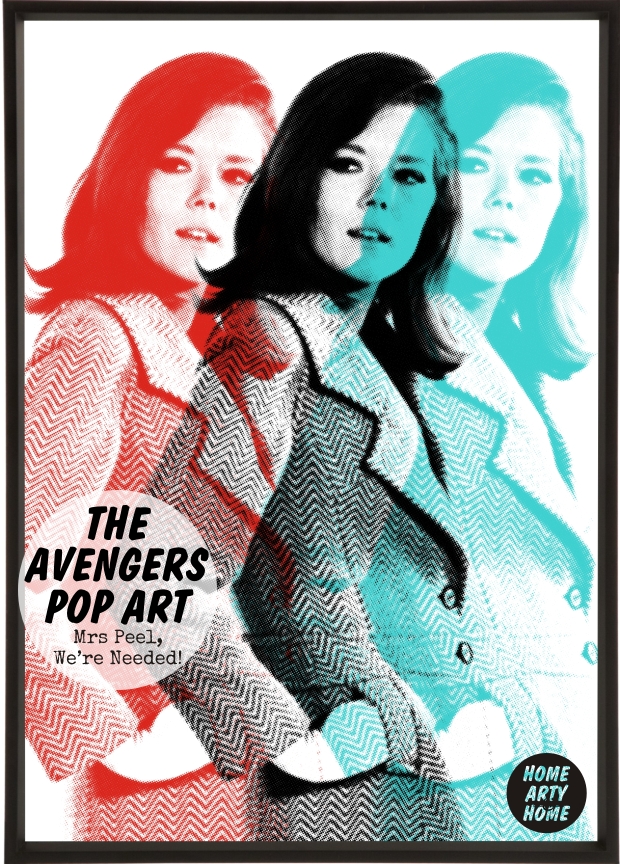 Broadcast on ITV in the UK and ABC in the USA, the show defined the 1960s, running from 1961 to 1969, during which time The Avengers fought off Russian double-agents, dodgy politicians, and power-crazed businessmen across London – how times have changed!
An official collaboration with StudioCanal, the copyright-holders of The Avengers, Art & Hue dived into the extensive library of production and publicity photography at Pinewood Studios to create this group of exclusive pop art prints in homage to the tale of British spies, and talented amateurs, foiling the dastardly plots of diabolical masterminds.
Even though there's the natural retro appeal of the 1960s show, the graphic pop art treatment of The Avengers gives a contemporary edge that would add a hit of iconic glamour to any space.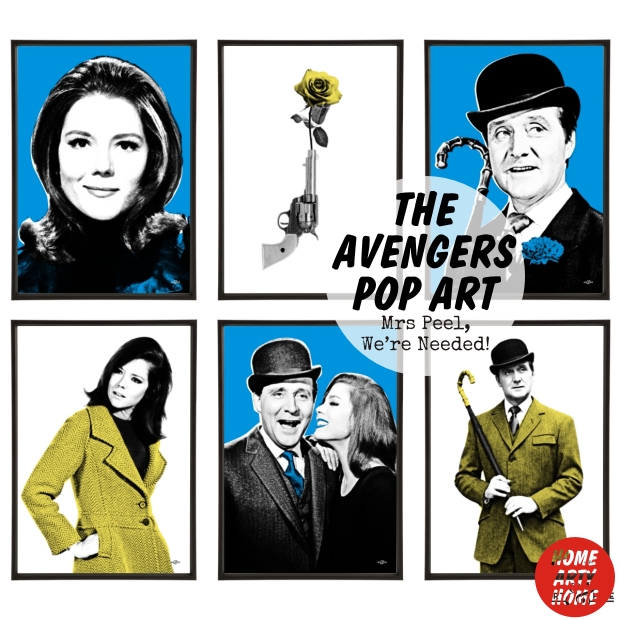 Transcending fickle trends, The Avengers have been consistently stylish for over 50 years and, as perpetual fashion icons, Steed is always an inspiration for gentlemen everywhere in his sharp Savile Row tailoring, and Diana Rigg continues to inspire womenswear to this day with collections by Chanel and Marc Jacobs looking like they belong in Mrs Peel's wardrobe.
Paragons of elegance and ingenuity, John Steed & Emma Peel became instant fashion icons with famous London designers wanting to work on the show. John Bates, credited with inventing the mini-skirt, created a wonderful monochrome op-art collection especially for Emma Peel, then Alun Hughes designed the iconic jumpsuits which became known as "Emmapeelers".
Emma Peel has also inspired a club night called Mrs Peels, organised by Count Indigo, the king of lounge nights. Club Indigo became an institution in the mid-1990s with acts including Tony Bennett queuing up to perform at the niche weekly event at Madame JoJo's. The next event is in October on the penthouse rooftop of a swanky looking members' club for which you can book tickets here.
There aren't many men who can carry off the impeccable uniform of a quintessential English gent yet Patrick Macnee looked like he was born in a bowler hat. Always immaculate, John Steed was sartorial perfection in his Savile Row tailoring, most of which he apparently co-designed.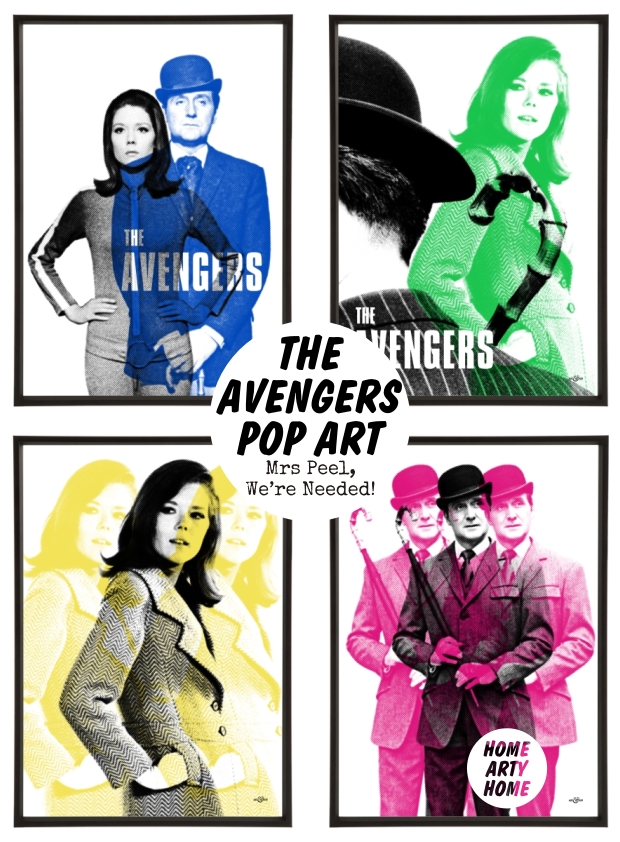 Innovative at the time and enthralling to this day, you can currently watch repeats of the show on the True Entertainment channel (channel number 184 on Sky or 142 on Freesat), or if you feel like owning the show, you can pick up the full series as a DVD box set, or the Diana Rigg episodes on Blu-ray.
The Avengers collection of exclusive pop art is available from Art & Hue as well as Etsy.