Art & Design, Decor, Fabric, Featured, Features, Handmade, Home, Home Arty Home, Homewares, Kitchen, Profile
Lush Designs for an illustrated home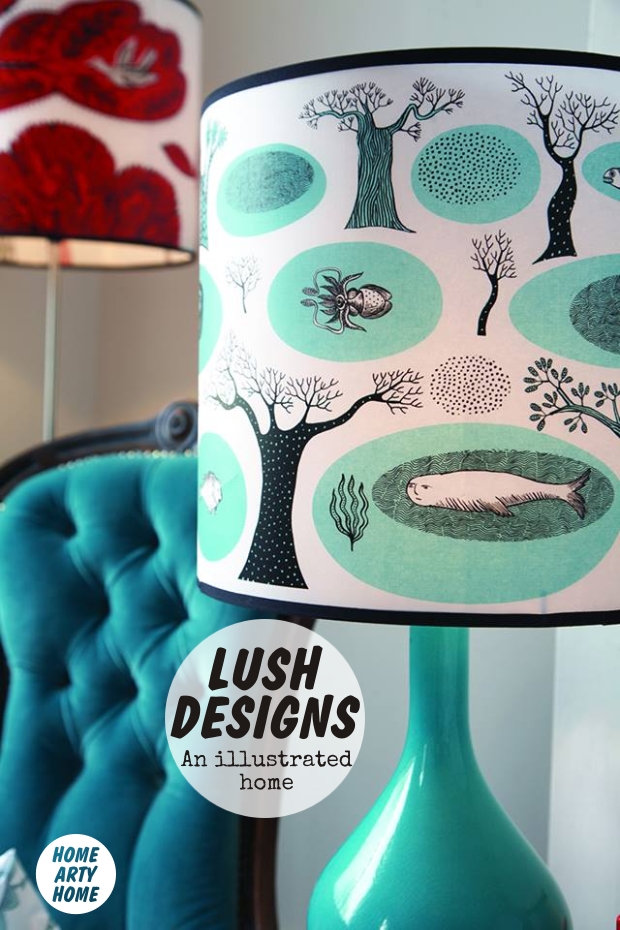 This week, we delve into the highly illustrated world of Lush Designs.
Starting out with lampshades, the range has grown over the years to include everything you way need in your home, beautifully adorned with Lush illustrations that add colour, pattern, and fun.
From placemats and coasters, to aprons, mugs, and bedlinen, Lush Designs translate their intricate yet light drawings into engrossing prints that deserve repeated viewing to discover all their delights.
Home Arty Home loves the illustrative style of Lush Designs that reminds us of pre-war bookplates, with a dash of folk art, presented in contemporary colours to create unique conversation pieces.
With stockists across the country, as well two stores of their own in London (in Dulwich and Greenwich), it's inspiring to see how well this print-driven brand has been taken into the heart of the home.
Home Arty Home caught up with the founders of Lush Designs to find out more: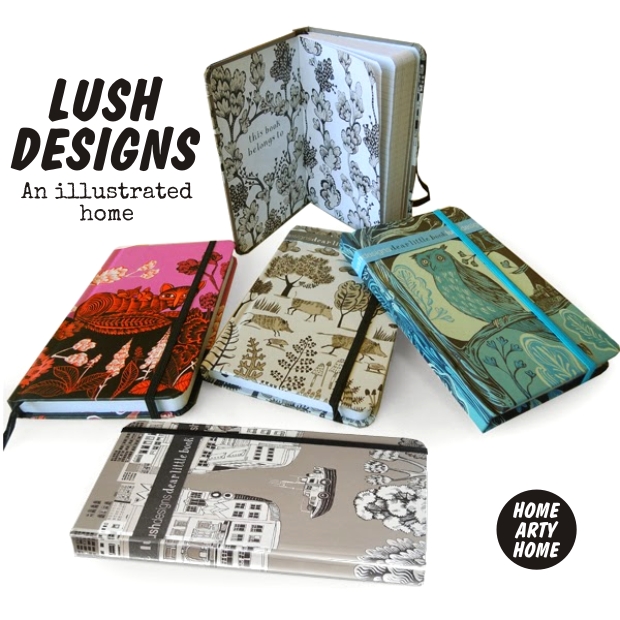 Who's the person, or who are the people, behind Lush Designs?
"Maria Livings (me) and Marie Rodgers"
How did you get started? What made you want to create and launch your range?
"We studied Painting and Printmaking at college together and both moved to South East London when we left. We didn't really create and launch a range – it evolved over decades. We made rather outlandish costume jewellery for several years and worked in community arts and in the theatre, we started printing a few things (tea towels and pillow cases) and made some handmade lampshades and gradually it became Lush Designs as you see it today."
What's the creative process for you? What inspires/influences your work?
"It's hard to describe the creative process – one idea usually naturally follows from something else we've done. We tend to do lots of ink and pencil drawings first and talk about product ideas, colours, stories and themes between us. Sometimes ideas flow from a thought that occurs from something we've seen or experienced, sometimes they are driven by the medium in which we are working, usually print, sometimes ceramic, or involving light or texture. We love narrative ideas, and are thrilled by pattern and detail as well as colour, we have a very distinct palette."
How are your items made?
"Most of our products are made in the UK. We make the lampshades in our studio. Each product we make is printed differently, most are screen printed, some litho, some flexographic, some sublimation, some digital. It depends what the product is.
Because much of our production is outsourced we consider many of our products to be a collaboration. We are working with a pottery in Stoke on Trent to produce a range of coloured ceramic products including our lamp bases. We make the clay models from which a mould is created and then the ceramic shape is cast in earthenware. These are glazed, then decorated with printed decals from our own drawings."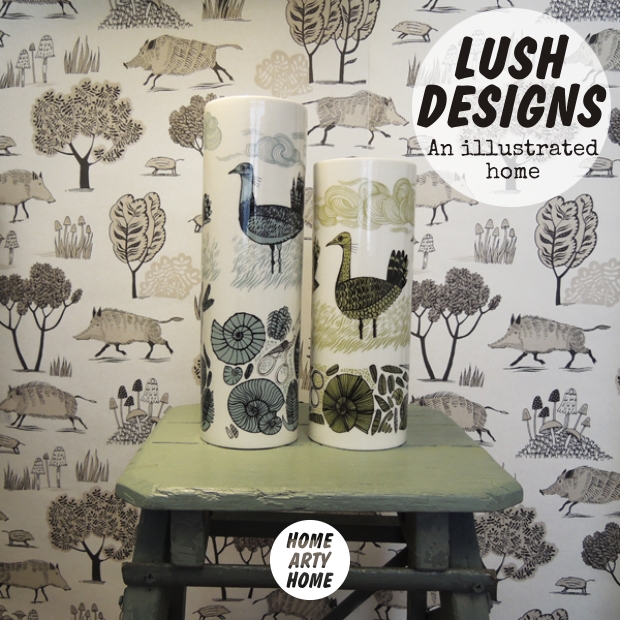 How do you see the range developing?
"We are looking to produce some larger scale 3D works this year. They would still involve print, but in a more abstract way. We'd like to collaborate with someone on this project – it's basically a lighting idea but on a large scale."
Are there any new products you plan or hope to add?
"We'd like to make more products for children, probably starting with ceramics."
What do you hope people feel when they see your work or bring it into their homes?
"We hope that people will see something different every time they look at one of our designs. They're meant to fit in with people's ordinary homes but perform the function of a 'conversation piece'. We hope that our products bring cheer."
Finally, are there any events coming up in 2014?
"We will be taking a stand at Maison et Objet in Paris this Autumn. This is a big international show and it's a great place to meet buyers from overseas."
Discover more Lush Designs at their website.