Today we head up to Scotland to get behind the tea cakes and sample the illustrated delights of Gillian Kyle. The eponymous design brand is designed by Gillian who draws on Scottish culture to create fun, colourful, and stylish home accessories and clothing.
History and sports are used as themes for various illustrated collections, with pride of place reserved for food. Not deep-fried Mars Bars but a tasty selection of fish & chips, Irn Bru, Scottish Pride Bread, Oatcakes, and Tunnock's Tea Cakes; all are used as inspiration to create prints applied to cushions, lampshades, art prints, mugs, coasters, and more.
Illustrations of Robert Burns and Andy Murray also underline the distinctly Scottish identity that appeals to shoppers not just in Scotland but across the United Kingdom, as evidenced by the wide range of stockists nationally that carry the collection, including John Lewis.
As well as being available directly from the Gillian Kyle website, the range is online at Etsy and Not On The High Street.
We've included Gillian Kyle items previously at Home Arty Home and are incapable of resisting the draw of her illustrated Tunnock's Tea Cakes in particular.
We caught up with Gillian to find out more:
Hello! We're Home Arty Home.
"I'm Gillian, and I started the business in 2009 after graduating from art school. Katherine and Jen work with me in the studio full time, and Katie part time."
How did you get started? What made you want to create and launch your range?
"On graduating from GSA in 2008, design jobs in Glasgow and Scotland were so thin on the ground that I knew the only way to avoid moving to London was to start something myself. I just thought 'start making some things, and see what happens' and so that's what I did. After chatting with my partner Tom one night about the Scottish psyche, our popular culture and our weird and wonderful relationship with food, I did some drawings of Tunnocks Teacakes, Scottish Plain loaves and bottles of Irn-Bru, and printed them onto t-shirts, aprons, tea towels and tote bags in the GSA textile print room. I sold a few things right away to other students who had seen me printing them, before taking part in a few wee local craft fairs. Things grew from there pretty quickly – what I was doing seemed to strike a chord!"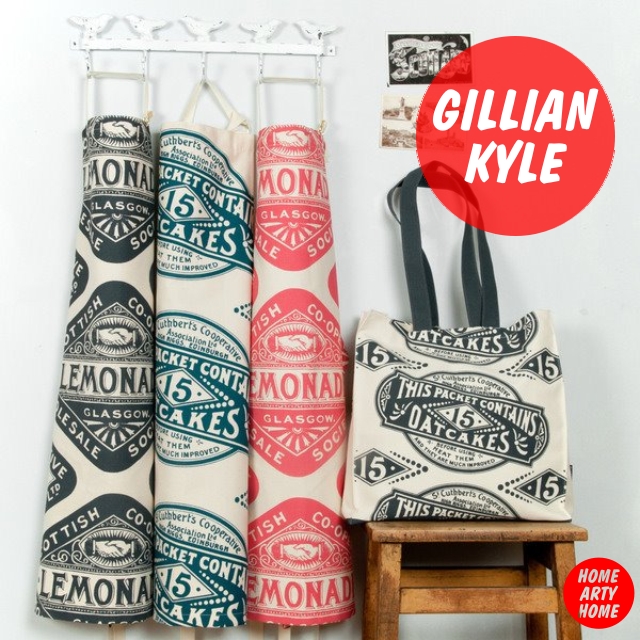 What's the creative process for you? What inspires/influences your work?
"I'm really just fascinated by popular culture, products and branding, identity, nostalgia and memory. I'm a magpie and am constantly collecting images for inspiration; old product packaging, vintage ephemera and photos of interesting bits and pieces. I love to draw and always start off using pen and ink on paper before developing things digitally. Typography and fonts are another mini obsession – I love the effect of recreating them in my hand-drawn style."
Where are your items made? Do you make them yourself?
"Everything is currently made or decorated in the UK and we use a selection of lovely small businesses to manufacture for us. We have really lovely relationships with them all and it's great to be able to visit the factories and meet the people who are actually doing the sewing, printing etc. I'd love to think that we could do some in-house manufacturing at some point in the future too. Although we won't always be able to make everything here, I'm committed to making things in this country wherever we can; its been great to see a renewed interest in UK manufacturing in the last couple of years.
We use organic cotton for the majority of our textile products – it's more expensive but well worth it, both for the handle of the fabric and the knowledge that we are minimising the negative environmental and health impacts of our consumption on the world; regular cotton farming is pretty bad news."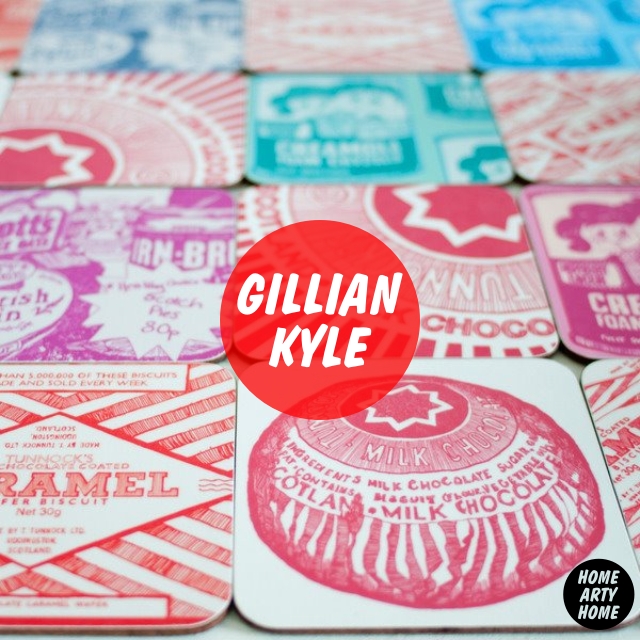 Do you have any collaborations on the go?
"I've just released a wee giftware range called 'Scotland the Brave' designed in collaboration with an exciting new illustrator called Tony Mckay, which looks great. I'm also collaborating on a really exciting new range of tins with a company called Elite who produce tinware for Emma Bridgewater and Caroline Gardner. I can't wait to see my Tunnock's designs on biscuit tins!"
How do you see the range developing?
"We have big goals for the next couple of years. The idea, essentially, is to build on what we have created and really establish ourselves as a home and gift brand in the UK market and beyond. We will be growing our product range and introducing a wider range of ceramics and textiles, as well as stationery. I'm particularly excited by the Fish & Chips plate that I've just designed and the Caramel Wafer milk jug (which is pretty cute). I guess I'm inspired by brands like Cath Kidston, Orla Kielly and Sophie Allport – they all have a really strong design concept rolled out over a great range of products."
What do you hope people feel when they see your work or bring it into their homes?
"I hope that people respond to it in a variety of ways. Nostalgia and memories is a big one – we get emails all the time telling us how much a particular print has reminded them of their childhood or special people in it. But I hope that people also like the bold, bright colours, the wee hint of humour and the quality of the products – we try to make things that feel special."