Art & Design, Crafts, Decor, Fabric, Featured, Features, Handmade, Home, Home Arty Home, Homewares, Kitchen, New Art, Prints, Themes
Four Fabric Artists
Whilst we love the work of artists and illustrators who use pens, pencils, or brushes as their weapon of choice, our admiration knows no bounds for artists working with the medium of fabric.
Fabric seems a difficult choice to use as it can't be manipulated or corrected in the same way as paint or ink (plus any mistakes must surely mean the artist has to start over, rather than use an eraser or photoshop to adjust illustrations).
We've selected four fabric artists who use textiles to create their unique artworks and whose work we love, including abstracts, cityscapes, maps and animal portraits.
SEEING IN FABRIC
First up, we take a look at Seeing in Fabric, the brand name of the talented artist Jamie Langhoff. Based in Washington, D.C., Jamie expertly turns her sewing machine into an artist's tool.
We adore the way she manipulates the differently patterned and textured fabrics, coupled with insanely-clever stitching, to create subtly shaded cityscapes. Take a look at this small selection of Seeing in Fabric's great work available from Etsy: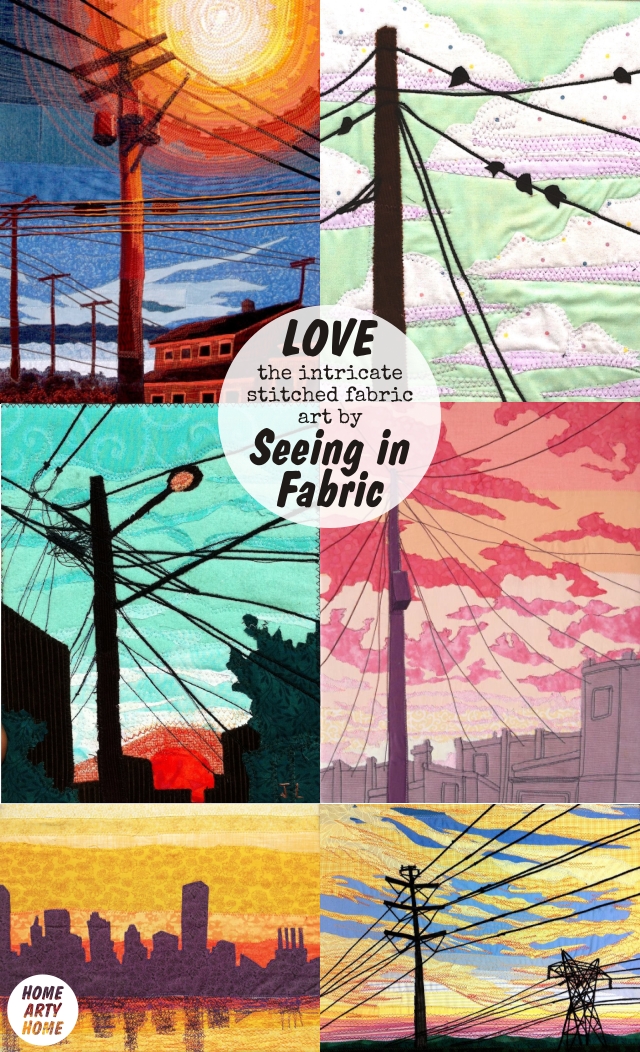 MAPPLIQUE
Next up is Mapplique, who we've admired previously in our feature on maps that use different elements to represent different regions. We love how they select fabrics relevant to each area and we're amazed nobody had thought to do this before Mapplique (for example, Pinstripe is a traditionally English fabric that's used for England, Tartan for Scotland, Linen for Ireland, and knitted wool for Wales).
Mapplique handcraft the original fabric art maps which are available to order via their website, Etsy or Folksy, as well as fine art reproduction giclée prints on cotton card in standard frame sizes. There's also a notebook featuring the British Isles fabric art.
So far Mapplique have created textile maps of the British Isles and USA census regions (using Denim for the West, T-Shirt cotton for the South, Ticking for the North-East, and gingham for the Mid-West) with more regions and artworks to come.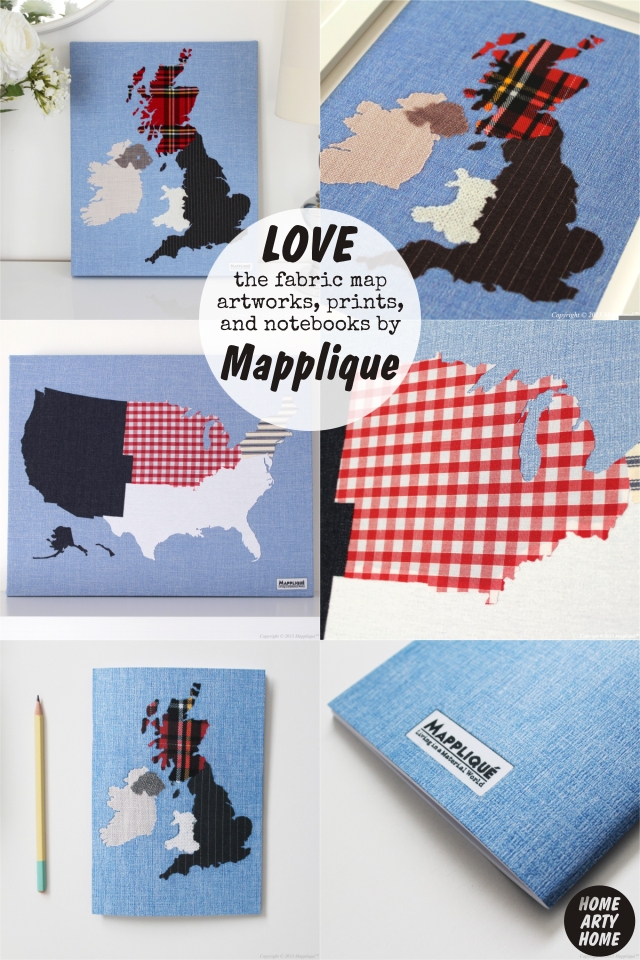 RACHEL CASTLE
Next we head to other side of the world to visit the great fabric artworks by Australian artist Rachel Castle. As well as art, Castle produces cushions and bedlinen.
Castle creates painted artworks and screen prints, which all look great, but it's her fabric art that we particularly adore. Abstract shapes as well as song lyrics are crafted from various fabrics and stitched onto linen.
We admire Rachel's fabric colour palette, mixing heathered textiles with brightly coloured felts on linen. Her witty song lyric pieces make us smile and would bring a happy hit of art to any space, but it's the simple geometrics and circles that we love the most.
Take a look at this small selection of Castle's fabric art pieces: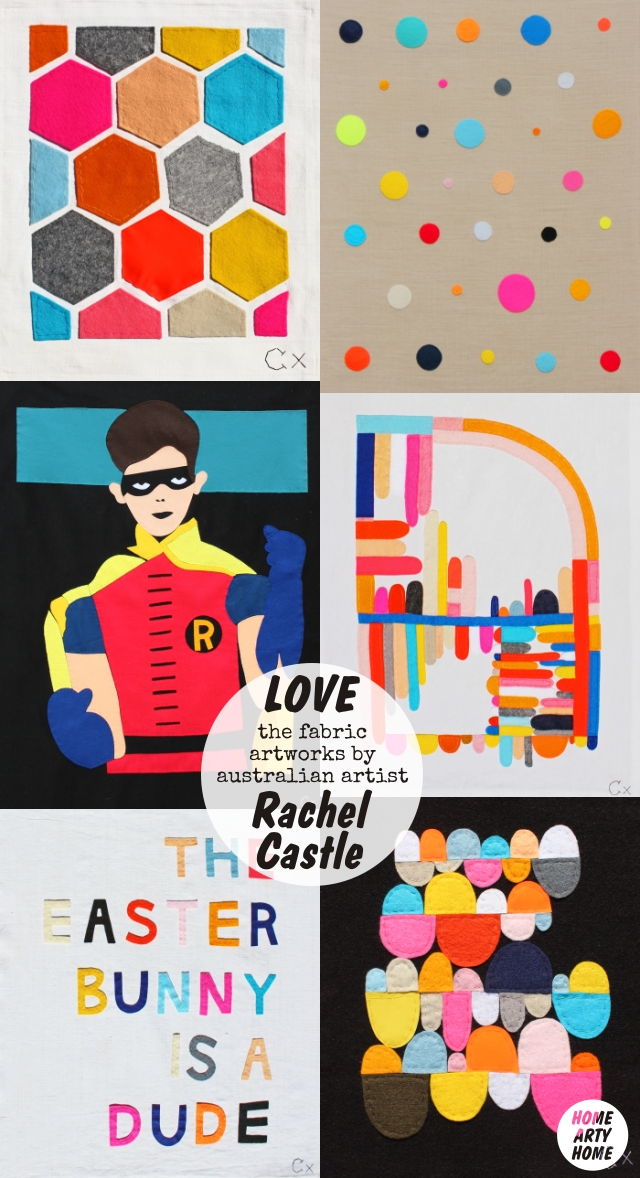 CAROLA VAN DYKE
Finally we take a look at an artist we've featured previously, Carola Van Dyke, and her beautiful patchwork animal portraits.
Carola uses a mix of vintage and modern fabrics to create cushions with character and detail. They are topstitched in red in a sketching style, a technique Carola likes to describe as "painting with fabrics". As well as these amazing cushions, Carola has created a range of plates, mugs, and espresso cups for Magpie featuring her "Beasties" artworks.
The cushions are available from Carola's website and the tableware is available from Mollie & Fred.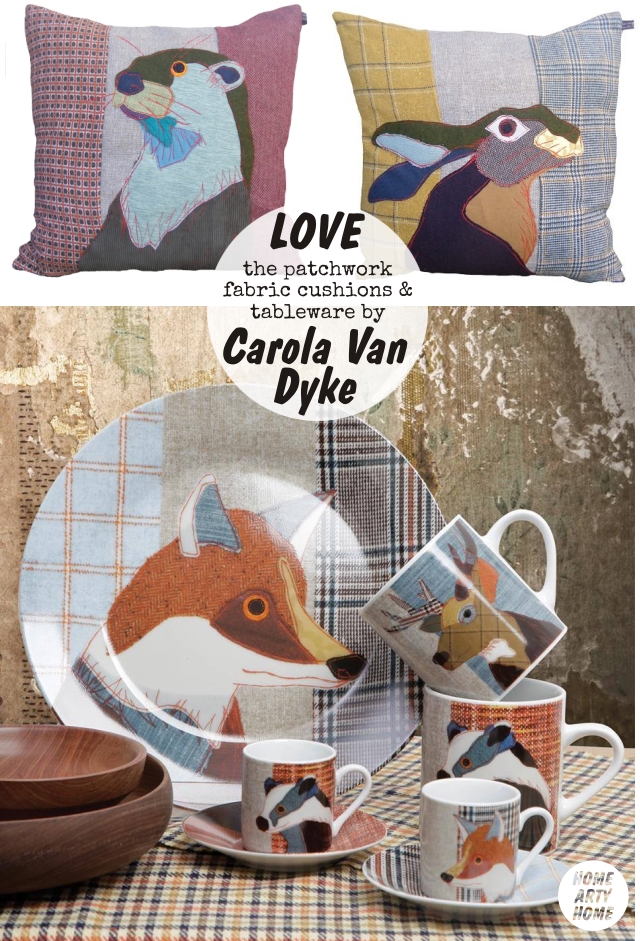 Any other fabric artists we should know about?
Leave a comment below