Decor, Fabric, Featured, Features, Home, Home Arty Home, Homewares, Kitchen, Paper Goods, Profile
Combining Photography, Art, & Design with Ella Doran
Photography is all around us, from Instagram snaps of food and selfies, to billboards and magazine images, but it takes a keen eye to capture moments and objects to create well-designed items that we would welcome into our homes.
Ella Doran has such an eye and through photography has built a wide collection of home accessories and interiors products that has gathered fans and stockists across the UK, such as Amara, and around the world.
Capturing images of vinyl records, bikes, cameras, and paint brushes, Ella Doran transfers photography and print designs onto fabrics, wallpapers, mugs, rugs, coasters, cushions, lampshades, notebooks, and other home accessories.
Ella Doran continues to evolve the collection, adding new products and themes as well as collaborating with Galapagos Design to create furniture.
One of the most-featured designers on Home Arty Home, it was about time we caught up with Ella Doran to find out more about the eye behind the camera: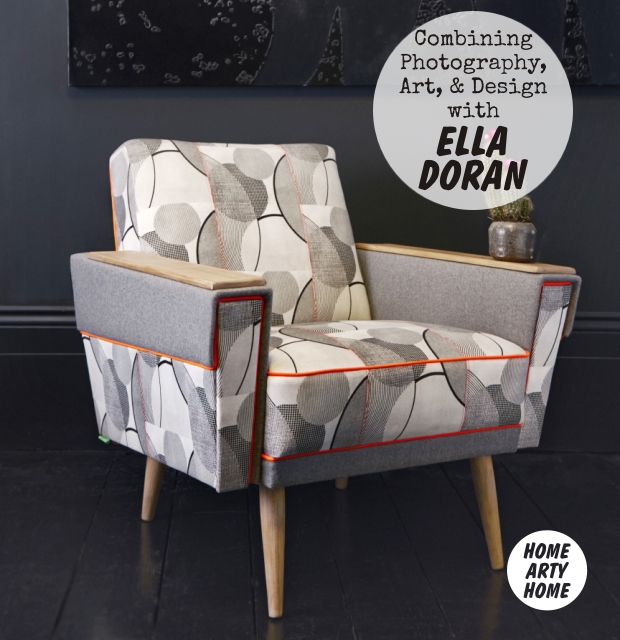 Who's the person, or who are the people, behind Ella Doran?
"I am the designer and creative force behind my business and have an excellent, small team of people who support me in production, sales, marketing and PR. Most of the administrative work is outsourced to enable me to focus on designing rather than managing an office."
How did you get started? What made you want to create and launch your range?
"I began my business with lots of energy and a healthy dose of ignorance and inquisitiveness – and a PYBT loan from the business trust. One of their business advisors helped me with my plan on a monthly basis and I would highly recommend this model to new start-ups. At the time, and indeed over the years, besides creating my own range and working to commission for private, commercial or charitable clients, I usually had at least one big collaboration with a third party, like Tate Enterprises or John Lewis, which would often lead to new manufacturing contacts and licensing deals and which would support sales and growth of my business on a global scale.
The reason I do my own range is that while I love to design to a brief I also want to connect directly to my customers through my own, personal ideas. It nurtures my creativity to build a whole collection from photographs that tell stories and I like the thought that I bring joy and appreciation to my customer's everyday interiors and situations, such as the gift giving to family or friends."
What inspires your work?
"I am inspired my everyday surroundings, in the natural and man-made world. Whenever I see something that intrigues me, I take a picture or take a mental note. Sometimes a theme emerges and I go out to collect raw material or I collect items and bring them back to my studio to arrange them for shoots. This process is similar whether I design my own range or work to commission. Once I have the raw material, a lot of work on the computer, material sampling and tweaking follows.
Over the years I have built design collections, such as 'Concrete inspirations' or 'the Collector' to which I keep adding. Overall, the everyday world, at home or when I travel, is a major source of inspiration for me. This can be anything from architectural details, as in my minimalist, but realist 'Geo' design, everyday objects or situations, as in my growing collection 'Bikes of Hackney' and nature, as in my 'Sunlight through leaves' repeat pattern. Another important influence in my work is art, for instance the Pop Art movement, which inspired my 'Pop Art goes Design' collection of 2013."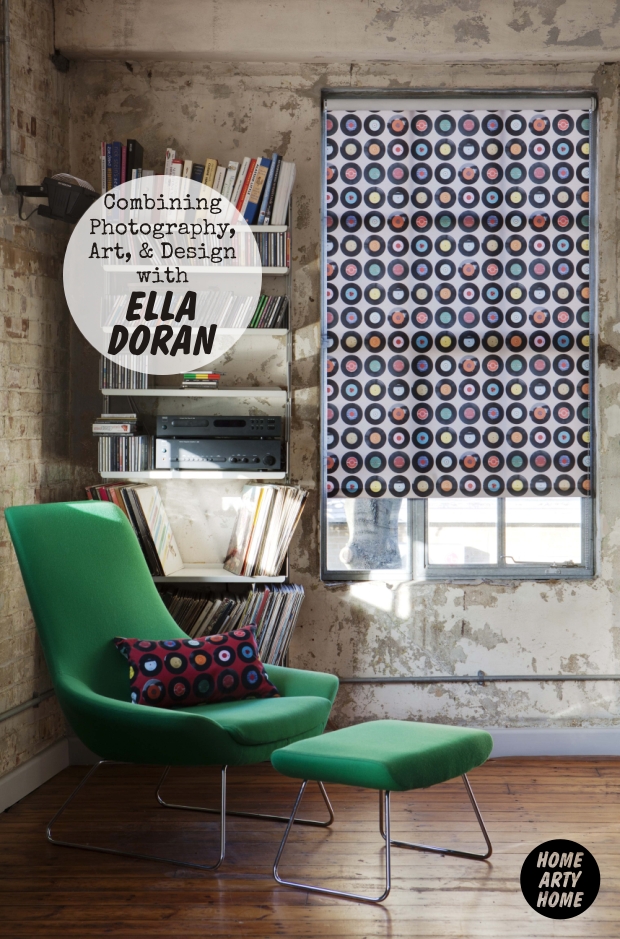 Are your items screenprinted or digitally printed?
"I work with both processes, depending on the effect I want to achieve or the technical requirements. My collection 'Pop Art goes Design', for example, is screen printed for a more 'gritty' look that ties in with the original art movement. All my roller blinds, in contrast, are digitally printed to achieve an elegant and durable finish and to be flexible with sizes."
Where are your items made? Do you make them yourself?
"We aim to make as many products in the UK as possible, because I want to support the British Industries and for environmental reasons. If a material or manufacturing process is not available in the UK, we have to produce abroad. Most of my trays, for example, are made from single sheets of Swedish birch wood, and my rugs are handmade by artisans in India, as their traditional techniques are not known in the UK.
At present I do not make any products myself. Instead, I have built some very good relationships with different manufacturers, with some of whom I've been working for years now and who go through a meticulous sampling process with me when we launch a new design or product. So I feel I am in good control of the look and feel of the products I offer and can focus on the design process."
Do you have any collaborations on the go?
"I am currently collaborating with Galapagos Designs, whose environmentally conscious approach to furniture making I appreciate. They strip down mid-century upholstered chairs (mostly from Europe) and work with designers for fabric and accenting. For our first collaboration we have used my versatile 'Pop Art Circles' design and more is to come."
You have various product categories at the moment – are there any new products you plan or hope to add?
"I am looking into developing my range of interior decorating products that I presently only do as a bespoke service, such as my tiles and fabric. I have had lots of requests from customers who would like to use my designs for home furnishings, but as launching a new product line is always a lot of work, nothing is definitive for now.
Another category of work I have been doing is a series of art projects that celebrate bikes and participatory urbanism. The idea to make artwork first emerged in the context of my 'Bikes of Hackney' collection, and you can read more about it on my blog. The artwork is coming out in the next few weeks, and I am already preparing a new collaborative project, 'The Tour de France 2014 through Hackney Eyes'."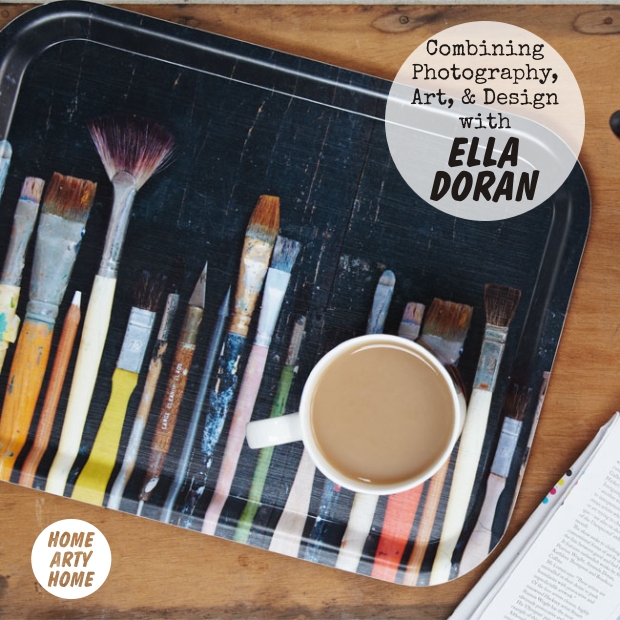 Images: Ella Doran / Amara