We all see a lot of imagery in our lives, from browsing social networks and marketplaces to walking down the street, so it takes a lot to make us stop in our tracks and investigate more.
The art prints from Violet May, by Brighton photography Cassia Beck, did just that. I'm smitten with her use of retro images to create contemporary collages in a restrained palette.
Whimsical, humorous, and stylish, Violet May's prints have a vintage feel despite their modernity and various prints reference 1960s pop art and mid-century modernism. They would look great in any setting and for any age.
Colourful, surreal, and geometric collage artworks are giclée printed on to watercolour paper and are available from the Violet May Etsy store with iPhone cases, cushions, and other home accessories at her Society6 store.
Home Arty Home caught up with Cassia Beck to find out more about Violet May: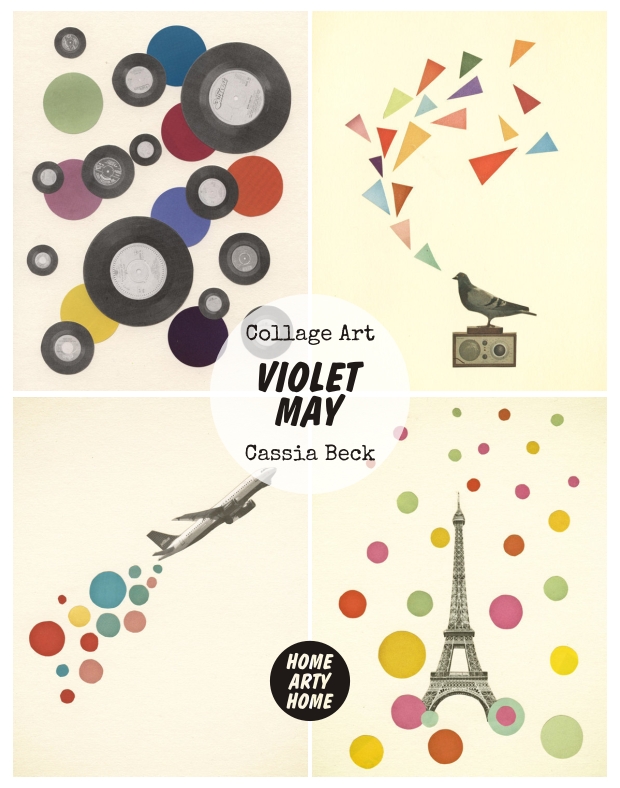 Who's the person, or who are the people, behind Violet May?
"At the moment it's just me, Cassia Beck. I am a photographer and collage artist from Brighton, UK. I live with my fiancé and three young children."
How did you get started? What made you want to create and launch your range?
"I have been making collages as a hobby for years, they were a way of unleashing my creative urges in an unconstrained way. As is possibly typical of many artists, I felt shy about them so didn't put them out there until a friend suggested I try. I had my children and wanted to work from home so I could be free to look after them, first and foremost. This is what drove me to show the world my art."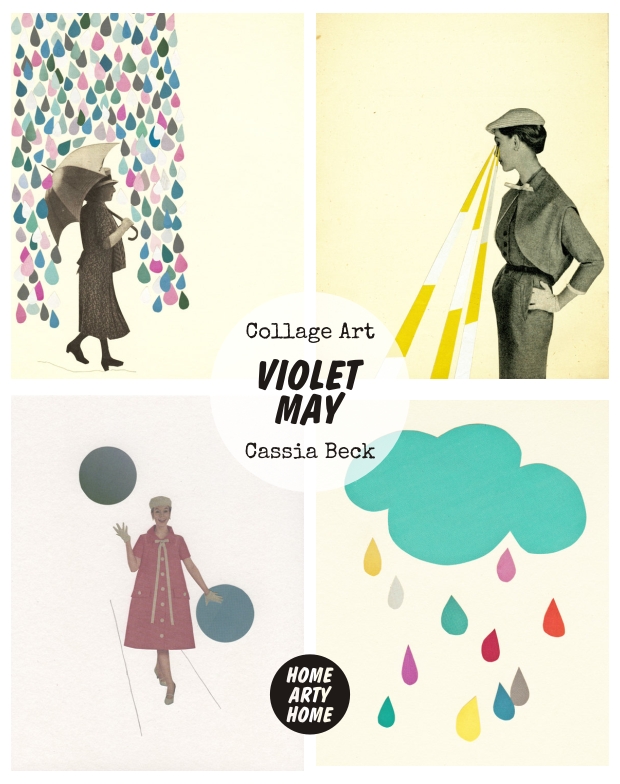 What's the creative process for you? What inspires/influences your work?
"I don't like to plan too much, collage is perfect for this. I love spontaneity and surprise when something comes together as I work. I collect cuttings from old magazines, my own photography, coloured paper and cut shapes. Some collages come together really quickly while others have to be put away and revisited later.
I am influenced by old book covers, particularly penguin books and mid century advertising. I love design used in the fifties."
How is your art printed?
"It is printed using a method called Giclée using archival inks on premium archive quality 300gsm rag watercolour paper."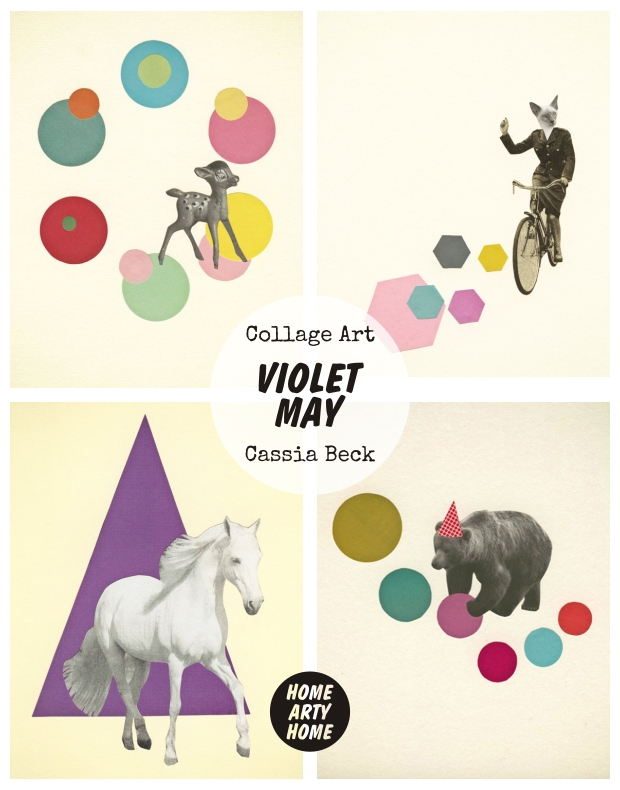 Where are your items made?
"My pieces are made in my home studio and are all made by hand by me. The final prints are made my local printer who is based in Brighton."
You have additional items alongside your art prints, wood blocks, postcards, etc are there any new products you plan or hope to add?
"I am looking into offering my prints on other materials, but my ideas are being kept under wraps for the time being. You will have to wait and see as I am still doing research."
What do you hope people feel when they see your work or bring it into their homes?
"I hope they feel amused and happy when they see my work, I like to bring humour into it."
You have your own site linked to your Etsy & Society6 stores is it important to be on a marketplace site and which do you think is best for you in your experience?
"Both are great for me in different ways. I like to be in contact with my customers to ensure they are being looked after and can contact me any time, Etsy is perfect for this. With any marketplace, you have no control over this. Society6 is moving forward quickly, introducing new products such as cushion covers, shower curtains and rugs. It is exciting to see my work in a different format, something I am unable to do myself currently."