#ShopTalk, Art & Design, Decor, Featured, Features, Home, Home Arty Home, New Art, Offline, Paper Goods, Prints, Profile, Stores, Wide World
Behind the Scenes at King & McGaw, the new name for EasyArt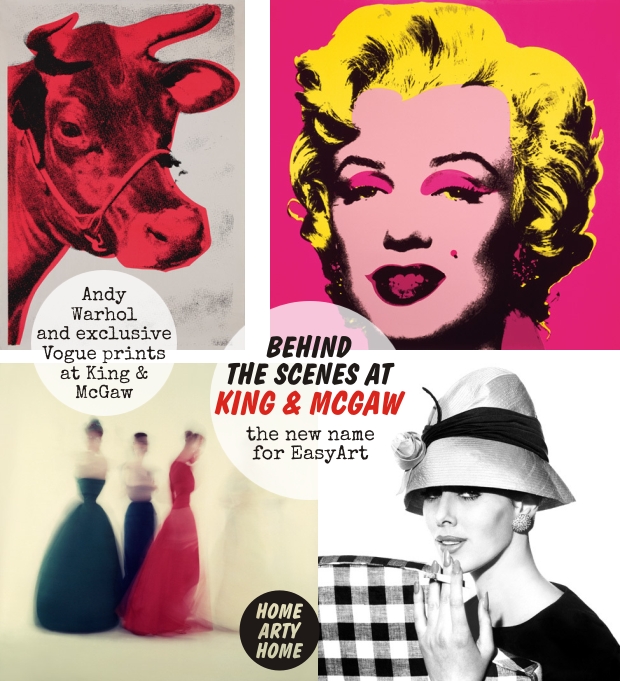 Recently, Home Arty Home had the pleasure of a day-trip to Newhaven to peek behind the curtain at art company King & McGaw. It was impressive to see how every aspect is handled in-house, from printing and mounting the art to creating bespoke frames from scratch by hand.
If you don't instantly recognise the company, that's because their public-facing web shop used to be known as EasyArt, but the decision was taken to change the name to King & McGaw this month.
If you've bought an art print, greetings card or postcard from a major gallery or museum, chances are it was created by King & McGaw – they've created prints for the recent successful Henri Matisse exhibition of cut-outs at Tate Modern and are currently working on the Alexander McQueen retrospective at the V&A.
As Gyr King, the founder of King & McGaw, says "changing a brand name is sometimes seen as a bold move, but our reputation is so strong amongst our prestigious museum partners and with leading artists that we feel it is the right one. A new name will help retail customers to understand and appreciate our beautiful products and unique UK craftsmanship."
As well as offering affordable prints by established artists, King & McGaw also work with new creatives such as Australian Inaluxe and Croatian Ana Zaja Petrak, and the unique art of Hormazd Narielwalla who creates limited-edition prints from disused tailoring patterns.
Most of the art is printed to order but King & McGaw have an extensive archive of limited-edition and rare lithographs including works by Matisse, Picasso, Miro, and Le Corbusier, artists who personally selected the long-established Mourlot Studio in Paris, originally founded in 1852, to print their art.
King & McGaw supply a small selection of their art prints to retailers such as John Lewis and Selfridges but the best place to see the full range of art on offer is naturally at their website.
Home Arty Home visited with our camera to see the manufacturing process and caught up with the team to find out more about the name change.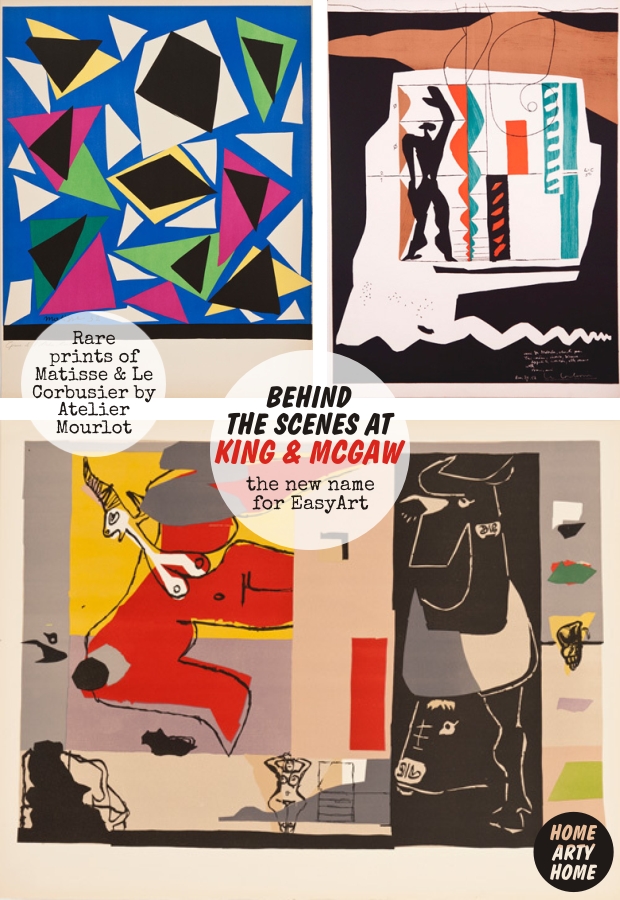 When was King & McGaw founded?

"The company was set up in 1982 by three brothers Gyr, Quentin and Perry King as a silkscreen printing company, designing upmarket posters for art galleries and small boutique shops. They worked to negotiate the rights to works owned by museums and artists around the world and to license the most popular images to retail outlets."
Where does the name King & McGaw come from?
"In 1989 disaster struck. While at a trade show in Birmingham, Gyr received a phone call telling him that his warehouse had burnt down and £3m worth of stock was lost. An American supplier, Bruce McGaw, offered to replace some of the missing stock for free, and it triggered a business deal, and in 1990 King & McGaw was formed.
With the advent of the Internet, new challenges arose. It lowered the barriers to entry – artists could sell their prints online and customers expected more variety than they could get in the shops. In 2011, King sold the American side of the business, and merged with Easyart – the top class retail site, to bring art prints to the masses."
Why & when was EasyArt founded?
"Easyart.com was set up by Simon Matthews in 1999 as a dotcom art prints and posters retailer, with a clear mission to make owning art simple and affordable. Marc Lickfett has been CEO of Easyart.com since 2008 and firmly believes art should be for everyone, everywhere, everyday. The pioneering website has digitalised and democratised the buying of art prints."
Why is the EasyArt name being dropped?
"In order to unify the business, Easyart.com will become kingandmcgaw.com from March, with a new King & McGaw logo to mark the change. The rebrand represents a moment to consolidate and celebrate the rich heritage of King & McGaw while building on the pioneering digital advancements of Easyart.com. King & McGaw has been chosen to better reflect the company's British heritage and craftsmanship – the company is still based in Sussex creating the same high quality prints and frames as it always has."
King & McGaw has many museum and gallery contract prints – how does this work alongside the consumer-facing website?
"The two go hand-in-hand. King & McGaw works with some of the world's most iconic image archives, renowned art galleries and museums and major artists' estates, including The Andy Warhol Foundation, Royal Horticultural Society, William Morris Gallery, National Gallery, Courtauld Gallery, Tate, V&A, Condé Nast Britain and Penguin Books. It also holds the European licence to reproduce works by the likes of Jean-Michel Basquiat, Andy Warhol, Keith Haring and Mario Testino and provides high quality products to the shops of many of the UK's foremost art institutions.
It is thanks to these relationships with museums, galleries and artist's estates that the consumer-facing side of the business has flourished since the merger, with over 20,000 visits to the site each day from customers eager to own affordable but high quality art."
As well as your prints of established artists such as Andy Warhol, do you support and work with new & emerging artists?
"The company nurtures and promotes new, home-grown talent by publishing open and limited editions by artists such as Wilma Stone, Hormazd Narielwalla, Simon C Page and Stephen Anthony Davids."
Will the renaming to King & McGaw see a different artistic direction?
"King & McGaw will continue to push the boundaries when it comes to working with up-and-coming contemporary artists, as well as artist's estates and galleries. The choice will continue to be extensive, yet carefully curated and imaginative. There will be a shift in focus in terms of making the site more aspirational – with an emphasis on lifestyle imagery and curated collections, so customers can come to the site to find art inspiration."
Visit King & McGaw to see more.
Thanks to Milly for organising our behind-the-scenes visit & to Tracey Gilmour, the Design Director, for the wonderful tour of the art workshops.
Photography at King & McGaw workshops in gallery by 286Blue
Artwork images by King & McGaw