Art & Design, Decor, Etsy Picks, Events, Featured, Features, Home, Home Arty Home, New Art, Offline, Paper Goods, Prints, Trend, Wide World
1
Eurovision!!!
Camper than a row of floral Liberty-print tents, Eurovision is celebrating 60 years of the song contest next week.
Ever since Home Arty Home started, I've wanted to put together a post about Eurovision, the unique event that brings together nations to musically compete, but there were never any stylish interiors accessories or artworks that were relevant to the competition, until now!
Art & Hue has put together a group of pop art prints inspired by the contest featuring song titles of Euro-speak. To cross language boundaries in the days when each country had to sing in their native tongue, songs tried to appeal to as many Europeans as possible with their nonsensical lyrics.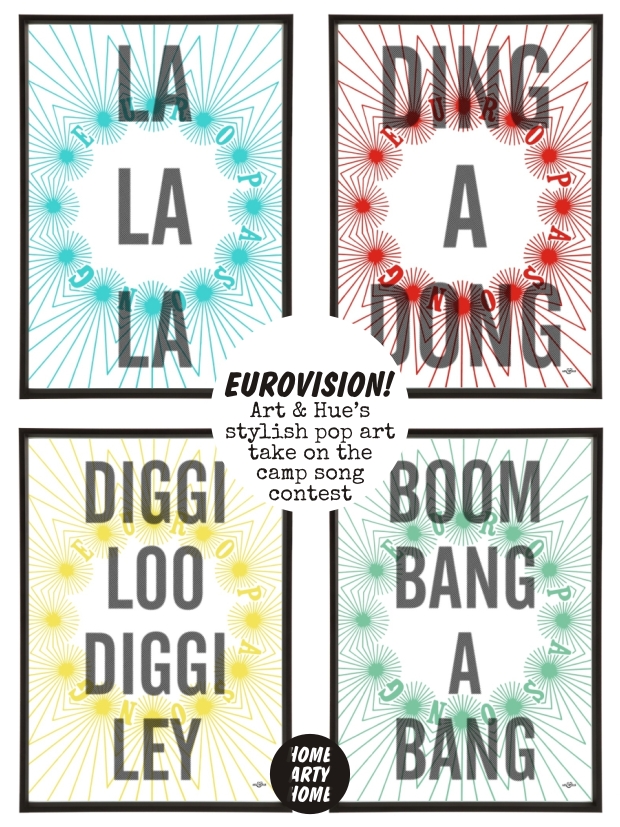 "Boom Bang A Bang", "Diggi Loo Diggi Ley", "Ding A Dong", and, who could forget, "La La La" were all Eurovision winning songs with comical titles and now feature in Art & Hue's pop art against a backdrop reminiscent of the iconic Eurovision graphics (you can almost hear the European anthem by looking at it!).
Available in a rainbow blend (most appropriate given Eurovision's main demographic!) or a choice of 16 colours, these prints would be ideal decor for a committed song contest fan or as temporary adornment for a stylish Eurovision party (once the party's over, switch out the prints from the frames for something else).
All Art & Hue's Eurovision prints are available from Etsy and the Art & Hue website.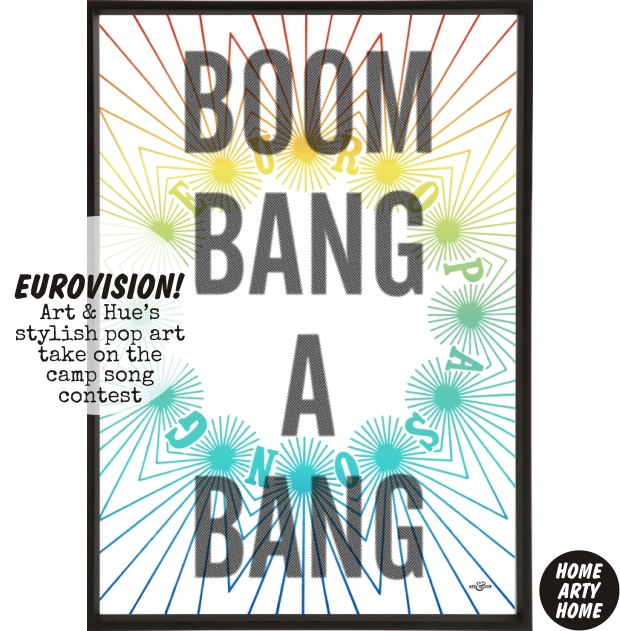 Now let's take some time to take a look back at some songs that slipped under the radar that should have won or simply should be enjoyed again.
Back in 1983, Belgium shocked Eurovision viewers with a song that was far too modern for its time. Cleverly subverting the imposed use of the in-house musicians, Pas de Deux turned the Eurovision orchestra into a sample machine. Wearing monochrome geometrics, the group's orchestration must have worn out the brass section.
Imagine Ryuichi Sakamoto
produced by Trevor Horn whilst wearing Yohji Yamamoto:

Pure camp and fun, Ukraine's entry Ani Lorak should have won in 2008 but came a close second to the expensive PR campaign of Russia. A catchy song fronted by a glam diva with backing dancers, it unfortunately lost out to an earnest dirge featuring an ice-skater and violinist, all the more poignant as it seemed to be a political battle between the might of Russia and the underdog of Ukraine.
Eva Longoria hits Old Compton Street:

In 2013, the Netherlands entry sounded almost shocking compared to the usual glut of up-tempo euro-house. Melancholic and poignant yet uplifting and elegant, Anouk's song had an edgy beauty seemingly out of place for the camp-fest.
Disney remixed by the Sneaker Pimps
:

Georgia took part in the Eurovision for the first time in 2007 and debuted with a beautifully produced track that was far too good for the contest. Swirling violins and a thumping bass made this song a stand-out but could have done better with a different singer and better staging & choreography (the obligatory Slavic folk dancers and balalaika could have been dropped too).
Overlooked stylish-sounding (if not looking) debut from Georgia: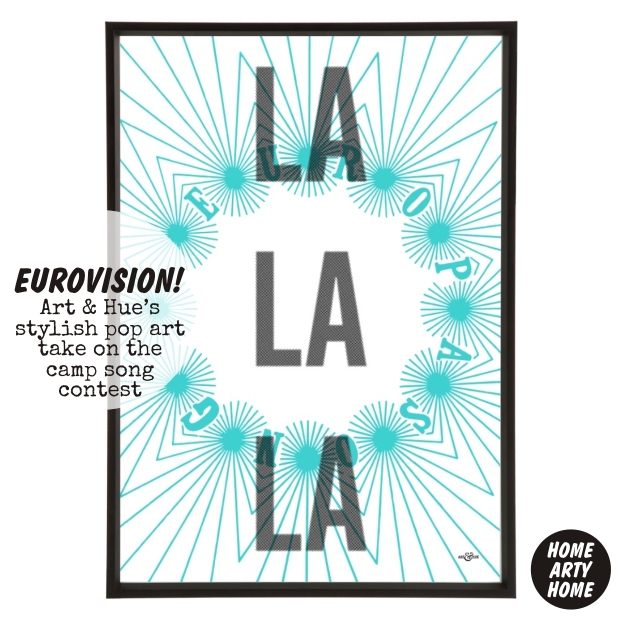 Next week sees the 60th anniversary of the Eurovision Song Contest taking place in Vienna, following Conchita's win for Austria last year (and this year's host nation seems determined not to win consecutively with their Coldplay-sounding entry).
Originally conceived as a way to bring European nations together, ravaged and divided by the Second World War, the Eurovision Song Contest has grown year on year to the point that semi-finals are needed before the big final on Saturday (the semi-finals will be on BBC Three on Tuesday the 19th and Thursday the 21st).
Despite the definition of Europe being stretched over the years to include nations such as Azerbaijan, Turkey, Israel, and Russia, this year takes a bizarre turn by including Australia! There's a huge following for the contest down under so they've been invited into the fold as a one-off (unless they actually win in which case they'll be included again next year).
The bookies' favourite to win this year is the Swedish entry which, whilst anthemic and well-produced, reminds me too much of Corona's The Rhythm of the Night
for my tastes (and the staging is pure Beyoncé's "Run The World (Girls)" at the 2011 Billboard Awards). I understand the bluegrass "ghee-tar" refers to Appalachian music, but there's simply no excuse for the cod American drawl. It is a very catchy song though!

The Belgium entry is well-produced with a stylish edge and pleasing hints of Florence & The Machine
– the young singer has some bad facial ticks whilst singing live and the choreography better be good to lift the song, but it's a worthy entry (that probably won't place highly with the Eurovision viewers) in need of a better ending.

Likewise the Australia entry just seems to fade away instead of ending decisively but it's a catchy song with a lot more funk and soul than the Eurovision is used to and may just swing it as it's unusual for the country to be taking part.

If you're wondering about the United Kingdom entry, it's like the French & Saunders parody of The House of Eliott mixed with the Bird's Eye Potato Waffles advert from the 1980s. For the live performance at the contest, I sincerely hope they drop the dodgy blackface and minstrel jazz hands that feature in the video.
Get your dips and nibbles in, decorate your pad with Art & Hue's Eurovision prints, and enjoy the 60th Eurovision Final on the 23rd of May (BBC One at 8pm).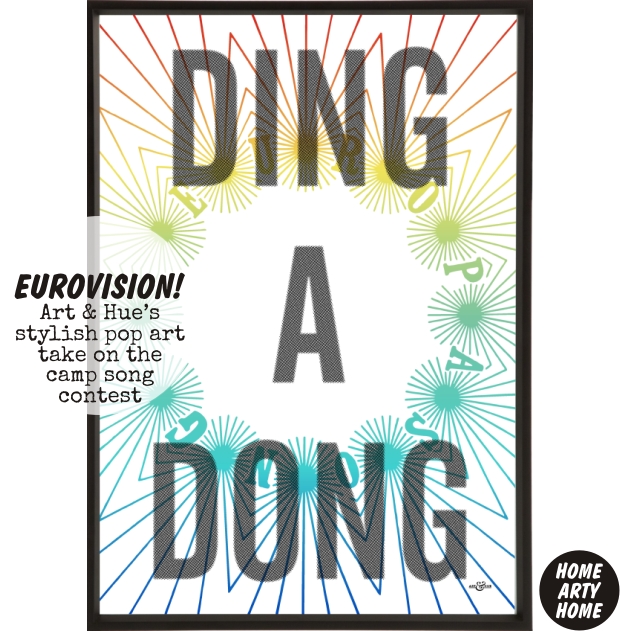 P.S. The contest has come and gone and, as widely predicted, Sweden won Eurovision, narrowly pipping Russia. My picks of Belgium & Australia performed and finished respectably in 4th & 5th place respectively.